Everyone that loves shopping for beauty products was excited when the Too Faced Peach Perfect foundation — a medium coverage liquid matte foundation — launched. Now that the brand has decided to stop pushing more products, most color shades are sold out.
When you succeed in finding one, the lighter shades work best for people with neutral skin undertones. There is a twelve-color shade for almost everyone, mindful of your skin tone. If you want to enjoy a flawless face with this product, then you have come to the right place.
How does the Peach-Perfect foundation look?
The formula comes in a 48 ml tube that has a pump dispenser. It is a consistent vegan-based foundation with a comfortable matte technology to maintain a perfect face for up to 14 hours and prevent a cakey finish. Since the foundation is a matte formula, it is not oil-free; it helps lock in the facial oils from seeping out. The brand went big on perfecting the long-lasting effect of the product; the peach and sweet fig milk extract and fragrance are a bonus.
How to apply it
Foundation is the base of every makeup routine, and it has to match and blend into the skin. The first step to applying the perfect foundation is finding the right shade for your skin. To achieve this, you can do a patch test on your arms, check if it blends in seamlessly before buying. This option is not available if you are shopping online, so you will have to rely on the pictures of the models that match your skin tone.
Related article: 8 steps to create a sleek parted ponytail without help.
After sorting out the foundation shade, take a beauty blender and add a small amount of foundation on one side till it is covered. Dab on the face and do this to the other side. An alternative way is applying the product on the face, then using a foundation brush and beauty sponge to blend it. When it is not enough, apply another light layer of foundation to the beginning, you will have to be when blending the face because the foundation dries out quickly. This pro tip of applying it in layers is what experts use to achieve a flawless look.
This way, you can build the coverage and blend in the product to get a sleek natural finish. Since it has a medium coverage foundation, applying it may not give the desired result. These tips should be kept in mind as you begin the makeup look.
When should you stop adding products to the face?
The great thing about applying a buildable formula such as this peach-perfect foundation is that you can quickly tell when to stop layering the face. If you are observant, when you notice the blemishes and spots have blurred out, it is a cue to stop applying foundation.
However, the makeup theme also determines how to build the product on the face. If you plan on doing a barely-there look, then a medium layer of foundation should be okay. When there is an event in mind or your makeup style, you can layer the face to achieve a full-makeup look.
The amount of product applied is a minimal factor in achieving a flawless face. The key instead is blending the foundation into the face.
The results after applying peach perfect foundation
The primary function of applying foundation is having a base for other makeup products to settle on the face. This Too Faced product achieves the natural medium coverage on the face for hours. It blends into any skin type, even the combination oily skin.
While it is suitable to wear every day, some people like to save it for a special occasion since it stays on and is also mild on the skin. This foundation should be a top choice if you plan a long day.
The formula is also transfer-proof, which doesn't spread on surfaces. It creates a smooth plane to apply setting powder, which helps to lock in the foundation after using other products such as the brows, eyeshadow, lipsticks, and further details to enhance the face.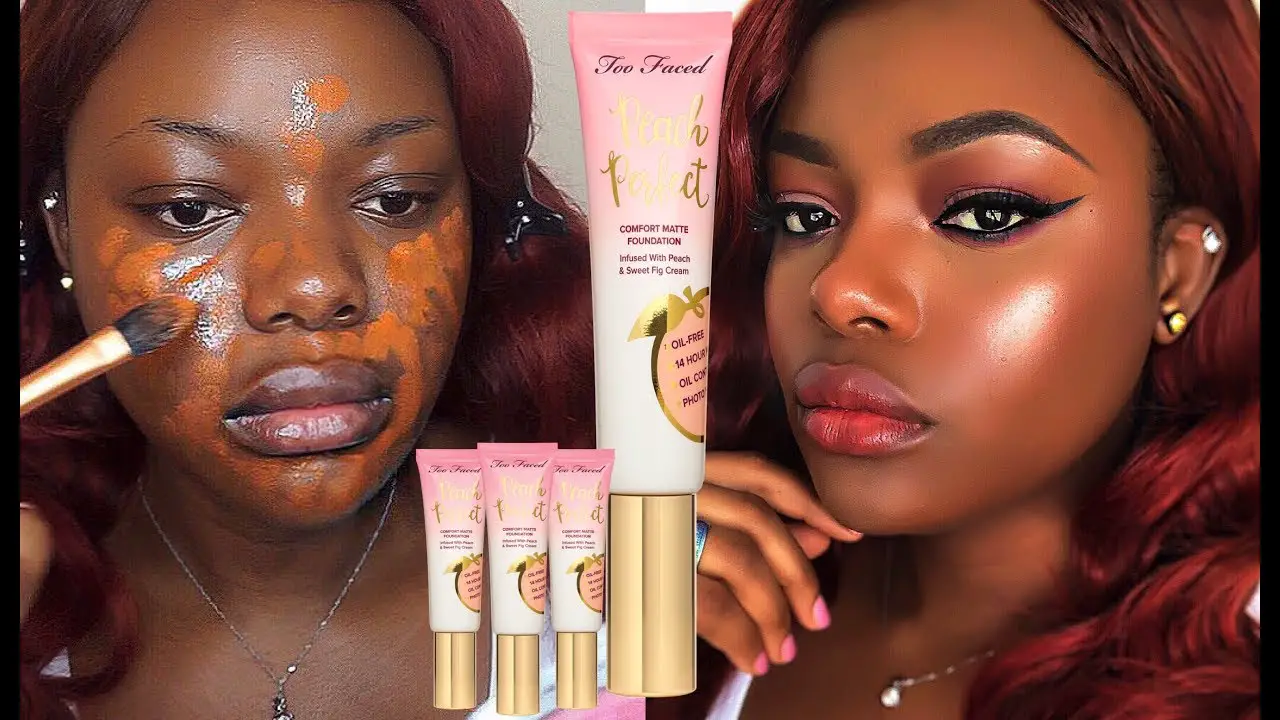 Pro Tips:
Use a damp beauty blender sponge, run through clean water to apply products to the face.
Wear a thin layer of mattifying primer to the face before applying the foundation. The product is excellent, but the primer enhances its staying power.
Target your T-zones and layer more products over such areas for the best results.
In summary, the peach perfect foundation is an overall great product for anyone except those with dry skin. Also, if you desire a fully covered face, then this foundation might not be the one for you.
Moreover, it effectively achieves a long-lasting makeup look with a natural finish. Too bad there are limited stocks available of this product, but you can always get your hands on some. So, you are not left out on enjoying a seamlessly blended face for hours. You may also like to read, I tried Just Peachy Matte, see what I liked and what I didn't.