Without a doubt, it is now red carpet season as after months of postponements, celebrities are now returning to red carpets with all the high fashion and glamour that we're used to. We've seen a host of wonderful looks these last few weeks, including looks from the 2021 Met Gala as well as the MTV VMAs. Now, it's time to check out the amazing looks from the Emmy Awards 2021.
There were several highlights from this year's show, including Michaela Coel's grounndbreaking speech which she delivered after winning her very first Emmy award. While wearing a gorgeous lemon dress, she said, in part:
"Write the tale that scares you, that makes you feel uncertain, that isn't comfortable. I dare you. In a world that entices us to browse the lives of others to help us better determine how we feel about ourselves, and to, in turn, feel the need to be constantly visible…do not be afraid to disappear."
While her speech has been making the rounds, we do, in fact, want to share our 10 favorite looks from the red carpet at the Emmy Awards 2021. This year, the looks were definitely colorful as everyone came in their best, brightest, and most comfortable.
1. Nicole Byer
Nicole Byer, star of the reality series, "Nailed It!" was the representation of her show at the Emmy Awards 2021. She looked so amazing that she should have recieved an award for her outfit alone.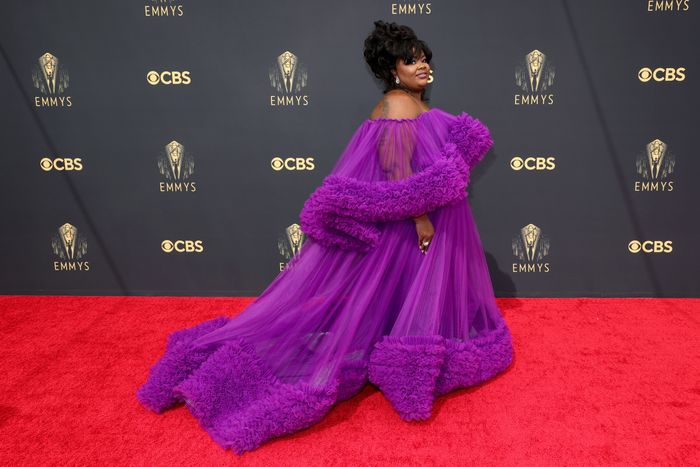 Byer stunned in a gorgeous purple dress by Cristian Siriano and paired the off the shoulder creation with a chic updo, drawing all the attention to her dress.
2. Bowen Yang
Bowen Yang, a cast member on Saturday Night Live (SNL), wore a regular black and white tux with a silver brooch. However, he made it to this list for the stunning way that he paired his outfit — with striking high heeled silver boots. Talk about making an entrance!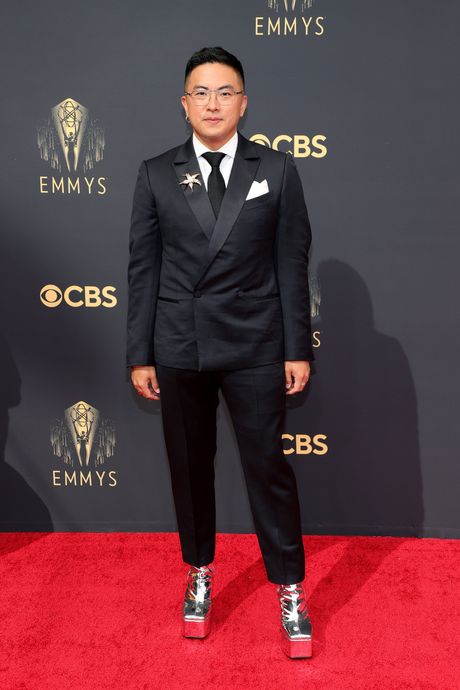 3. Billy Porter
Billy Porter always brings it to every award show events that he attends — this we know. The "Pose" star looked amazing in an all-black outfit with black, ruffled sleeves. He finished the look with silver jewellery: an assortment of rings, a necklace, bracelets, and earrings.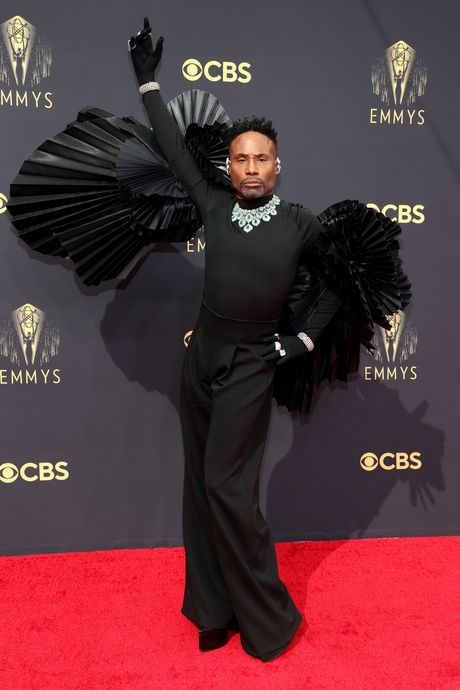 "This is Ashi couture and Lorraine Schwartz jewels," he told Entertainment Weekly at the event. Well, Billy Porter strikes again. 
4. Robin Thede
Robin Thede, a writer on HBO's, "A Black Lady Sketch Show" looked classic and gorgeous in a custom green Jason Wu gown. The dress was paired with vintage Fred Leighton diamonds and Thede just looked amazing in this timeless look.
5. Yara Shahidi
Yara Shahidi is one of the queens of the red carpet and it's past time that we fully acknowledge it. She looked stunning on the Emmy Awards 2021 red carpet with not a single hair or jewelry out of place.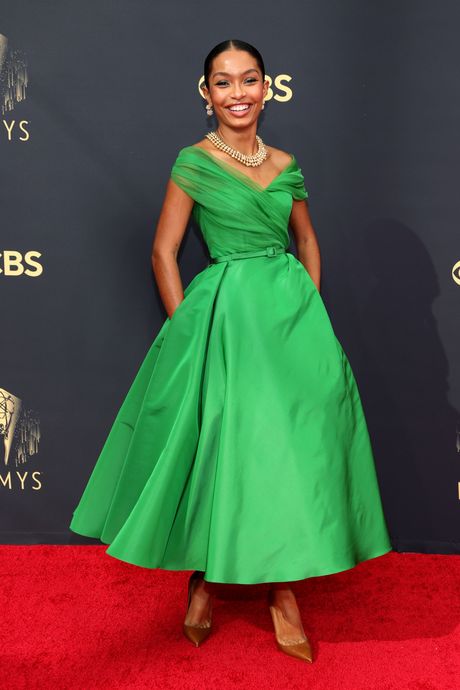 She wore an incredibly sophisticated, off the shoulder, Kelly Green Dior dress that was cinched at the waist before flaring into an ankle length skirt. She slicked her hair back, accesorized lightly and led with a smile. We're in love.
6. Seth Rogen
Seth Rogen was one of the men who stood out at the Emmy Awards 2021 and this is thanks to his excellently put together outfit. He paired his Brioni outfit with brown pants and a pink tie.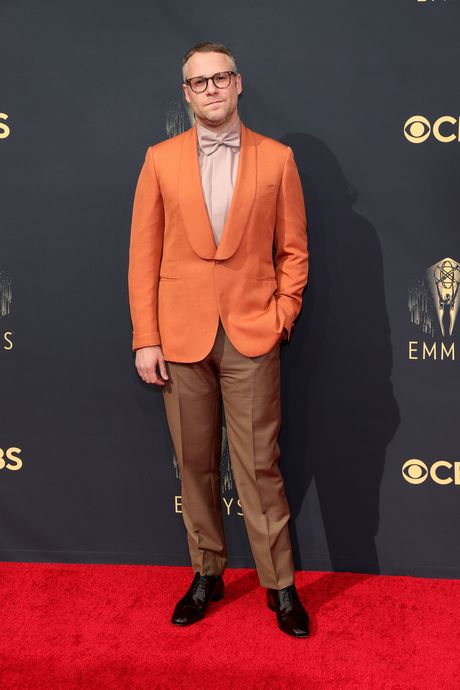 He definitely stood out for his outfit, but he also did for critisizing Emmys organizers for holding the event in an indoor space.
7. Mindy Kaling
Mindy Kaling looked amazing in a black bow dress while appearing at her first Emmy Awards sho after six years. She chose to wear a classic strapless black dress and left her hair down.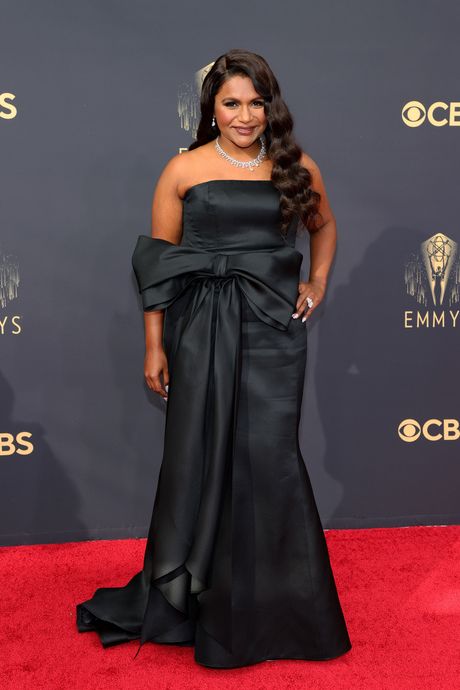 8. Angela Bassett
Angela Bassett was the person to look at in a gorgeous black and pink dress by Greta Constantine. She slicked her hair back, chose to go for minimal jewellery, and paired the look with black platform heels.
Of course, this was not a turn from the norm as Angela Bassett is known for bringing her A-game to every red carpet. Our proof: search for 'angela bassett red carpet looks' and see for yourself.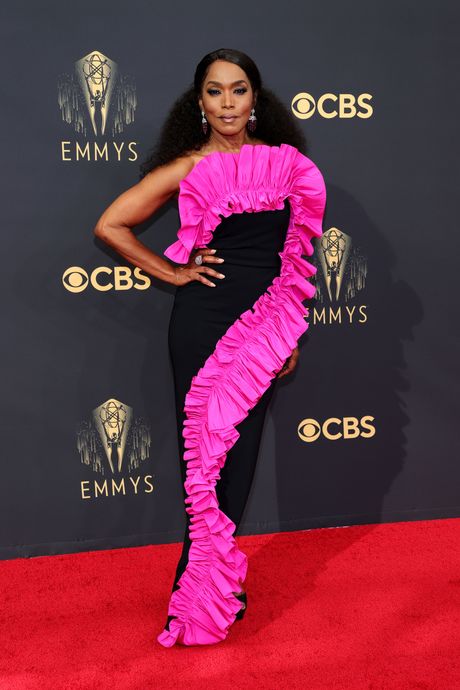 9. Issa Rae
Issa Rae style is simple but elegent, and we don't blame her because it works for her. For the 73rd Primetime Emmy Awards, Issa Rae chose a simple silver dress. It was loose, it was shiny, and it was perfect. The dress was custom designed by Jason Rembert for Aliétte.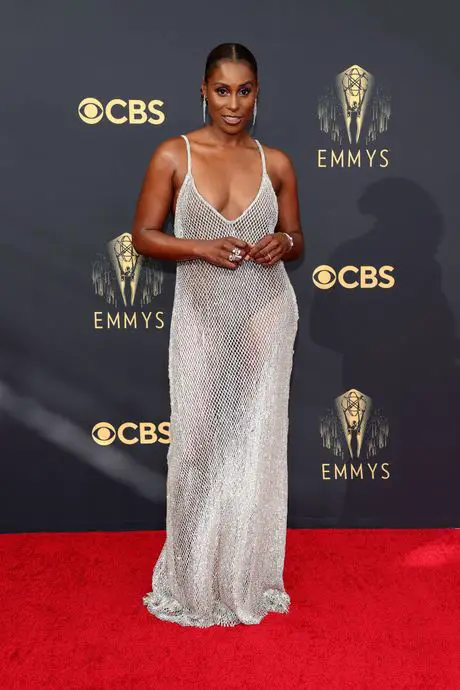 However, it was Rae's jewellery that truly made her stand out: her 22-karat white gold and diamonds from Grillz by Scotty.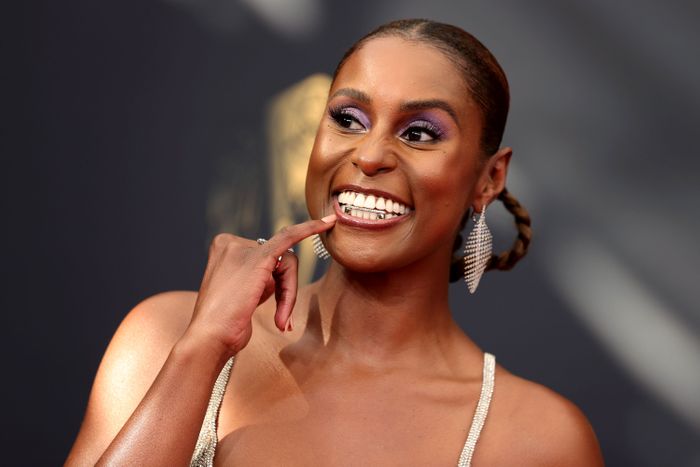 10. Kerry Washington
"Scandal" star, Kerry Washington looked so sexy in a purple corset gown that almost caused a scandal. She slicked her hair back and paired the dress with a bright red lip.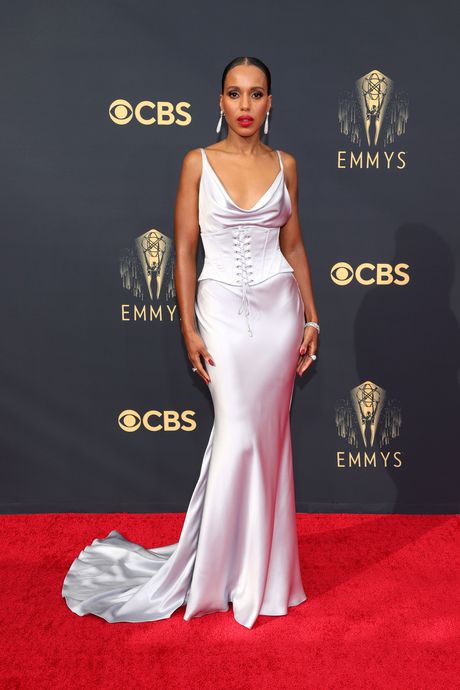 The Emmy Awards 2021 has faced some criticism for returnning to what is considered 'normal' for the awards show and failing t acknowledge black creators in TV with a win. However, the red carpet cannot be subject to similar speculation as celebrities stepped out with their best foot forward.
Although many men still showed up in the traditional white and black suit or tuxedo, several men tried to break out of this pattern at the Emmys by wearing patterned suits, shocking colors, or just shocking fans by changing the cut of their suit. More of this, please! Nonetheless the ladies brought their A-game to the red carpet so this list was really hard to compile. Let us know your favrites in the comments section below.
Picture credit: Getty Images.