Summer is a time to enjoy, have fun, go on late-night walks, and bask on the beach; it is the period to show off your hot body and favorite bikini. For the summer of 2022, ditch your black regular bikini and spice things up with the crochet bikini.
This bikini style is the new trend that allows you to play around with colors, patterns, and styles. Your favorite celebrities are wearing different types of crochet bikinis, wouldn't you want to look cool as well rocking one? Below are the best crochet bikinis you can add to your wardrobe for the summer of 2022.
Striped halter bikini
The striped crochet bikini is a good choice to begin your summer days in as the halter neck gives you a relaxed and lazy look. The bikini exposes a good deal of your back making it easy for you to sunbathe without having to remove your bikini. You can either get the top and pair it with any pants of your choice or wear it with crochet pants.
Vintage-inspired bikini
If you are a lover of the vintage look, you will love this bikini style. Since the '70s fashion is trendy again, jumping on this trend in a vintage crochet bikini is the way to go. You could either purchase a two-piece vintage bikini or a one-piece. Complete your '70s inspired look with oversized sunglasses and a matching scarf.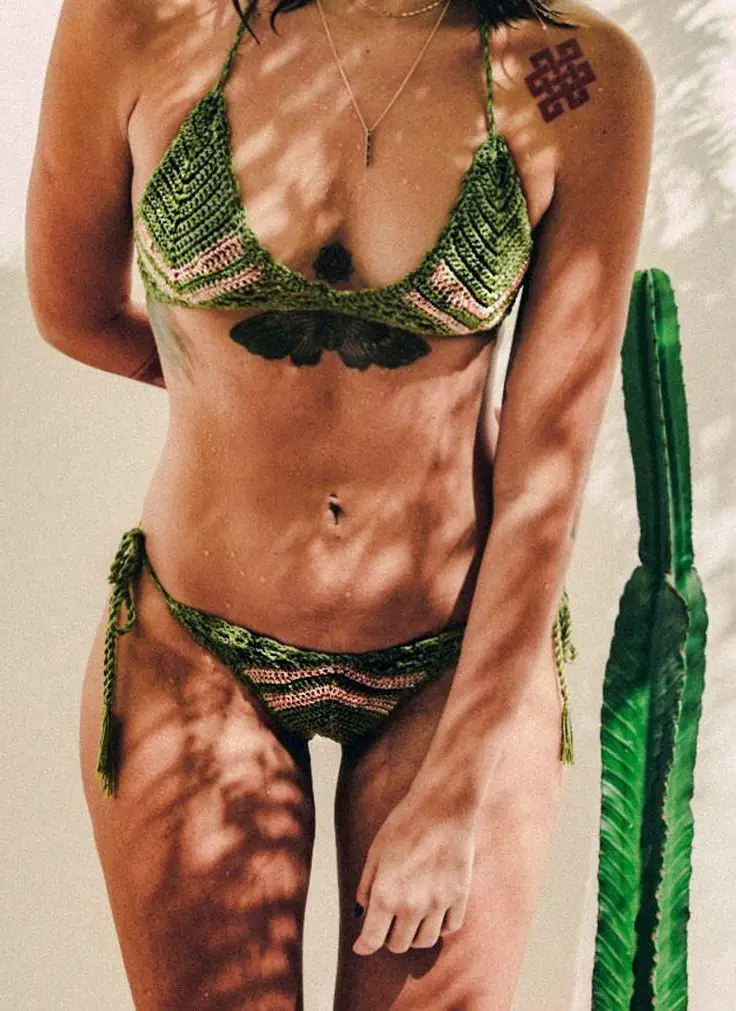 Puka and pearl bikini
If you love the tropical beach look, then you will love this two-piece crochet bikini. The bikini has puka and pearls attached to it; this means for every step you take the pearls will jiggle, giving you the appearance of being ready for the beach. To complete this look, put on a straw hat.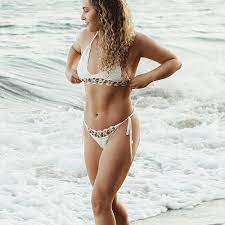 Green crochet bikini
Green is a beautiful color that will compliment any skin tone. Wearing a green crochet bikini will draw attention to you and leave people green with envy. The green bikini can be paired with a matching cover and a beach hat.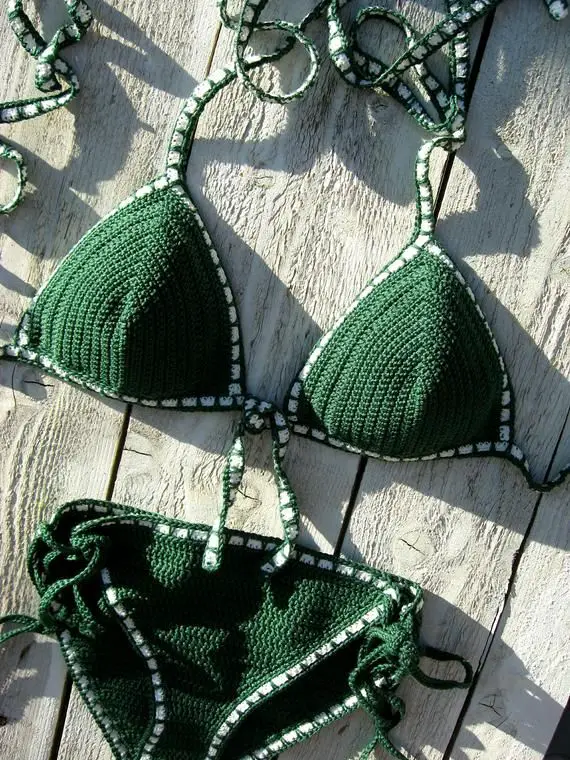 High rise bottom crochet bikini
This high-rise bottom bikini is multi-dimensional. It is suitable if you do not feel comfortable baring it all out in a string bikini. Plus the high-rise bottom was designed to create the illusion of the perfect hourglass body. Women who have stomachs that are not as flat as their favorite celebrities can buy this set to feel more comfortable and enjoy a perfect day at the beach.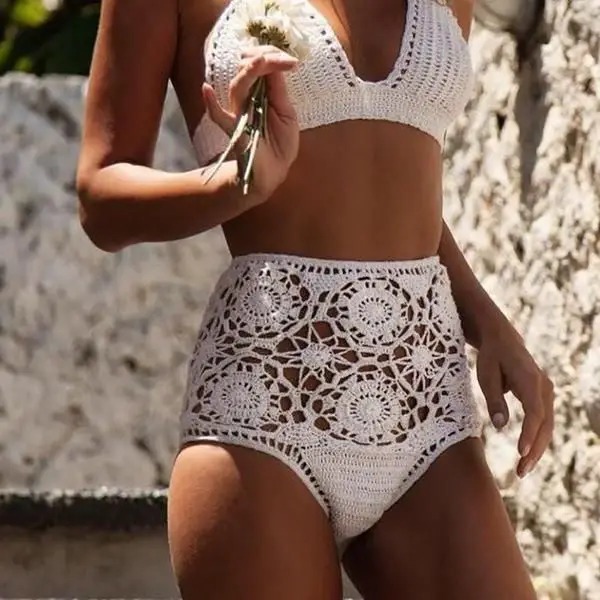 High neck crochet bikini
Walk into the beach and have heads turning in this high-neck crochet bikini top. This style is particularly great for women who have bigger boobs and would want to keep it looking firm and attractive; women who do not feel comfortable revealing their breasts will also favor this piece. If you like, you can purchase only the top and pair it with any bottom of your choice.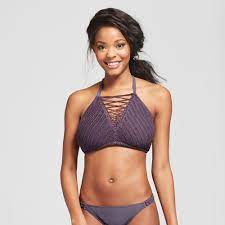 Hipster crochet bikini
The hipster crochet bikini is a statement piece that gives you an effortlessly bohemian look. If you love the vintage look, this piece should be one of your go-to bikinis for summer. The bikini captures that old-school vibe with its retro print and mod belt.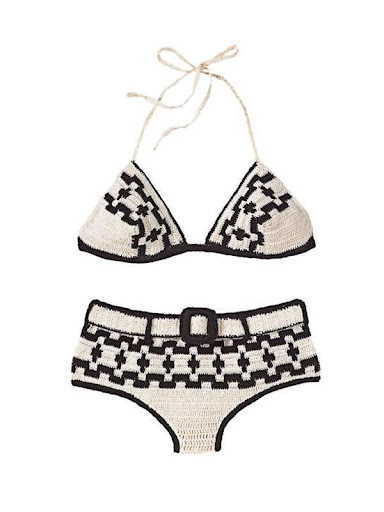 Boho crochet bikini
Nothing gives you a boho and playful look like a crochet bikini designed with flowers. The boho bikini has petals attached to the fabric to give an effortless Caribbean look to the wearer. You can pair this with a matching cover or stride elegantly at the beach in a matching hat.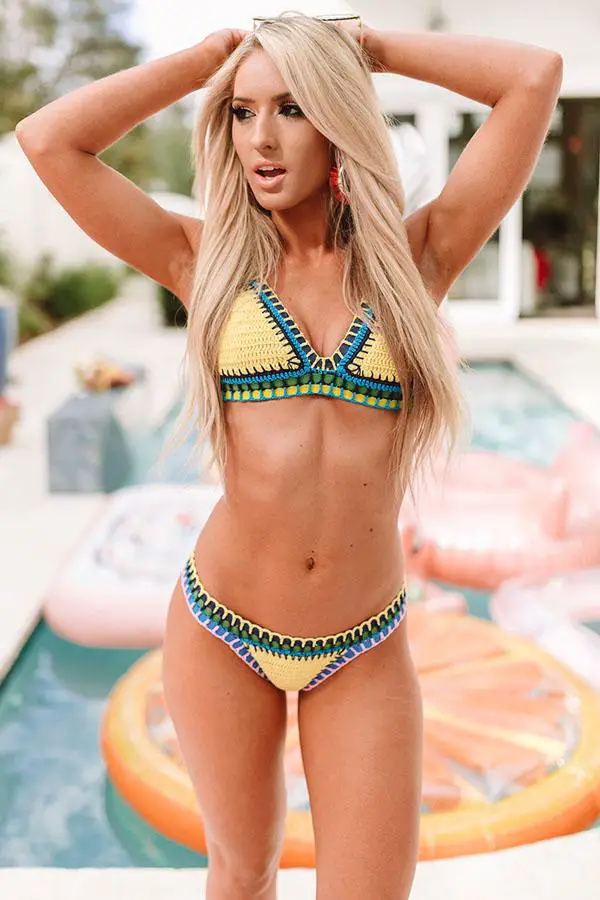 Zigzag pattern crochet bikini
One beautiful thing about the crochet bikini is that you can design it to suit your taste and style (if you are making it yourself); it gives you room to be creative with your summer wear. If you are a lover of colors, the zigzag pattern bikini is one you should be laying your hands on for summer days. The zigzag colors will pop against your summer skin glow. You can complete this look with a matching turban and sarong.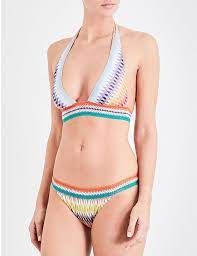 One-piece bikini
As much as a lot of people prefer the two-piece bikini, the one-piece is a style that will always look elegant on any body type. The one-piece bikini can be in any color you want (black, white, multi-colored, etc). The one-piece bikini also gives the wearer the illusion of longer legs, a toned body, and reveals a bit of your bum cheek if that's what you want. The matching cover helps to cover you up if you are feeling shy or insecure about your body. Complete the look with a hat and minimal jewelry.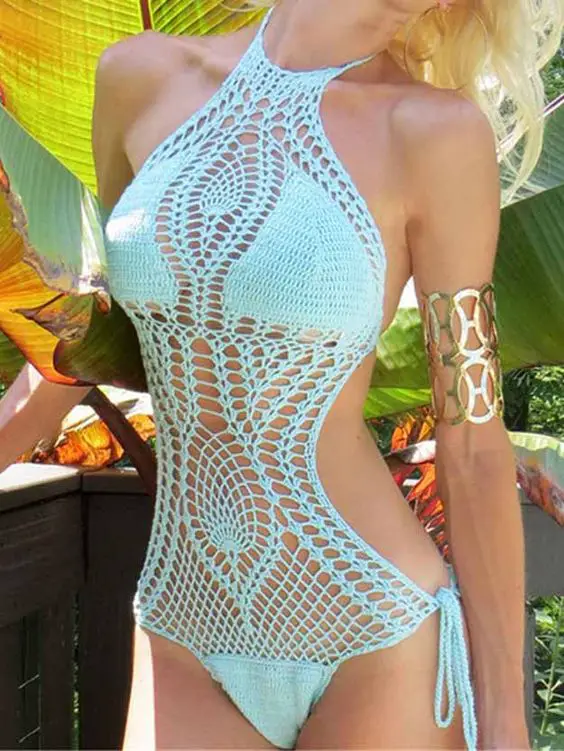 The crochet bikini provides a versatile design for every body shape and skin tone; there is something for everyone to choose. You don't have to wait till summer hits before you purchase these sexy bikinis, shop for yours now and be summer-ready.