Boho-babe, a Miami-based hairstylist, came up with this fusion of wearing double-strand twists to form a passion twist. This is another variation of protective hairstyles that is good for your natural hair. The different ways you can wear them have been blowing up all over social media simply because the twists are so cute.
You can wear them in many styles, depending on the length and size of the twists. Also, the hairstyle is water-friendly, which means you can rock them to any location since you can as well wear them for an extended time.
We have picked 10 passion twist hairstyles that you will love to try when next you visit a salon.
1. Feed-in braids with passion twists
Combine two beautiful hairstyle trends, start with rows of feed-in braids in the front and complete the look with passion twists at the back. They can be styled by gathering the hair up or allowing the waves of the twists to run loose and wild. It is a cute way to stay trendy yet gorgeous.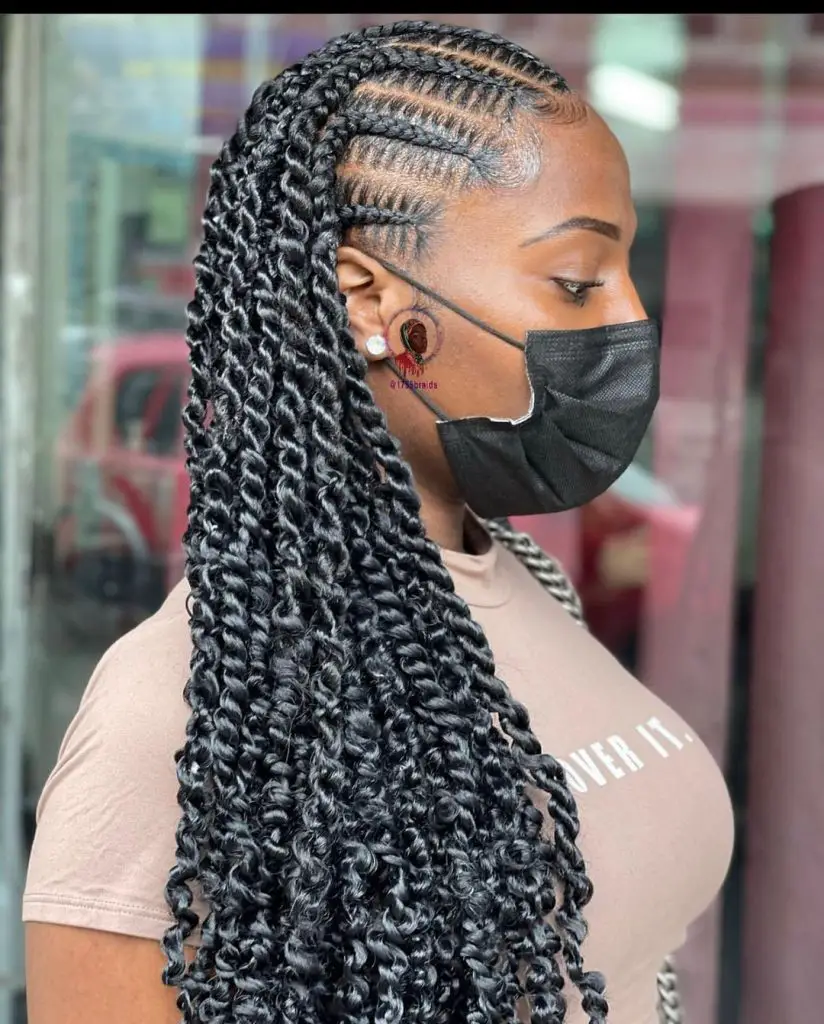 2. Multi-colored passion twist hairstyle
Try a bold take on the passion twist hairstyle and opt for different colors of extensions with which to make your hair. You can mix three or more colors or have it done one color per strand, as they do not have to match. This way it mixes up itself, which is a fun way to experiment with new shades.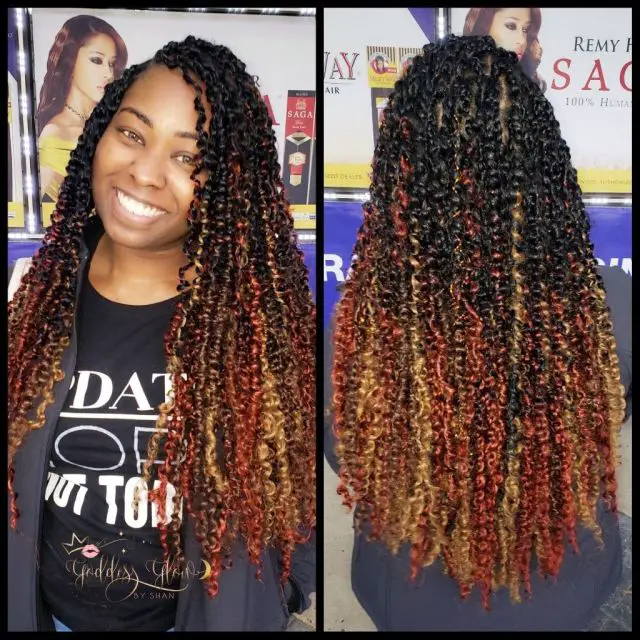 3. Hair cuffs and passion twist
It is great to accessorize your hair and any passion twist hairstyle can be elevated with cuffs but for the cuffs to stand out, make the braids big. This will make cuffs more pronounced when you add them to the twists and, in turn, will be a stunning hairstyle you will love to show off.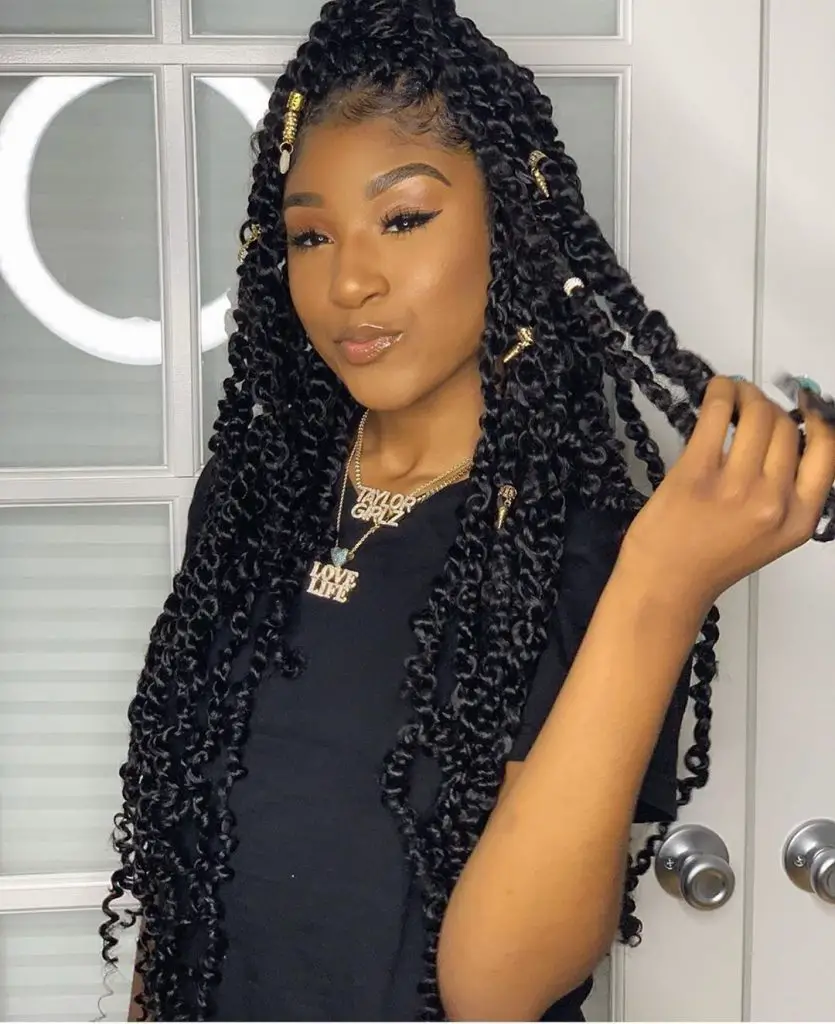 4. Short and chunky twists
Short passion twists are not only beautiful but quicker to make and maintain. The chunky feel will give them more texture that will help you style them. As they stay layered on their own around your neck, you only have to lay your baby hairs and that's it.
 

View this post on Instagram

 
5. Side-swept medium length twists
When making this hairstyle, ensure that your stylist includes a side part that will help you as you style. The mid-length ensures it grazes your shoulders for a needed cute appeal. The side-swept look gives the twists a one-sided full look. This accentuates the cheekbones and flatters the face, leaving anyone rocking the hairstyle looking extra gorgeous.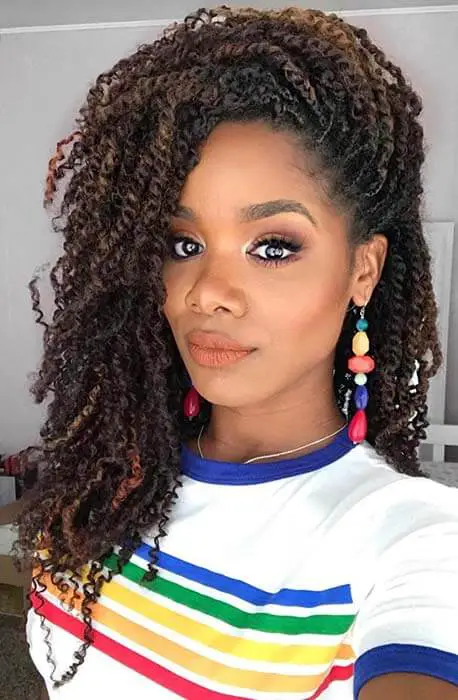 6. Long and full twists
Going for a long and full passion twist is a chic choice that is more suitable for those with long hair but anyone can rock long tresses of this curly twist hair. Such long lengths are easier to style and accessorize and it provides a great opportunity to gather the hair up into several hairdos which all end up looking beautiful and glam.
7. Passion twist bun
Medium to long length twists can be used to achieve this bun hairstyle. Section out some twists, gather it up to form a knot on top of your head. This instantly creates a new style as the top bun flatters your face while the down section frames your back to give the half-up, half-down look that you can rock to anywhere from a casual outing to formal events.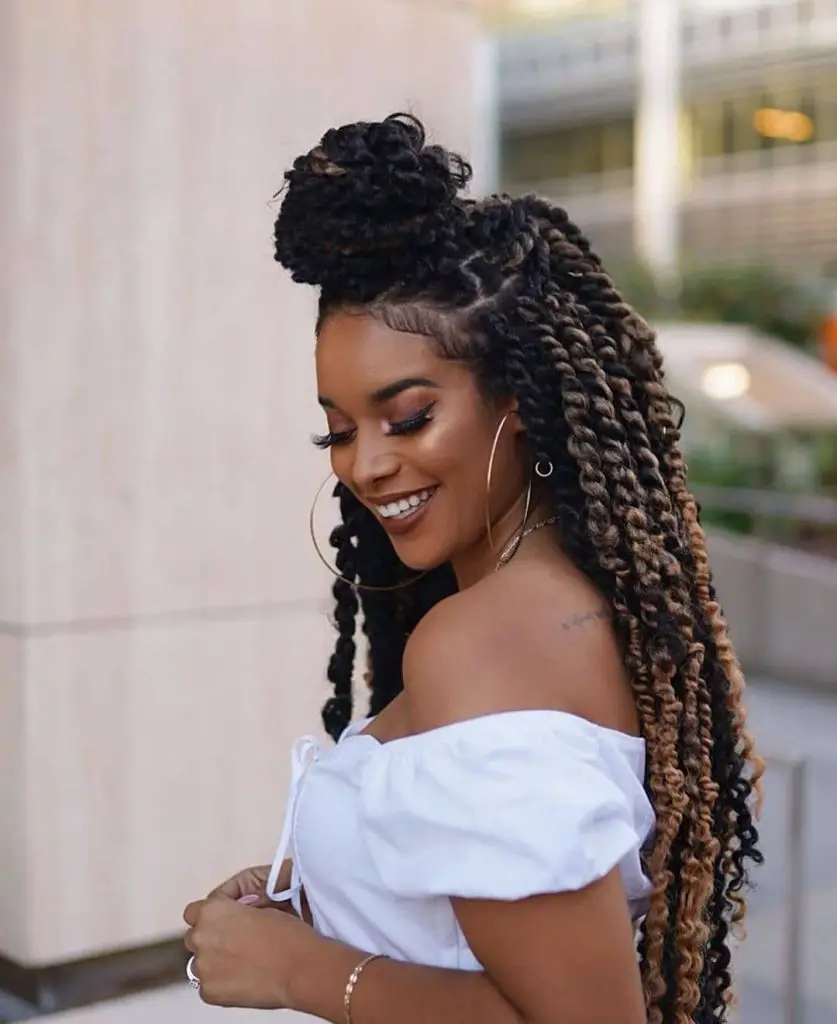 8. Small cropped passion twists
Keep your passion twists short and cute but opt for a colored extension to make the cropped hairstyle draw attention. Add extra details to the hair by infusing some tiny cornrows in front to help with the styling. This variation is light and will require low maintenance, which is perfect for any woman.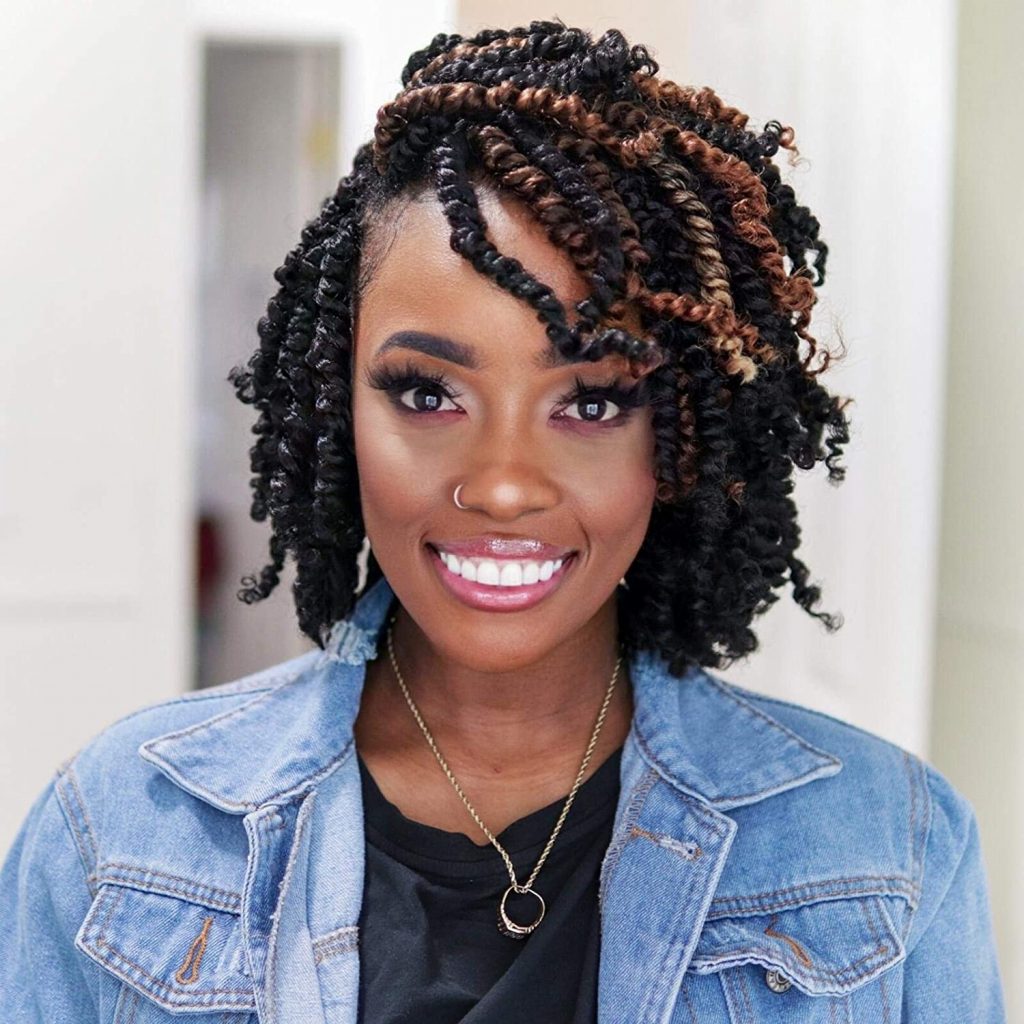 9. Highlighted twist hairstyle
Most twist hairstyles are made in one basic color and colorful highlights can be used to elevate them. Highlights are more beautiful when they frame the face instead of the traditional highlights that will look like two-tone highlights. Add one or two strands of a bright-colored extension to the side of the face. The color pop will be all the highlights you need to style your passion twists.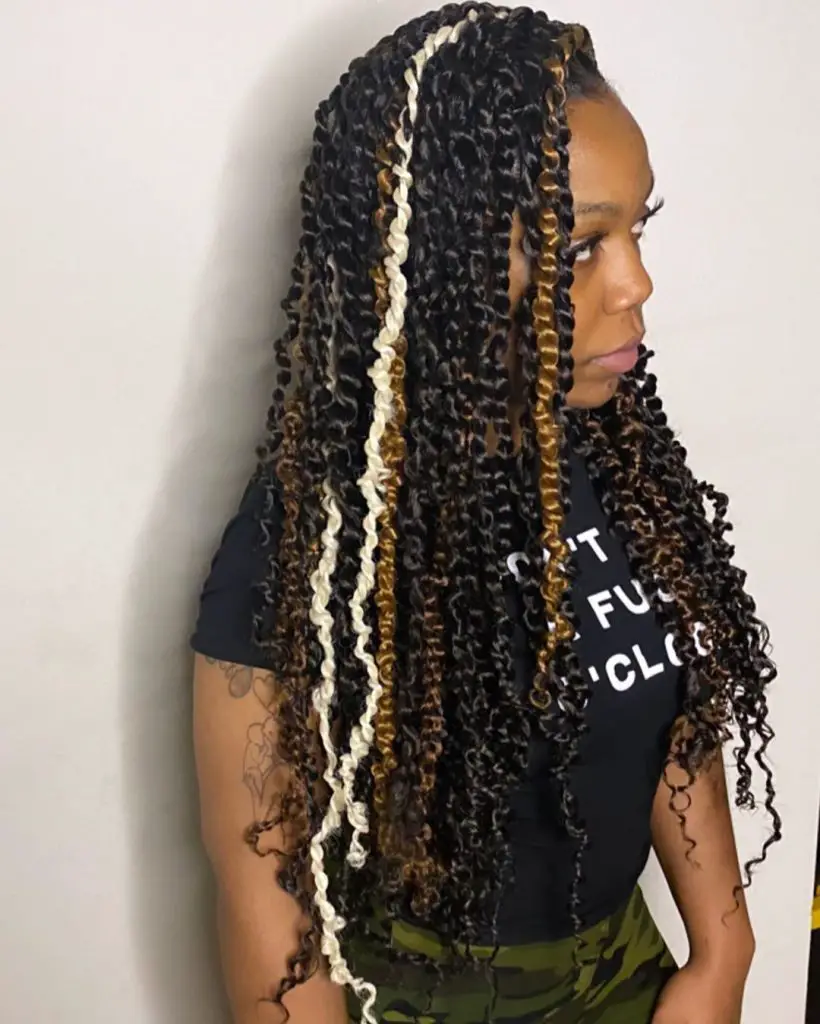 10. Ponytail twists
This is an eternally classic way to style passion twists of any color. Just gather the strands together and hold them with a scrunchie or band. It can be placed high or low as it suits you, this will show off your neck. Long-length hair is more suited for this style since it is easier to manipulate them after gathering them into a ponytail.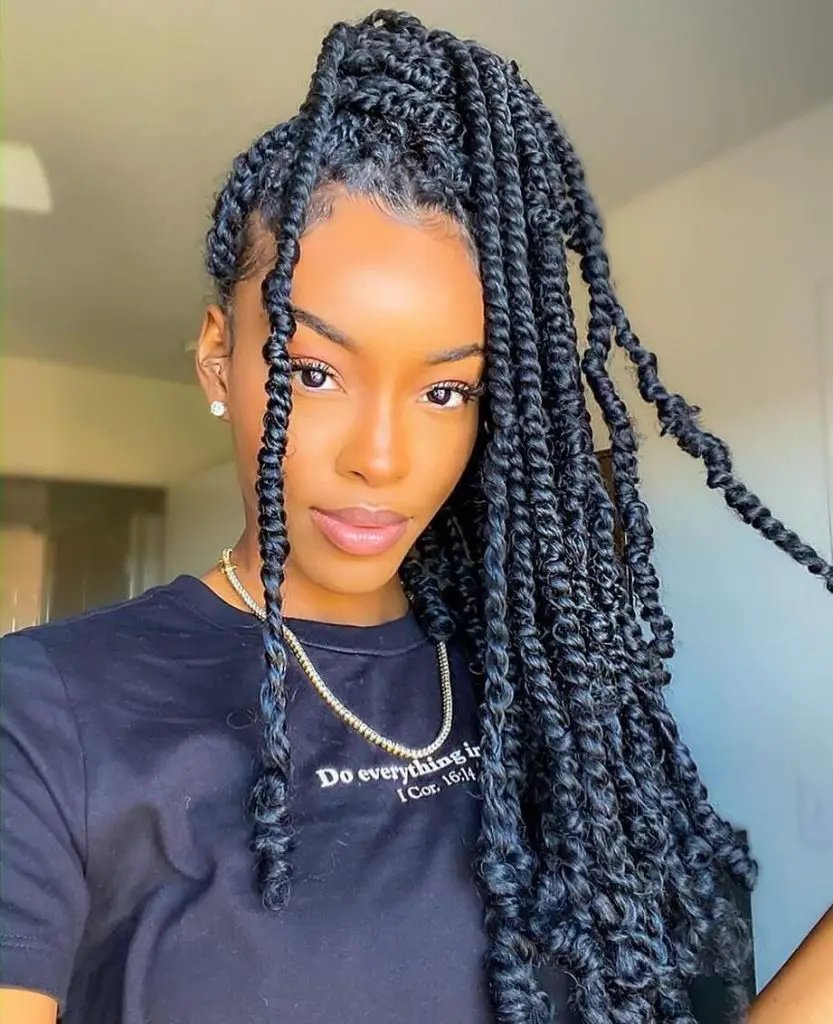 Passion twists are a type of protective braid hairstyle that looks beautiful on everyone. It takes hours to install these twists and you can opt for the crochet variation to cut back some time. Since it curls and is loosely twisted, it gives off a cool and natural vibe which helps it retain the curls even after weeks, especially when you apply the right hair products.
It is always worth the time and effort since they are long-lasting hairstyles. The versatile ways to style them make you enjoy the ease of maintenance. This only means you should already have them on your radar.