The fall season is not all about wearing oversized and bulky clothes because of the drop in temperature. To counter this, stripe sweaters are a great choice to dress in a cozy yet elegant way. Deciding on your sweater choice can be a lot, so you will need to invest in some good pieces to update your wardrobe for fall.
The first thing to consider is the color — there are several options, from bold, neutral, and cool shades. Another thing to look out for is the fit: if you'll want to lose or tightly fitted on your body. The neck type is also one to look out for: round, collared, mock, turtle, and V-necks.  
If your Instagram feed is not providing enough stripes outfit inspiration then take a look at some great stripe sweaters choices to take you through the fall season.    
1. Collared striped sweater

Sophistication meets comfort with a sweater like this. Styled correctly, you can wear it to work as well as events. Pair with dress pants to get the most out of this piece for that a certified work look, while high waist trousers are a chic look for casual events.
Collared sweaters are versatile so they can be worn almost anywhere by anyone, but the bottoms are what will define the look.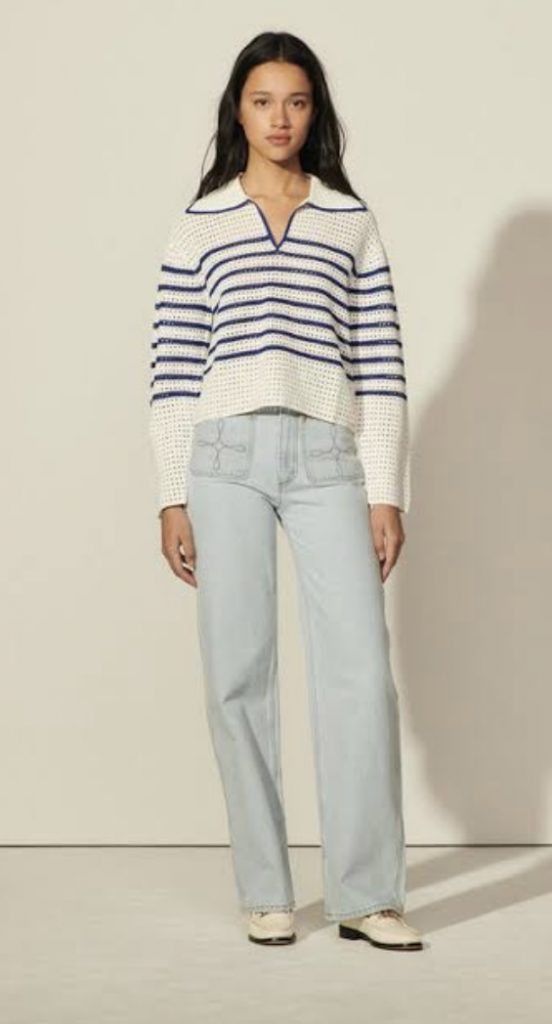 2. White and black striped sweaters 
These are perfect to wear anywhere. The basic colors on white and black striped sweaters blend well with other colors, so you can easily style them with any style of trousers to match the occasion.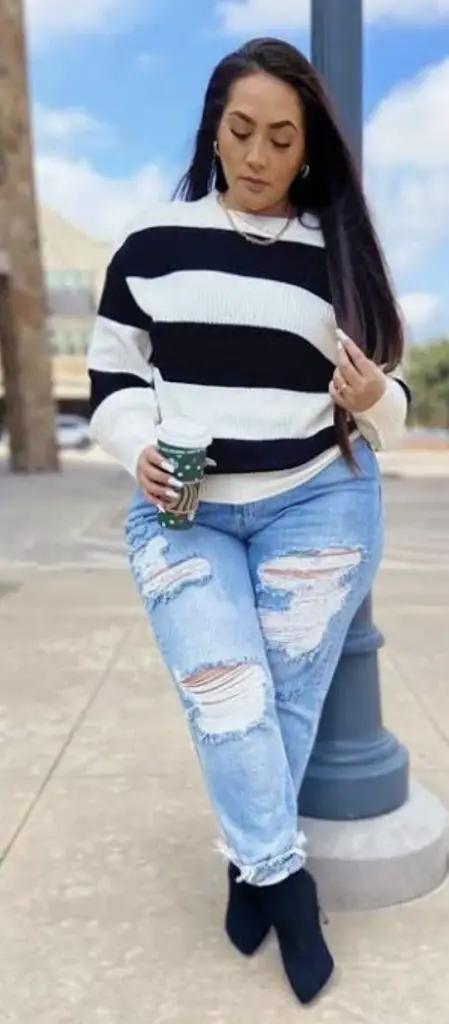 Wear distressed jeans if you are going for a casual look, skinny jeans for a neutral look, and straight trousers for a more serious look. You can also pair this with a long skirt and boots.
As you choose the bottoms, think about your footwear because heels or flats can affect the final look of an outfit.  
3. Blue and red combo 
A bold color combination you will love to wear all the time is a blue and red striped sweater. The colors are bright yet cool because the blue helps to tone down the red. Wear this with black trousers and some sneakers or boots to complement the outfit.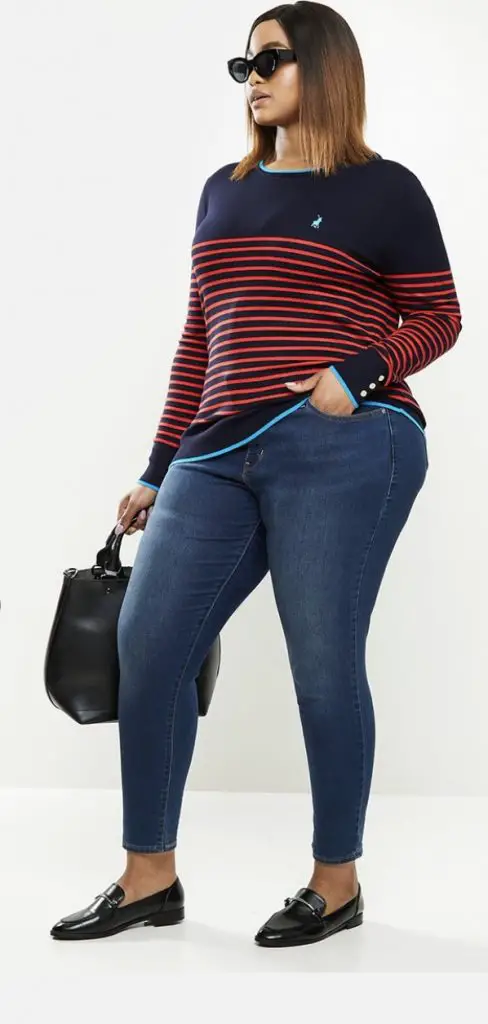 4. Pullover stripe sweaters 
Thinking of lounging all day? Then pullovers are the way to go since they are easy to throw on and off. The all-around comfortable look is achieved by wearing them with matching sweatpants.
If the need arises for you to go out, throw on a pair of jeans trousers and some sneakers. This is an effortless way to look good.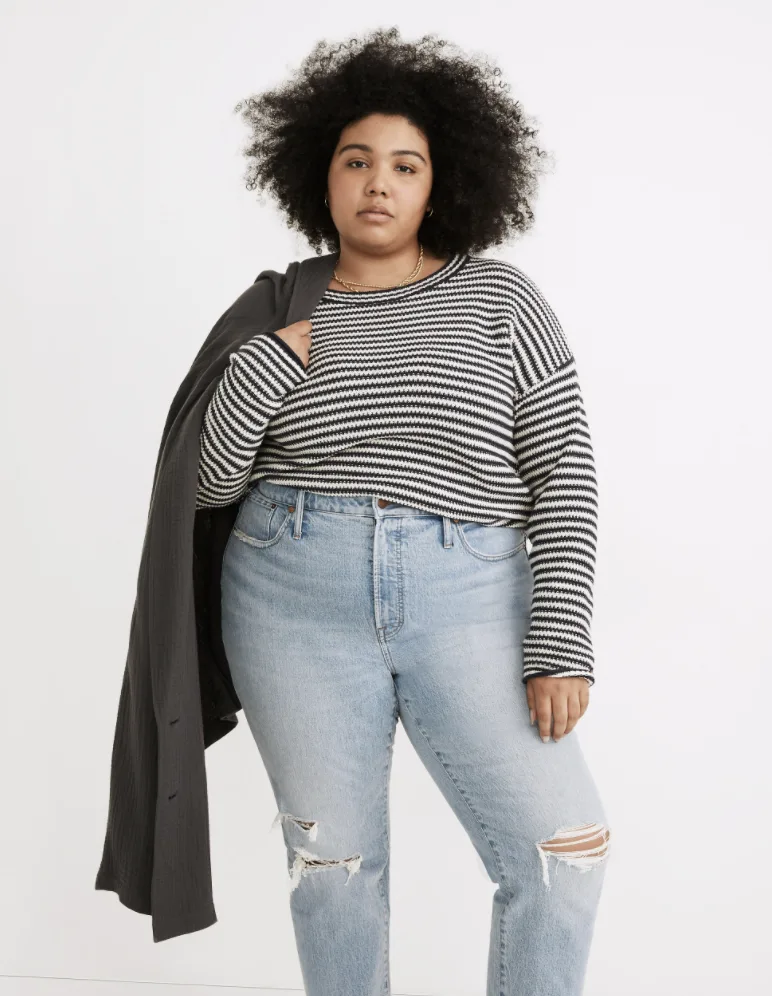 5. Blue-grey stripes
If you're feeling a little blue, you can try this blue-grey stripes combo. The cool color fits a calm mood perfectly, and you'll get to look stylish while expressing yourself.
If the color is too cool for your normal style, wear a pair of white trousers to give a pop of color to the outfit rather than wearing black or the same blue color.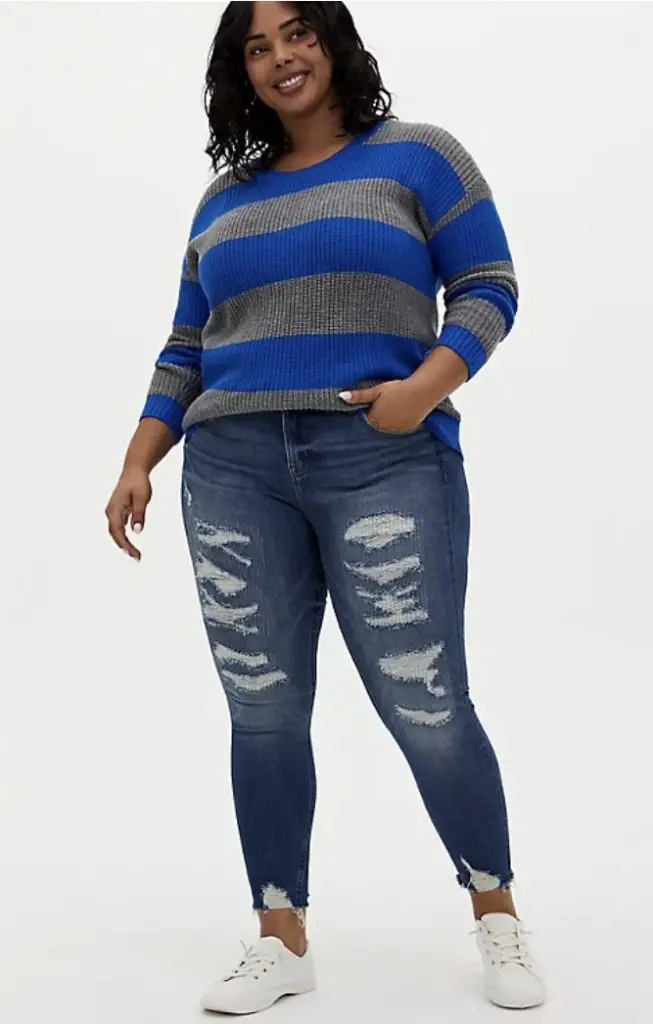 6. Multi-colored stripe sweater
Wear a multicolored stripe sweater for a fresh look that will match a neutral mood. It is quite easy to tweak this sweater choice to suit you.
Stripes of bright colors are perfect for a cheerful mood, while a duller color transition will be good for the alternate mood. 
7. Turtle neck stripes 
Turtle necks are a top choice for a classy sweater outfit. Get a suited sweater color combo and style. A pair of wide-leg trousers will elevate this look while skinny jeans will keep you looking relaxed.
For a more official look, a skirt with a hose underneath will be appropriate with a pair of loafers to complement the outfit.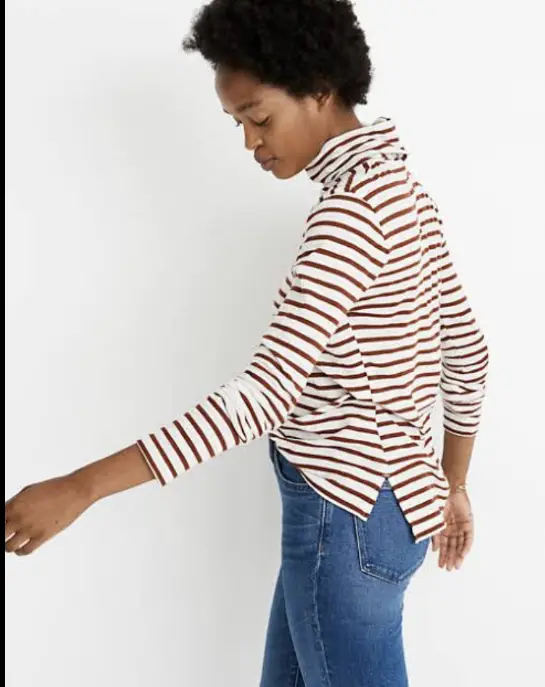 8. Blue and white  
This color transition is so stylish, you'll need to try it ASAP. Wear a pair of dark blue jeans for a monochrome vibe. They look cute with boat neck-styled sweaters.
This is not to say you can't explore any variation of blue and white stripes you can find. They will look attractive all the same. Complete the outfit with some leather knee-high boots or a trusty pair of heels.  
9. Oversized stripe
sweaters
For a certified casual look, pair oversized stripe sweaters paired with baggy trousers. Style with chic accessories to add some spice to the look. Since you're dressing for fall, you can throw a coat into the mix.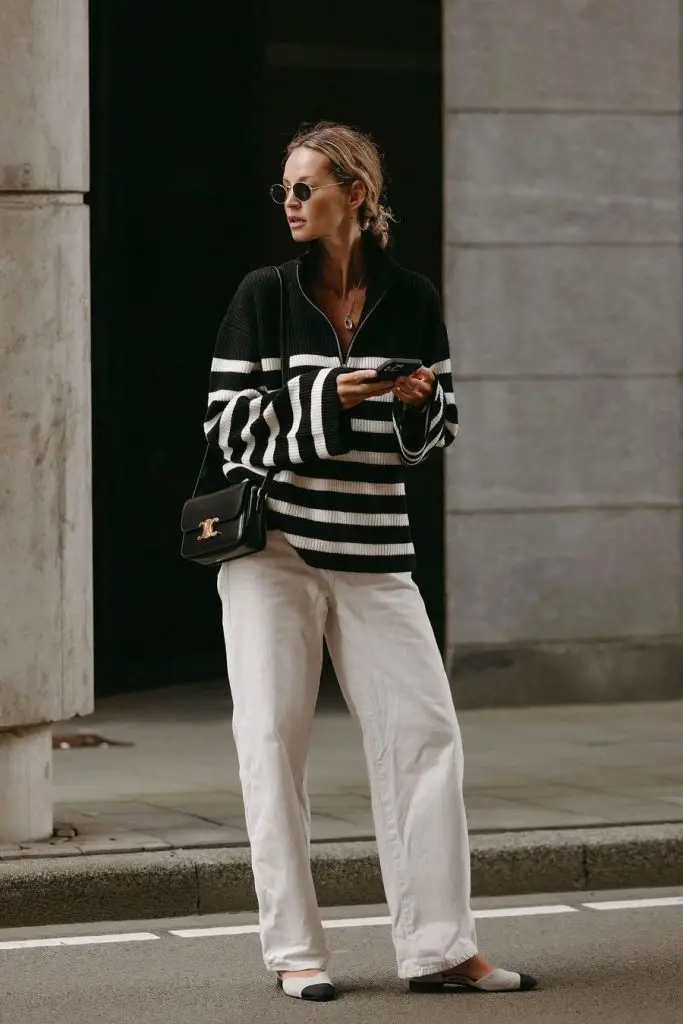 10. Maroon stripes 
Maroon, white and black stripes might seem a little basic but paired with the right bottoms and accessories, the sweater lights up to give a nice blended look. The great thing about this sweater choice is that it can be worn by any gender.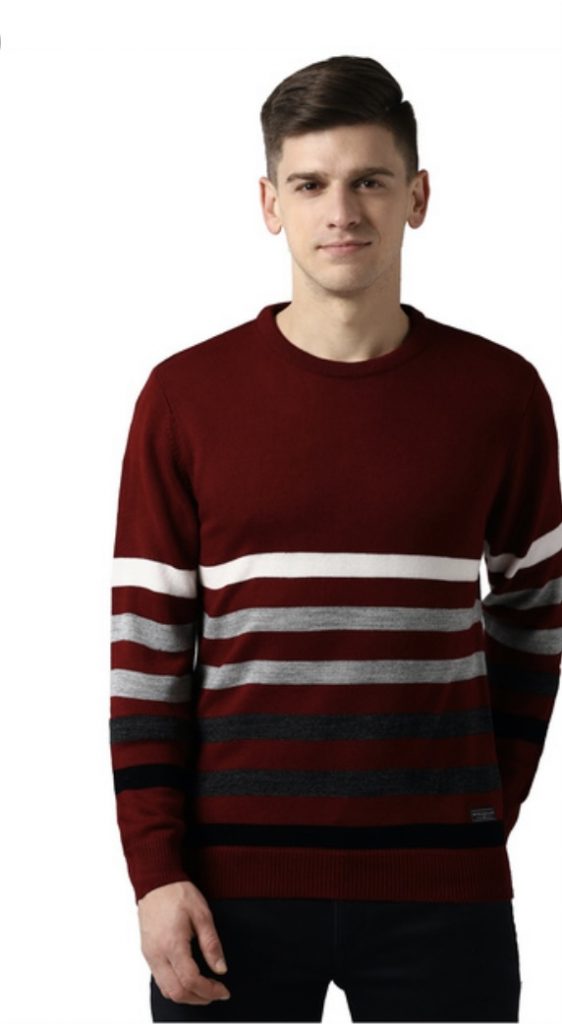 You can now update your wardrobe for more sweater-inspired outfit rotations. They are easily styled and great to wear just about every day if you so desire. A pop of some bright color here, something cool to mix it up there, and you are all set. A tip to always look good with a striped sweater is to avoid wearing patterned bottoms with them.