A new season ushers in fresh ways to dress up and sometimes leaves us confused about our clothing choices regarding the trend and the weather. A cropped cardigan is one outfit choice that can save you on one of those indecisive days.  
They are cropped versions of the normal cardigans, made with lighter fabrics—usually wool—in more creative designs. That makes wearing them more fun than the normal length ones.
Kendall Jenner can also affirm that after wearing three outfits consisting of these cropped beauties in a single week. Cover up in style with the list below containing ten stylish cardigans we scoured the internet to find for you.  
The classic black cropped cardigan 
Stick to the basics with a simple black cropped cardigan. They go with every outfit, so everyone should own one of such. You will always look trendy all year round, so you can style as you please as they fit into any closet.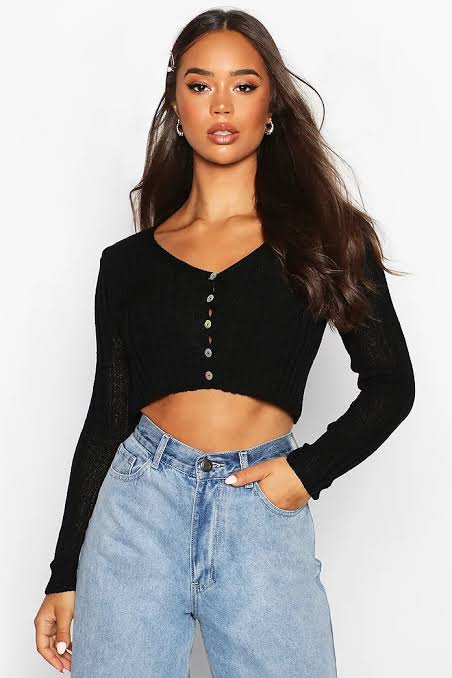 The styling options are endless—pair with simple black high waist trousers or a skirt. This choice is cool and safe because you can play with the colours and still look unique and stylish. 
Open knit cardigan

Stay fresh with an open-knit cardigan. They feature big holes which can be see-through. You can layer them with a camisole or thin-strapped tops to get extra coverage before you wear your choice bottoms. You can also wear them on their own but they are best suited for warmer temperature since they are sheer.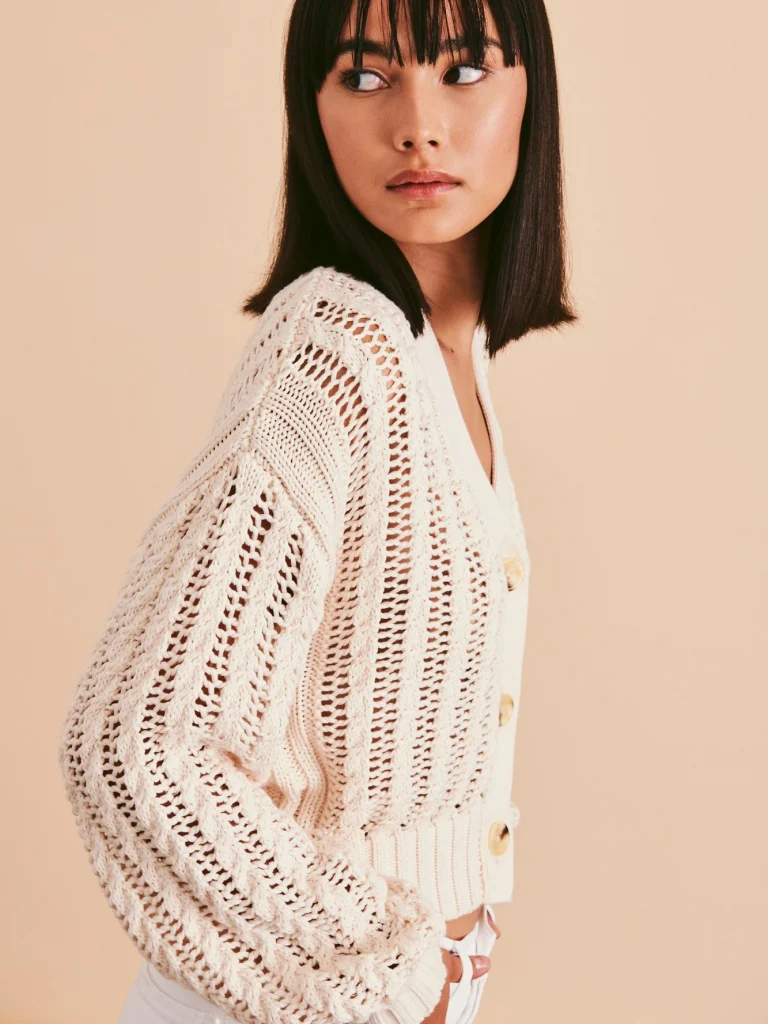 Textured cropped cardigan 
Cropped cardigans are not recommended for colder weather. But with a textured and thicker option, you get to stay a bit warmer. They can be perfect to pair with a simple slip dress so at least you be sure of all the places covered.
Since they are cropped, you should pair them with a textured bottom, preferably high waist trousers to withstand most temperatures.   
Cropped cardigan with pockets 
Pockets on a cardigan are so cute and can serve as extra details to base your styling on. They can be stitched, hidden, oversized, or just a mini breast pocket. All of these options present different outfit possibilities, so you should take cues from them while you dress up so you can get a gorgeous ensemble.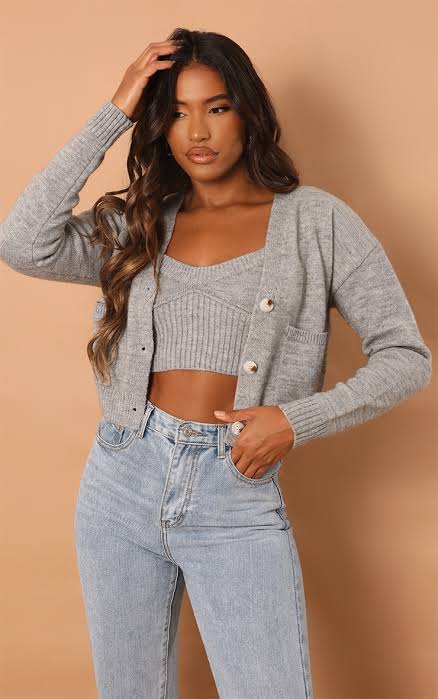 Cable knit cropped cardigan
These are some of the most favourite knitting patterns and feature an intricate design that looks like it was handwoven on the cardigan.
Pair the cable knit cardigan with a mini slip skirt, sneakers, and rectangular sunglasses and get an effortless '90s inspired look. Make the cardigan the focus with jeans trousers and a trusted pair of sandals.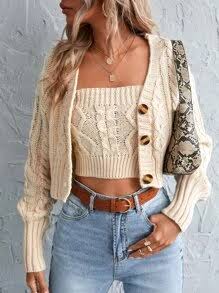 Ribbed cropped cardigan
The ripped cardigan is a more structured design variation of the cropped cardigan. The visible line gives them a special line pattern. This doesn't take anything away from their cosiness. You will only wish you bought them in more colours.
You can easily throw them on a maxi dress, jeans, and skirts as they are a beautiful piece to dress up or down for any occasion. 

Detailed sleeves 
Keep the cropped cardigan classic design but add a spin with a cardigan with detailed sleeves. From draped to balloon sleeves that are voluminous and extra-long, they all add edge and dimension to the simple cardigan. You can throw this on high waist straight leg trousers and some boots. The streets will be your runway.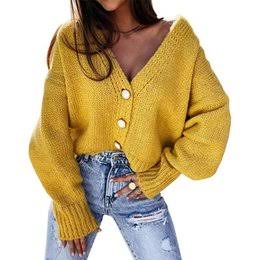 Cropped cashmere cardigan
Cropped cashmere cardigans will always be trendy as they are both fall and spring appropriate. They are so chic and can be styled in versatile ways. Some variations come as a pair with a matching bralette or camisole.
Both can be styled together for layers or worn separately when it's warmer. Find one with extra detailing and beautiful patterns as it is a piece you'll want in your wardrobe.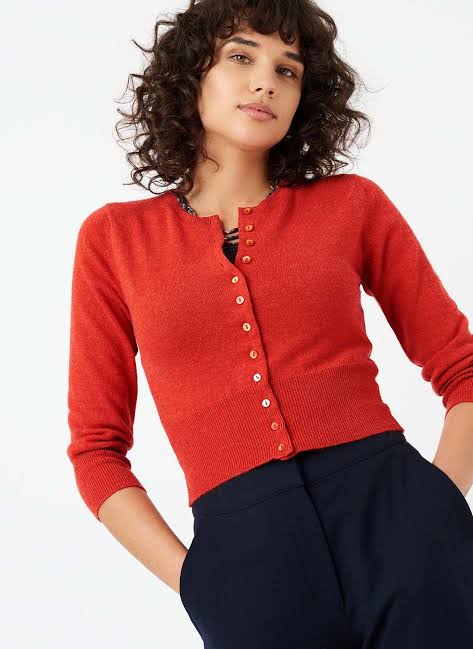 Striped cropped cardigan
Striped sweaters are doing it this fall, and so are the cardigans. This cropped little cardigan is a great way to get stripes into your outfit. Go from pastel to bright colours and wear with plain trousers and chunky boots. They are a perfect way to mix up your stripes collection.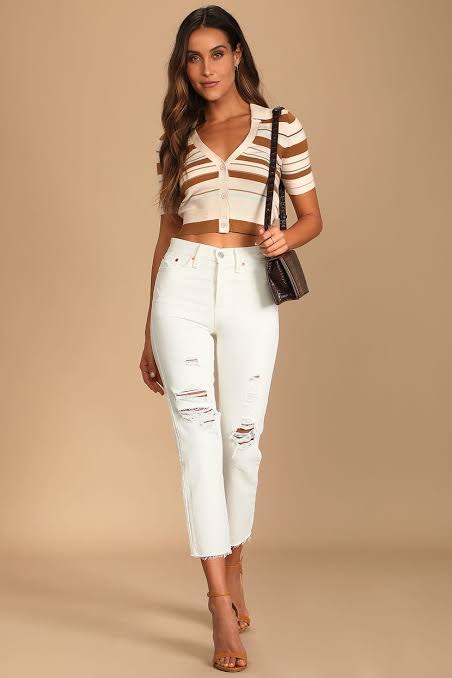 Hand crochet-knit cardigan 
You can't miss out on the cardigan trend with a hand-woven design like this. The style is knitted open but with a unique pattern. You can pair it with high waist bootcut trousers if you are trying to achieve a boho-chic look. Wear it with simple jeans or shorts and you will look cute anyway.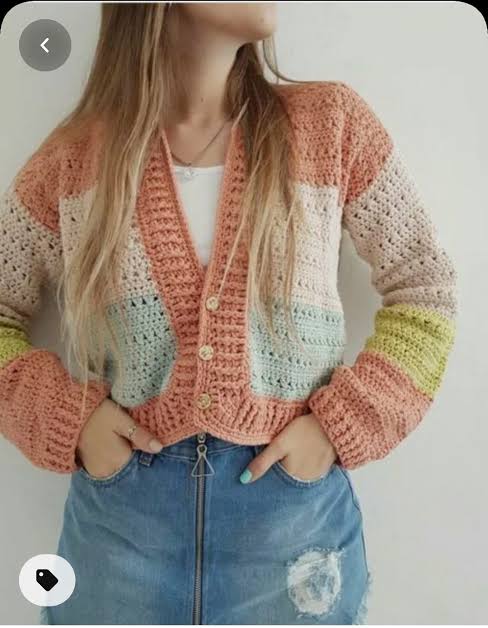 The shrunken knit beauties are in space of their own, maybe because of the cinched waist effect. It is fine to get a little obsessed with them as they are that cute; from the embroidery to dazzling buttons and fine details, much can be said about these cardigans.  
Lucky for you, styling won't be a problem. Wear them as tops or pair them with other clothing. The comfy piece of clothing will provide all the layers you need to ease into the colder temperature and stay trendy.