One of the worst skincare challenges that people face is an outburst of acne…literally a pimple attack. It's horrible to wake up to a host of spots on your face, especially if you have a big meeting or a hot date in a few hours.
So, what do you do if you have a problem like this? Others like you have found several solutions to the pimple problem in things like toothpaste (but does that really work?), cleansers, tea tree oil, salicylic acid, and most recently, hydrocolloid patches. Chances are that you've seen people using these patches at least once.
Hydrocolloid patches are also known as pimple patches, but spoiler alert, they don't work on cystic acne. However, they are amazing for skin-occurring acne. What are hydrocolloid patches and how exactly do they work? This article will share everything you need to know about these miracle pimple patches.
What are hydrocolloid patches?
Hydrocolloid patches are also known as pimple patches and are made from a special moisture-absorbing material that has been used for decades to help to heal wounds. Since it works faster and helps your pimple heal how it's supposed to (in a moist environment), it's a great choice for many women. Actually, for anyone with acne TBH.
Instead of having to deal with the resulting scar after popping your pimple (major side-eye!), simply stick on the hydrocolloid patch and leave it alone. Since bacteria, oil, and dirt won't touch the spot, there's more room for your pimple spot to heal properly, leaving you with a less inflamed spot by the time the patch comes off.
Basically, hydrocolloid patches work to dry out your acne. Pop it, stick a pimple patch over the spot and leave it on overnight, or for a few hours. By the time you take it off, you should see a marked improvement. If you're not satisfied, dispose of the old one then use another patch.
How do hydrocolloid patches work?
One thing to note with hydrocolloid patches is that they mostly work for easier, surface-level acne so you absolutely can't use these pimple patches for cystic acne, which grow from beneath the skin.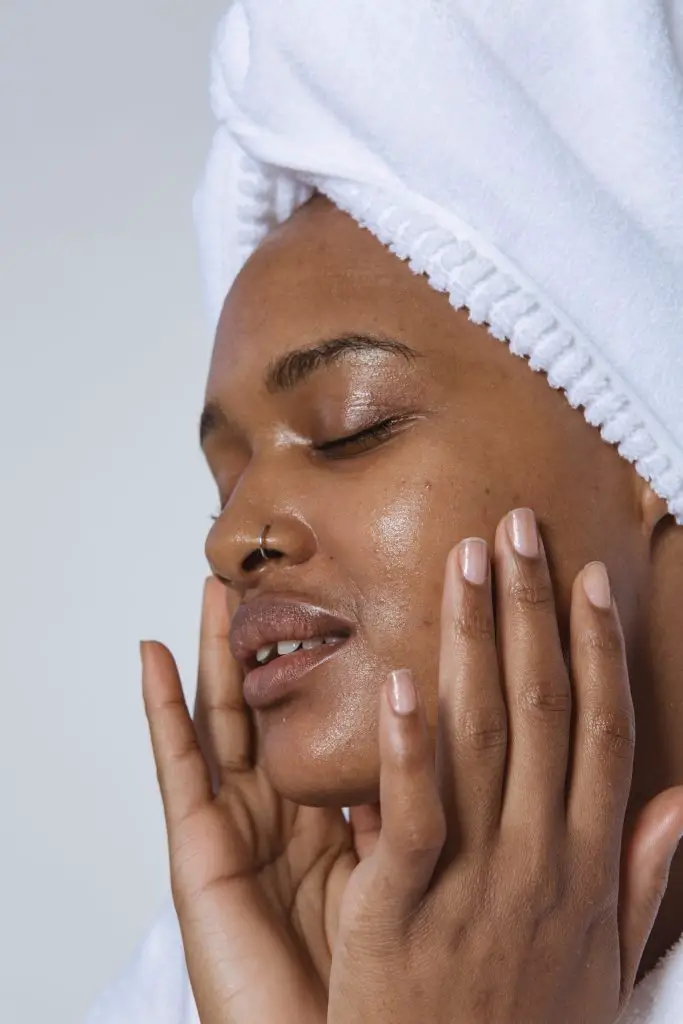 These patches are similar to regular pimple patches but the unique part of hydrocolloid patches is the fact that the latter contains salicylic acid, tea tree oil, glycolic acid, or niacinamide, or a combination of some or all of these. What's more, some hydrocolloid patches contain tiny darts that push into your skin before spilling its skin-saving serum.
So, how exactly do these patches work to save your skin from acne? These special patches contain hydrocolloid, which is a moisture-absorbing substance that is also used to heal chronic wounds. So, you can think of these patches as a tiny dressing for your pimple wound.
A great thing about these patches is that they suck out the toxins from the pimple while protecting the spot from external bacteria and your own fingers. Doing this accelerates the healing process of your acne, so you can enjoy smoother skin faster.
Why do the patches turn white?
For many people, one of the most satisfying parts of using these patches is actually seeing the dirt that comes out. Sadly, that 'dirt' isn't actually dirt.
The white stuff that appears on your patch after using it to remove a pimple from your face is actually just moisture from your skin that made the patch white and gummy so that it can better protect your wound while it heals.
Do hydrocolloid patches work on cystic acne?
Unfortunately, no, pimple patches don't work on cystic acne. They don't work because hydrocolloid patches dry out your acne from above your skin and cystic acne, unfortunately, burrows out onto your skin from beneath. The best thing to do if you have cystic acne is to see your dermatologist.
What are the best hydrocolloid patches to buy?
There are many options for you when it comes to buying hydrocolloid patches. Below is a curation of several choices you can make:
1. Mighty Patch original
If you prefer vegan and cruelty-free products, then go for the Mighty Patch Original pimple patch that comes in small round white pads and gets rid of your acne just like that! What's more, you don't need to pop your pimples to use this patch, and it takes just six to eight hours to get rid of your acne.
2. Acne Pimple Healing Patch
If you would rather save your money while still getting great results, then go for the Acne Pimple Healing Patch. It includes 106 patches that come in two sizes: a small and a super small. They are also invisible and can be worn under makeup.
3. COSRX Acne Pimple Patch
Skincare buffs will probably prefer the COSRX Acne Pimple Patch. It contains 96 patches, with 24 patches in small, medium, and large sizes. Simply use a patch that is slightly larger than your pimple and slap it over your problem area.
4. Acne Pimple patches by LUA LUA
Acne Pimple Patches by LUA LUA contain 120 patches and come in three sizes. These patches can be used for up to 24 hours, are invisible, and can be worn under makeup. It is also natural, containing tea tree oil as well as calendula oil so even children can use it.
5. AUSLKA Large Blemish Acne Pimple Patches
The AUSLKA pimple patch is long, ultra-thin, and perfect for larger area outbreaks. It is also light, breathable, and transparent so it can be used with or without makeup. This product is perfect for getting rid of forehead acne.
Conclusion
Hydrocolloid patches are your best bet for getting rid of troublesome acne in the shortest time. Just slap one over the problem area, wait a few hours and greet your pimple-free skin. What's more, some patches can be worn underneath your makeup, ensuring that you never have a bad makeup day.