Getting your nails painted with loud designs can sometimes feel like repeating the same thing all the time, not to talk of the long hours it takes to get them done. You can tone down your nail choice by trying these simple nail designs. The elegance that simple nail design exudes will do the trick for you. Even in the simplest form nails can still look beautiful while you show your personality. Take a break from your regular accessory-laden nails with these cute yet chic designs.
It is not just about having large and flashy nails. Less can be more when done with style. From simple dots to line and monochrome nail colors, there just might be one or more simple nail design you can try this year.
1. Multicolored simple nail designs
Multiple colors on each finger are a simple way to get beautiful-looking nails. There are two ways the color can go—you can either get the light shade or the dark shade of color that blends well together.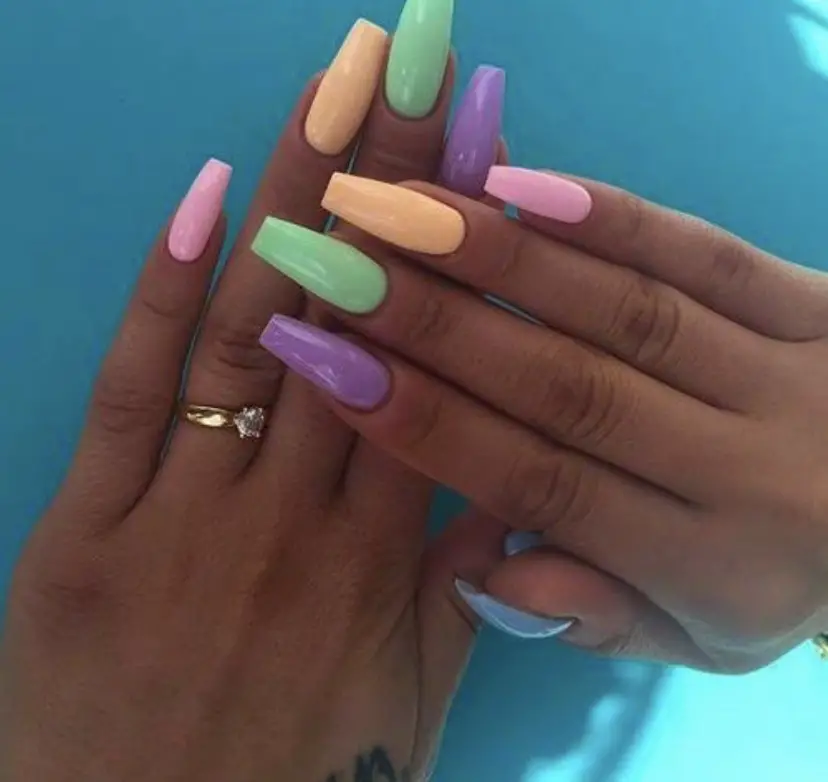 This means that your nails will be bright with colors like yellow, pink, blue pastel shades of each color. Your nails will have a dark feel if you opt for colors like brown, black, and other darker shades. The contrast of colors that multicolored nails give is always beautiful.
2. Star nails
Paint your nails a basic color, then add ready-made stars to the nails to elevate the design. You add one or more decals on each finger, placing them strategically so they sit well. This design pairs two colors effortlessly as you can add stars to just about any color of the nail. Just be sure they match so the finished result will look great.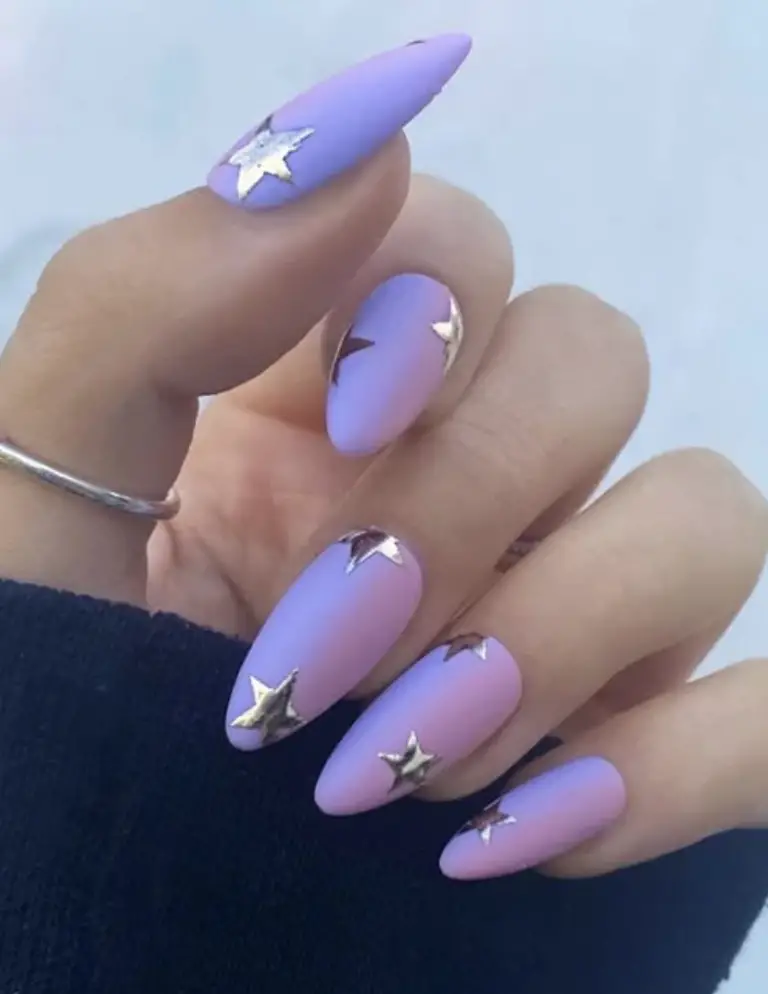 3. Foil piece nails
Foil nails pop without having to do much. The choice of nail paint should be a nail polish with chunky glitters like pieces of foil. That way you get a glittery and simple nail design that stands out. You can opt for just adding the glitters on the tips or spreading them around. Either way, you'll have classy and simple nails.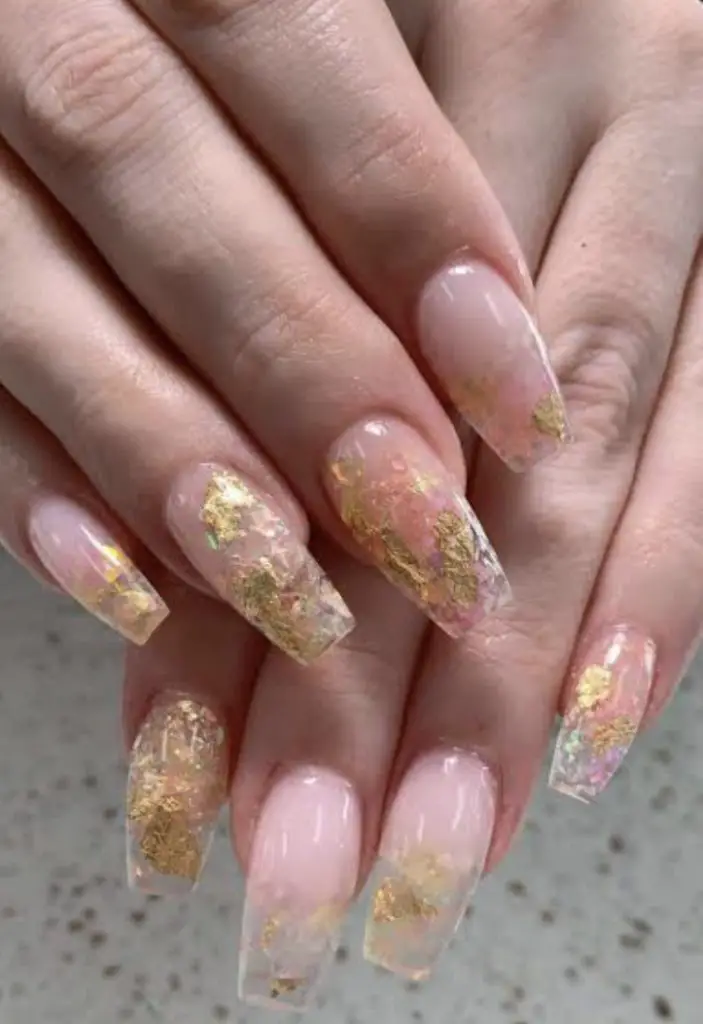 4. Stripe simple nail design
The simplicity of these nails shows in the neutral color base. Then for the stripes, you can get creative. Single thin strips with any color of your choice on the nails give more dimension to the nails. For vibrancy, you can go for stripes with glitter nail polish for a bit of fun.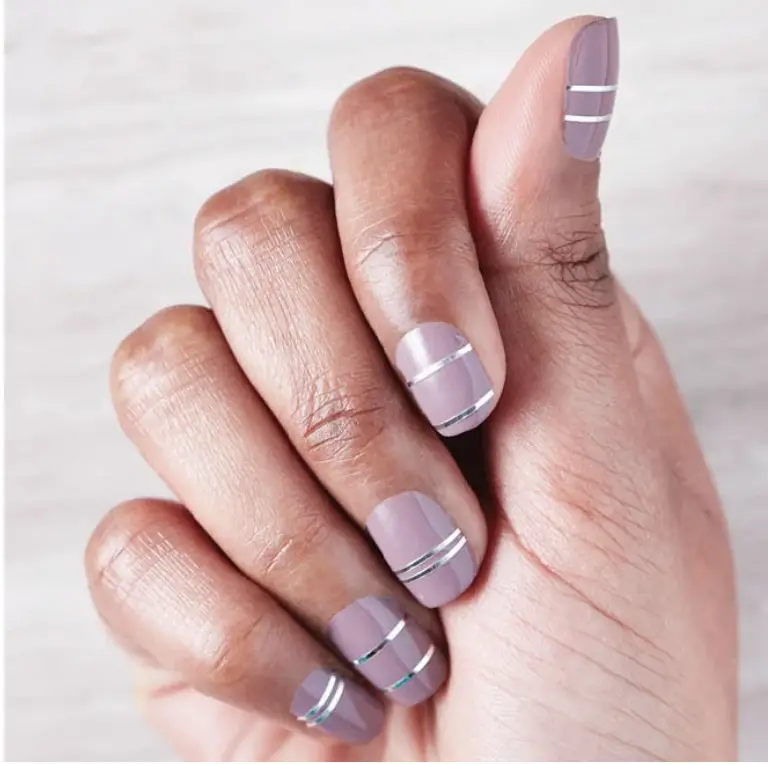 5. Dotted nails
Dots on the nails are forever classic simple nail designs that blend perfectly with a lot of colors. One or two dots on a matching nail base gets the job done. You can get more creative and add different sizes of dots to cover half of the entire base of the nail.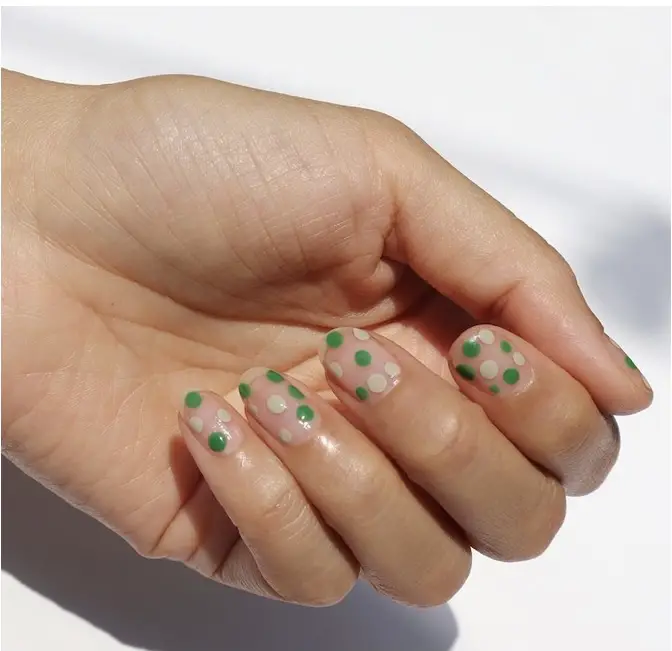 6. Half and half simple nail design
A combination of two different colors on the same nail separated seamlessly in two halves is a simple nail design you should try. The colors don't have to match, any two will work for this nail look. It creates a double color impact that is so chic.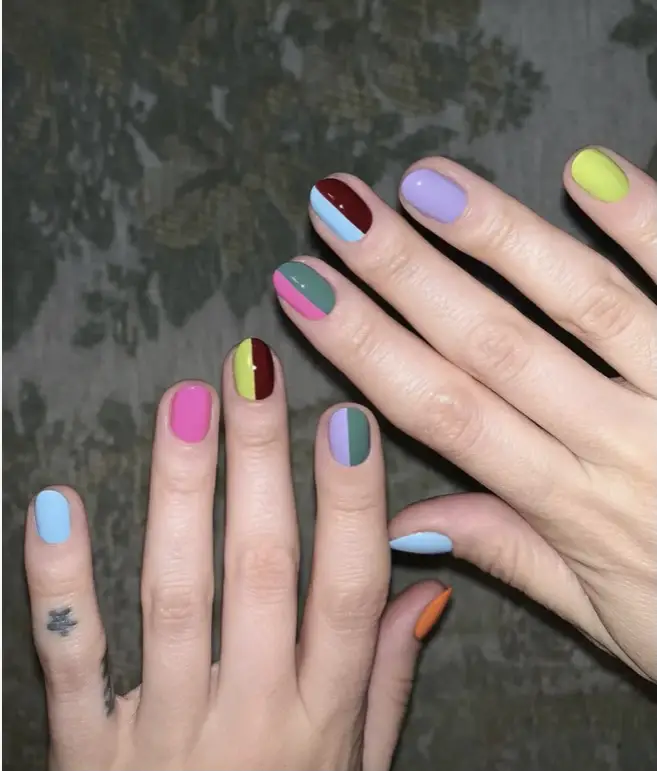 7. French tips
Graceful French tips are not left out. This classic nail design has many options that you can try. You can do the basic French tips which consist of pale pink and white colors or switch it up with other colors.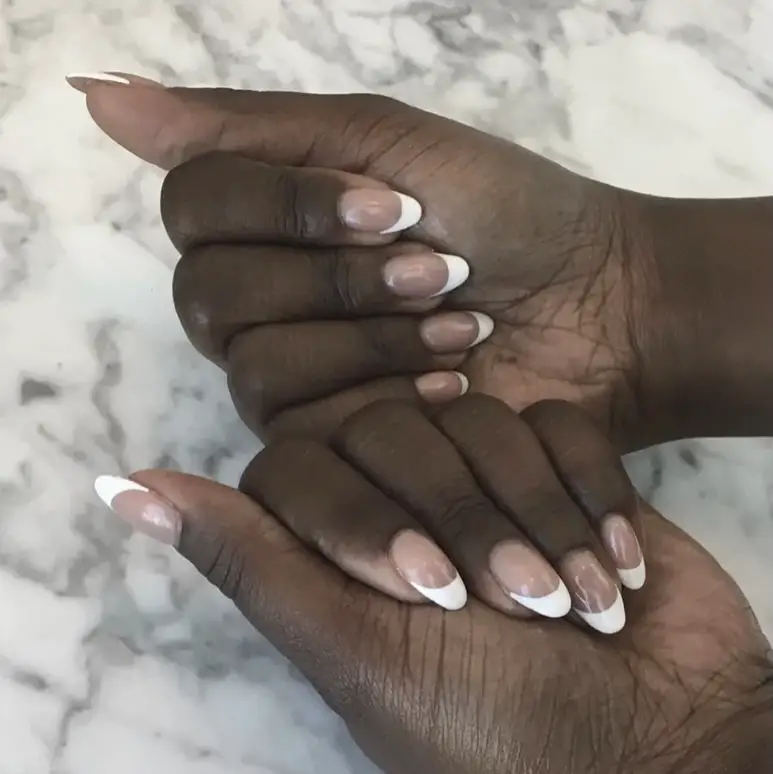 The nail length and tips can also be adjusted to suit your needs. They can be done in thick, thin, sideways, and even reverse. The style option can be manipulated just how you want it. Simple French nail designs are a style that never disappoints, and you should definitely give this one a try.
8. Branded nails
The ultimate minimalist look is adding a cut-out design logo of your favorite brand to your nails. It may be a fashion, health, or business logo. Here, the simple design can be used to express your love and support through your nail art.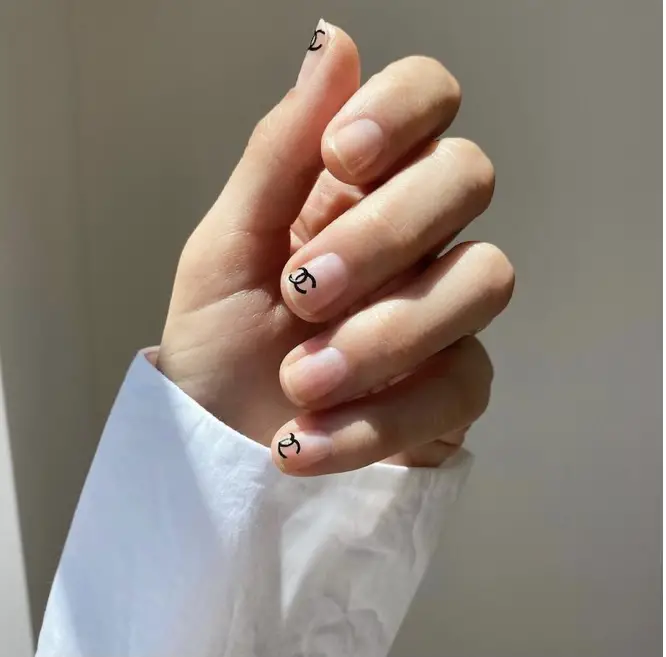 9. Embellished simple nail design
This is a simple way to flaunt your flashy side. You can adorn it with designs and patterns of choice. Small-sized stones and flowers can be used to cover the entire base of the nails or layered on the sides.
10. Simple edgy design
Edgy designs can also be done in a simple way. Brighter nail polish will be used to paint shapes on the nail base. Circles, triangles, and abstract shapes can be painted here. What will set it apart and make it look beautiful is the way the shapes are painted on the nails.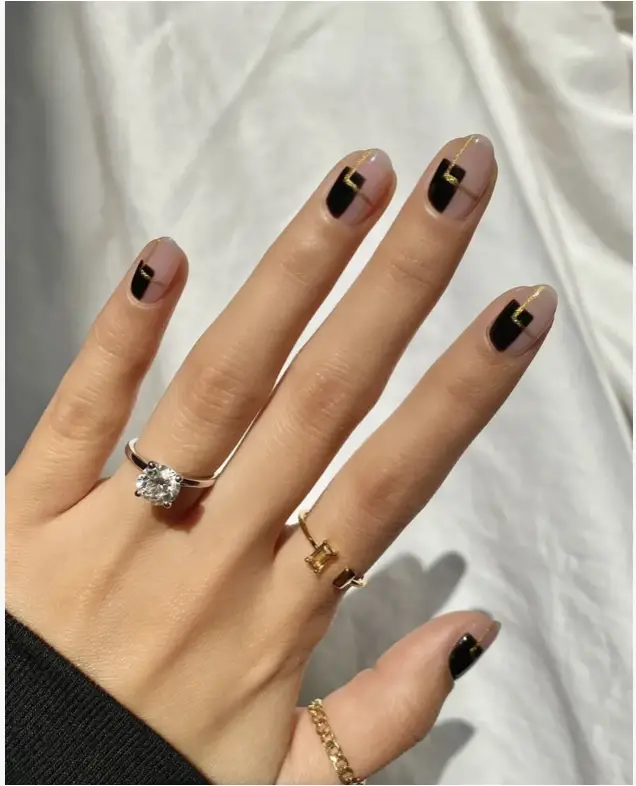 Conclusion
These simple nail designs are beautiful for any season all year round. Don't just take our word for it, try one of these simple nail designs other than one that you're used to.
If you think that they are not worthy of a nail salon trip, you can easily recreate these nail designs yourself if you've got the time to do so. The simplest of nails can still show your style in a subtle way.