Mexicans consume, among many other things, a lot of rice and beans. So you can find it in many traditional recipes such as the well-known Mexican rice; a simple and enjoyable traditional food that can work as a side dish for your meals.
This simple yet quite tasty rice can be prepared in under 40 minutes and adds more flavor to the conventional white rice you are used to eating.
Mexican rice, also known as Arroz a la Mexicana, is a common side dish in the north of Mexico, and outside the country as well. In southern Mexico, it is more common to eat regular white rice instead.
Its name comes from the fact that it is cooked using typical Mexican spices and flavor combinations, as it uses tomato, broth, onion, and garlic, however, in Mexico it isn't known as Mexican rice, but just rice or Arroz Rojo, which translates to red rice.
Where Rice Comes From
Some believe rice comes from ancient Mexican civilizations, but it isn´t true. Rice started being used in Mexico after Spanish people arrived on their land in 1500, and they started trading goods like cattle, pigs, goats, and chicken.
Then when Spaniards traveled to Asia, they brought rice and wheat to Mexico and other regions in Spanish America. Because of it, rice was then adapted and incorporated into Mexican traditional gastronomy.
This tasty Mexican rice recipe is also the perfect side dish for any other Mexican meal, or to celebrate any Mexican-themed party; you can use it to eat tortillas, fill tacos, burritos, and many others.
As always, the flavors of Mexican cuisine are distinguishable, strong, and of course delicious, just as this recipe. You can eat it with some carne asada, shrimp skewers al achiote, quesadillas, enchiladas, seasoned pork, and many other traditional meat dishes from Mexican gastronomy.
Spanish Rice vs. Mexican Rice
People sometimes confuse Spanish rice and Mexican rice because of their similarities, they both take flavor mostly from broths, and they are spicy; but there are some differences between these two delicious dishes.
Starting with the fact that you can notice their colors are different; Spanish rice is yellow thanks to saffron and Mexican rice gets more of

a red color from the tomato sauce

used to cook it.

Their texture is pretty different as well; Spanish rice tends to be firmer and

Mexican rice is really soft

, almost giving a melting sensation inside your mouth.
This is not a hard recipe, so your cooking skills don't need to be expert-level to get a tasty meal. Ingredients are convenient and easy to find too, so for your next meal you can go ahead and try this tasty rice for a quick trip to Mexico through its flavor and tastiness.
You can also prepare some pinto beans (or as they call them in Spanish, frijoles de la olla), along with some meat for a full Mexican eating experience.
Of course, as with any other traditional dish, every family has its own recipe, claiming also that theirs is the best; that's the reason why you can find many variants of Mexican rice with different ingredients and preparation steps, the following recipe is, therefore, adaptable to any flavors you might consider right for it.
Either way, we hope you like this authentic Mexican rice recipe!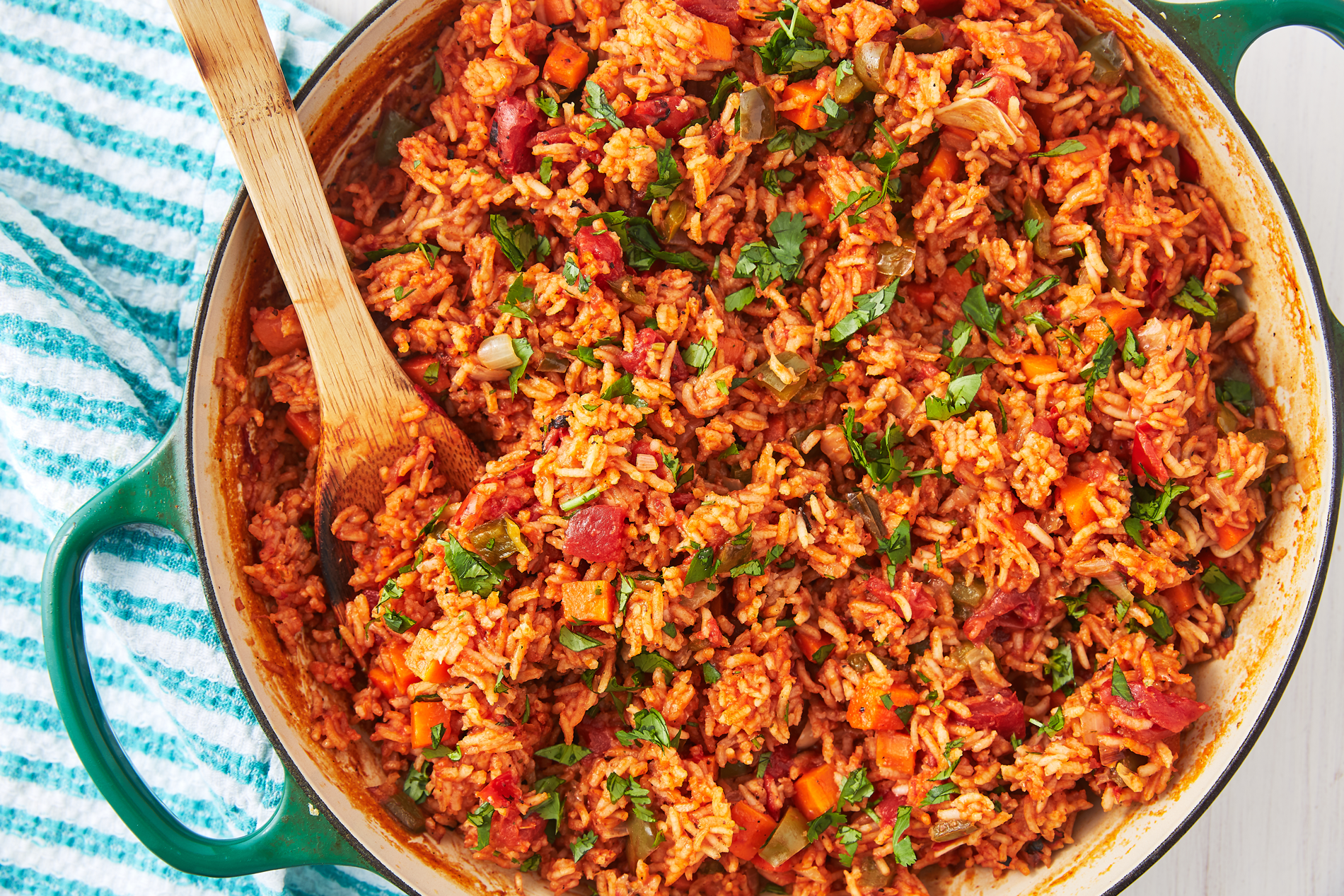 Ingredients
2 tomatoes, chopped in 4 pieces.

1 small onion, chopped into big chunks.

1 jalapeño.

2 tablespoons of oil.

2 garlic cloves.

1 ½ cups of long-grained white rice.

1 ½ cups of chicken broth.

1 tablespoon of tomato paste.

Salt.

Cilantro, chopped, and for decorating.
Preparation
Put the tomato and onion in a blender or food processor. They must be completely blended.

Remove seeds from the jalapeño and dice it.

After heating a pot with both tablespoons of oil for a minute; add rice and let it cook for a while, stirring in between so it doesn't stick to the pot. When the rice gets brownish it's already done.

Then, add thinly sliced garlic cloves and jalapeño; stir for a while and add the tomato-onion mixture, chicken broth, and the tablespoon of tomato paste. Finally, add salt to your liking.

Cover the pot and cook to medium-low heat for about 25 minutes or until the rice completely absorbs the liquid. Make sure the rice doesn't get overcooked.

Once ready you can serve it and garnish it with freshly chopped cilantro on top of it.
Another way of serving it is by cooking an egg and placing it on top as many restaurants do. This recipe works just as well if you use canned or crushed tomatoes, instead of fresh ones.
You can also add more vegetables like chilis, corn, peas, or carrots when cooking. And last, for more of a Mexican experience, remember to add some lime juice to it, and enjoy this delicious Mexican rice!