Skirts are back, and they are replacing sweatpants. One skirt that is currently making the buzz is the tennis skirt. It seems to be on every social feed, and they all look so chic, no matter how they are styled. They are easy to wear and look amazing with just about any cute cropped top or even oversized sweater shirts.
A tennis skirt should be on everyone's wish list, that's if you haven't got one already. If you've got one, then you can always add more. Not to worry, this guide will help you in your search as well as tips on how to style your newly acquired tennis skirts. These skirts can be worn to just about any event when styled right.
Original sporty tennis style
Just as the tennis skirt is associated with the tennis sport, you may want to stick to the sporty look. This can be easily achieved by pairing the outfit with a regular sports t-shirt or sports bra. To up your game, go for cropped polo shirts, a cute cap, ankle-length socks, a nice pair of jewelry, and athletic shoes. Shop here.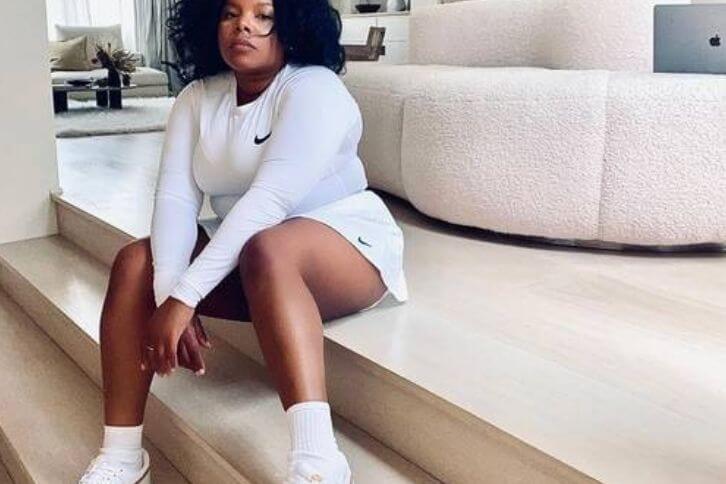 Classic white tennis skirt
The classic pleated white tennis skirt is a must-have, as there are endless ways to style them. These skirts are usually high-waisted, so if you're going for a sexy vibe, pair them with a sleeveless cropped top and sandals. To add a bit of an edge to the outfit, wear a denim jacket or a cardigan over the cropped top. Paired with nice mid-calf boots, you're sure to nail the super chic casual look.
Another great way to pair these classic whites that don't miss is the oversized chunky sweatshirts. A striped polo shirt, tucked in the skirt gives a mature chic vibe if that's what you're hoping to achieve. These white skirts are favorites because they are easy to pair with any color of your choice. Shop here.

Tennis skirt paired with a jacket
This outfit is inspired by modern fashion styles. To achieve this look you'll have to combine a cute tennis skirt, a nice top and put it all together with a nice jacket. First off, the most important thing in this look is the jacket blazer. To get this look, get any tennis skirt of your choice, an appropriate top, and blazers.
You can also go for a multicolored pleated skirt, a plain matching tank top and a leather jacket complemented with a pair of chunky shoes. Other jacket styles are not left out. You can rock your tennis skirts with just about any jacket from your wardrobe. From denim to bomber jackets, just be sure that they match. This jacket look is so chic because you can always accessorize it for a more classy vibe. Shop here.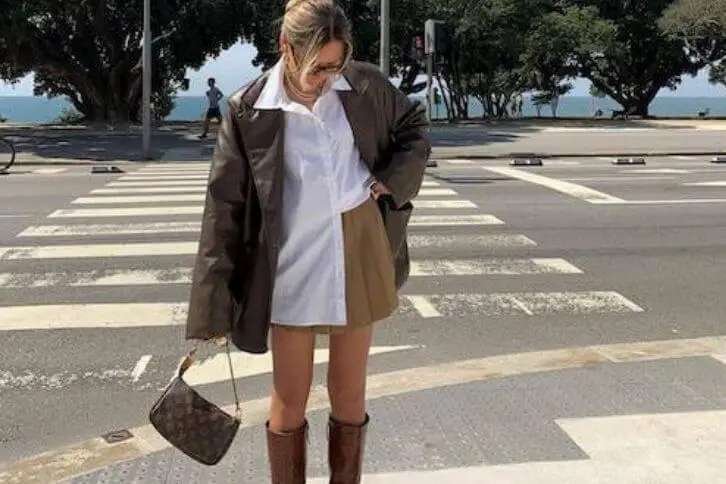 Sweater vest paired with a tennis skirt
Sweater vests hold their own in the styling of tennis skirts even though the sweatshirt look ranks first. A simple fit sweater vest on a pleated tennis skirt is always a cute and easy choice.
You can add spice to the look by wearing a t-shirt underneath the vest, paired with a trusted pair of sandals or shoes. You can also opt for a button-down shirt underneath your vest. Complete the outfit with the right accessories for a beautiful and chic look. Shop here.
Bodysuits featuring denim skirt
Bodysuits pair so well with tennis skirts because they easily stay tucked in and come in colorful varieties to choose from. Bodysuits come in several styles, from t-shirts to more trendy designs. If you're aiming for a classy look, wear an off-the-shoulder bodysuit with any tennis skirt design. Looking to get your flirty side on, go with a tiny strap bodysuit.
To complete your look, pair with nice sneakers or boots and a bold piece of jewelry that suits your style. It is such a great way to dress up this summer. Shop here.
Sweatshirt X tennis skirt
The sweatshirt and tennis skirt combo is a top choice. They can be a cute choice when you wear an oversized sweatshirt and a cute little skirt. You can add flavor by wearing a collared shirt underneath, a nice piece of jewelry, some retro sneakers, and glasses. Pair some of your sweatshirts with cute tennis skirts to achieve a casual yet beautiful look.

Accessorize your look
You can distinguish your tennis skirt look from that of the court by how you accessorize and style them. Be sure to wear some nice pieces of jewelry. The key to upgrading your look is all in the jewelry. You can go for Y2K-inspired accessories, nineties glasses, cute caps and hats, chunky shoes, boots and sandals, and mini shoulder bags.
I hope you are well aware of how to rock tennis skirts and skorts (which are skirts with shorts attached underneath). You can style one skirt over and over again. Try to experiment and infuse your own unique style, matching with different accessories to get a different look every time.