It is wedding season all year long, but after focusing on the big day, most people forget to make room for the last day they remain single.
When it's all rushed, or you have specific persons in mind who wish to handle the day, you might ask who plans the bridal shower and who is responsible for sponsoring it.
Unfortunately, there is no easy answer to this question. A bridal shower is a fun and unique event to help the bride-to-be prepare for her big day.
While the bride's maid of honor is typically in charge of planning the shower, anyone can be tasked with this fun job. If you've been asked to plan a bridal shower, don't panic.
This guide will help you plan the perfect shower, from finding the right location to creating a guest list and choosing games and activities. You'll have everything you need to ensure the bride's memorable day.
Why Host a Bridal Shower Party?
Bridal showers are a time-honored tradition dating back to the early 1900s. In recent years, however, they have become more and more elaborate, with some bridal showers rivaling the wedding in terms of expense and planning.
A bridal shower is a party thrown by the bride's friends and family to celebrate the upcoming marriage. The bride-to-be is usually showered with gifts and well wishes.
A bridal shower is a party that takes place before the wedding. The bride's female friends and family members typically plan it.
A traditional bridal shower includes a group of people celebrating the bride-to-be. They have games, food, and gifts. There are many reasons why people decide to plan a bridal shower for their friends or family members.
Some people want to show their support for the couple, while others want an excuse to spend time with friends that they haven't seen in a while.
There are many ways to plan a bridal shower, with activities varying depending on who is hosting the event.
Who Plans the Bridal Shower?
The bridal shower is a time-honored practice that the bride's friends or family typically hosts. However, there are no hard and fast rules about who should host the shower.
If the bride has a close relationship with her mother and sister, they may opt to co-host the shower together.
Or, if the bride has several close friends eager to help out, they may decide to split up the duties and share the hosting responsibilities. Ultimately, it is up to the bride (and her family) to determine who will host the bridal shower.
How to Plan a Bridal Shower
Are you thinking about throwing a bridal shower for a friend or family member? If so, you may wonder how to plan this special event. Luckily, we've got you covered with tips on planning a bridal shower that will be sure to please the guest of honor.
First, you'll need to decide on a date and time for the shower. It's essential to check with the bride-to-be before finalizing any plans, as she may have a specific date in mind or may already have something else scheduled for that day.
Once you have a date set, you can start sending out invitations. Regarding invitations, include all the essential details like the date, time, and location of the shower.
You'll also want RSVP information for food and other supplies to get an accurate headcount. Now it's time to start thinking about decorating for the bachelorette party.
Again, take cues from the bride-to-be regarding her style and what kind of décor she might like. You can also use the wedding colors and theme as inspiration for the party.
What are Typical Bridal Shower Activities?
Planning a bridal shower can be daunting, especially if you are not familiar with the customs of this event. Typical shower activity is one of the most important parts of hosting a bridal shower.
People can do different types of activities can be done at a shower. Some people will have games, while others will have more craft-oriented activities. It just depends on what you and your guests want to do.
The best way to start planning is to know what activities your invitees might be interested in. When planning a bridal shower, you should include activities that will be fun for the bride-to-be and the guests.
Some typical shower activities are games, such as trivia or scavenger hunts. You can also have a photo booth with props for guests to take pictures of themselves and share on social media.
You can also try other activities like games, such as bingo or guessing how many M&Ms are in a jar; food, including finger foods like cheese cubes or fruit kabobs; and gifts for the bride-to-be.
Other shower activities are:
– Gifting the bride gifts, such as clothes, jewelry, or household items
– Getting spa treatments together
– Playing games to win prizes for the bride
– Participating in a fashion show
How Much Should You Spend on a Bridal Shower?
It is a common misconception that the cost of the bridal shower should be equivalent to the cost of the wedding. This is false, and you must consider many factors before deciding on a budget.
The bride needs to consider what she wants to spend on her bridal shower, how much she can afford, and what she will receive as gifts from other people.
The groom must also consider what he wants to spend on his bachelor's party. The amount of money spent on a bridal shower varies depending on who plans it, how many people attend, and what type of party it is.
Generally, one can expect to spend anywhere from $150 to $500 for a bridal shower, but it can be as low as $25 if you know what to do.
The cost of the event will vary depending on how much the host wants to spend. If they want to go all out with decorations, food, drinks, and entertainment, then they will have a higher budget than someone who wants a simple gathering where guests bring their food and drinks, like a potluck.
Friends and family members typically host a bridal shower to help a couple celebrate their marriage. The bride-to-be typically does not contribute financially to the event.
The most expensive part of planning a bridal shower is usually the venue, which can cost anywhere from $75 to $1,000 for an afternoon event or up to $5,000 for an evening event.
Costs can also be affected by whether you're inviting guests who live out of town (which will require more food). When planning a bridal shower, you'll have to consider how much you want to spend.
You'll need to make sacrifices if you're on a tight budget. For example, instead of going with the typical gifts people usually give at showers, you might want to go with more homemade items or smaller gifts.
On the other hand, if money is not an issue for you and your guests are willing to spend more money on the bride-to-be, then it's okay to splurge a little bit.
If a friend or relative is willing to pay for the venue and catering for the event, then it's okay for them to spend more on other aspects of the event, like decorations or gifts., to reduce the pressure on the host.
Regardless of your reason for hosting a bridal shower, there are many ways that you can have fun while staying within your budget.
The Maid of Honor's Role in Planning the Bridal Shower
The maid of honor has many responsibilities when planning the bridal shower. First and foremost, she ensures that the bride-to-be has a fun and memorable experience.
In addition to planning the event and taking care of the logistics, the maid of honor will also be responsible for decorating the venue, organizing games, and activities, and, most importantly, keeping the bride calm and stress-free on the big day.
The maid of honor has many responsibilities when planning the bridal shower. Most importantly, she is responsible for making sure the bride has a beautiful time.
The Bride's Role in Planning the Bridal Shower
The bride's role in planning the bridal shower has gotten debated for many years. Some believe that the bride should be involved in every aspect of the planning, while others believe that she should delegate the responsibility to her maid of honor or mother.
However, the bride is not off the hook entirely. So, what is the bride's role in planning the bridal shower? The answer is that it depends on the bride's preference and the time she must devote to the shower.
If the bride is interested in the planning, she can take on as much or as little responsibility as she desires. The bride plays a vital role in planning the bridal shower.
The bride is the one who decides the guest list, date, and overall theme of the shower when it's not a surprise party.
If the bride is not interested in planning the shower, she can delegate the task to another wedding party member.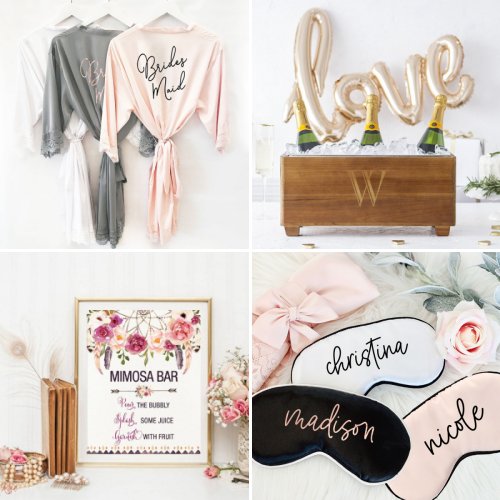 Who Else Can Host a Bridal Shower Asides From the Maid of Honour?
If the maid of honor unavailable to host the bridal shower or doesn't have the space or resources to do so? You can suggest a capable guest from your group of friends or family members.
You should get a positive response because most people that won't be hosting the event try to ensure that you're still very much involved in the festivities.
This can be as small as taking care of decorations; you will probably get a few friends to volunteer for it. You can ask guests to help with critical responsibilities like giving input during the meeting, delivering the send-off speech, and even helping to save money.
Weddings are delicate times, so it is only fair for the friends and everyone surrounding the couple to make the process easier on them.
What to read next: 
–11 Fashion Ideas For A Black-Themed Wedding Ceremony
–Sell Engagement Ring: How To Get The Most Money For Your Ring?
–What is a Push Present: 12 Thoughtful Push Present Ideas For Parents
–15 Fashionable All White Outfits for Any Season And Parties