Oftentimes, sexual satisfaction can be hard to attain without an extra push. This is why sex toys are used by individuals to aid and fasten pleasure peaks. They are often small and built to fit the genitals, while most of them have weird shapes. The rose toy happens to be the most trendy and stylish toy in the market to guarantee intense orgasms.
Brands are producing more advanced and beautiful-looking designs. There is a need to be discreet when using sex toys since not everyone understands their advantage. The cute nature of the rose toy (and TikTok) is probably why it has gone viral.
It has become one of Amazon's best-selling toys and the likes on TikTok are not reducing either. Everyone has a distinct experience with it, some even say it now doubles as a decorative piece on their bed stand since it looks cute and the placement makes it easy to reach whenever they need it. Keep reading to find all the juicy info about this adorable rose toy.
What is the rose toy?
The rose toy is a small, handy, and portable sex toy that you can carry everywhere because it is discreet. The only noise that will be heard will be coming from you and not the toy. They are of varying colors, the red being famous, looking like a rose flower but with a hole in the middle that latches on your body to give mind-blowing pleasure.
If after seeing all the buzz about this sex toy, you are curious to know if it is worth the buy, here is a breakdown of what the rose toy looks like and what it can do. First off, let's get the specifications down.
Material: It is made from silky-soft medical-grade silicone which is a premium quality material. This material is safe and hygienic to use on your lady parts.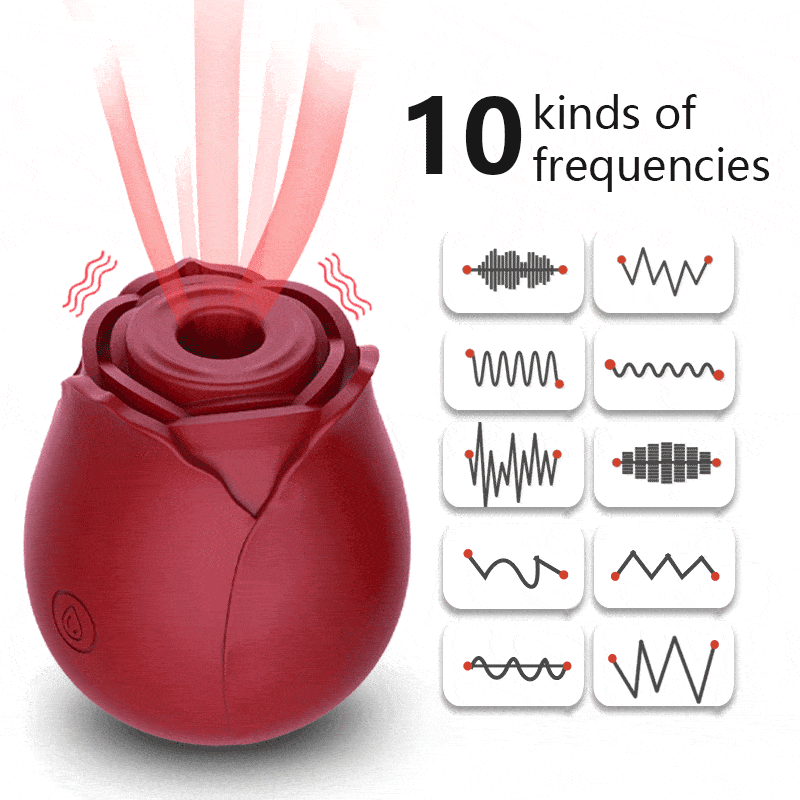 Suction modes: The rose toy has seven suction modes. It generates air by rotating, this airflow combined with vibrations performs a sucking and teasing sensation wherever you place it. After clicking, the motion starts which will feel like synchronized oral sex. Select through different modes till you reach your sexual satisfaction.
Power source: The toy is battery enabled and can be recharged when the power is down. You can use a magnetic USB charger for this purpose and then use it for two hours after it has reached optimum battery level. So, you will be back to enjoying a steady flow of orgasms in no time.
Water-friendly: It is always advisable to clean sex toys to maintain a healthy sex life. The rose toy is waterproof which means you can use it in the water for a limited time. Cleaning with water is safe too, just avoid soaking it in water for too long.
How do you use the toy?
This toy is versatile and does not apply to just one part of the body. While the main place to get to orgasm quicker is the clitoris, you can still use it in multiple locations. Remember to apply some lube before you begin.
If you plan on enjoying it alone, lay back and place it on the clitoris and the toy gets into action. The sucking and vibrating movement can make you reach orgasm in minutes. You can as well go for seconds as you can reach a climax over again.
Nipples are another top spot to place this toy since they are the perfect oral sex toy. The sensation of sucking it can give to the nipples is like the same tingling feeling of a tongue.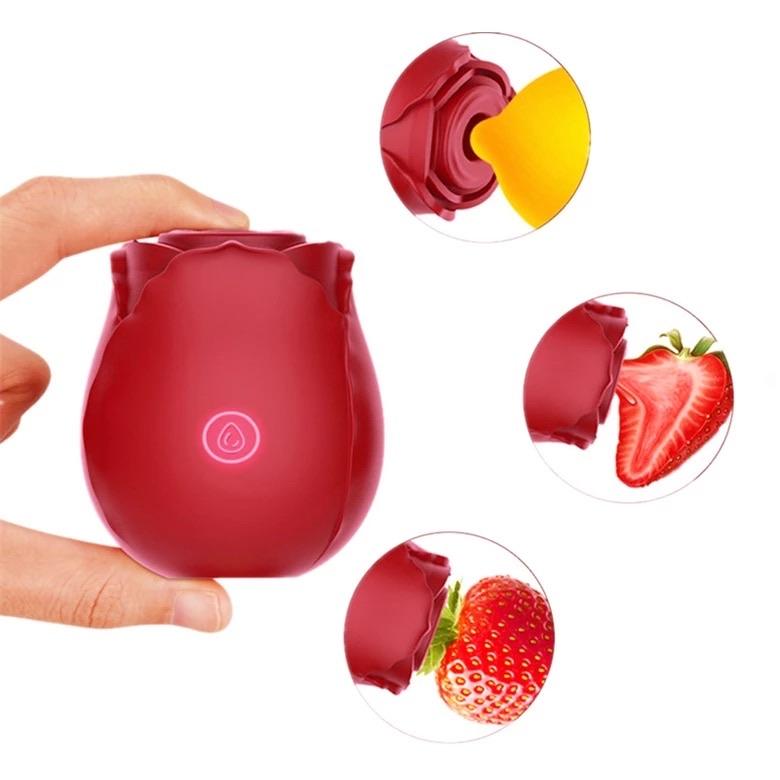 The rose toy can also be enjoyed with your partner. While it is nice to self-indulge during one's pleasure, sex can be more enjoyable with a great partner. You can place the toy on your clit and nipples during intercourse and the double stimulation will result in a shattering orgasm.
However, you know your body better than anyone and what makes you reach climax. You can as well place the toy on any part that gets you off. Even if it's your leg or any other unusual parts of the body, the rhythmic sucking and vibration will take you on a rainbow no matter where you place it.
Reviews
You know a product is good when the positive reviews outnumber the negatives. So is the case for the rose toy. After a buyer called it the "soul snatcher" the reviews just came pouring in. From people confessing to touching the stars and seeing heaven to others declaring that they gained a clearer vision and saw the light.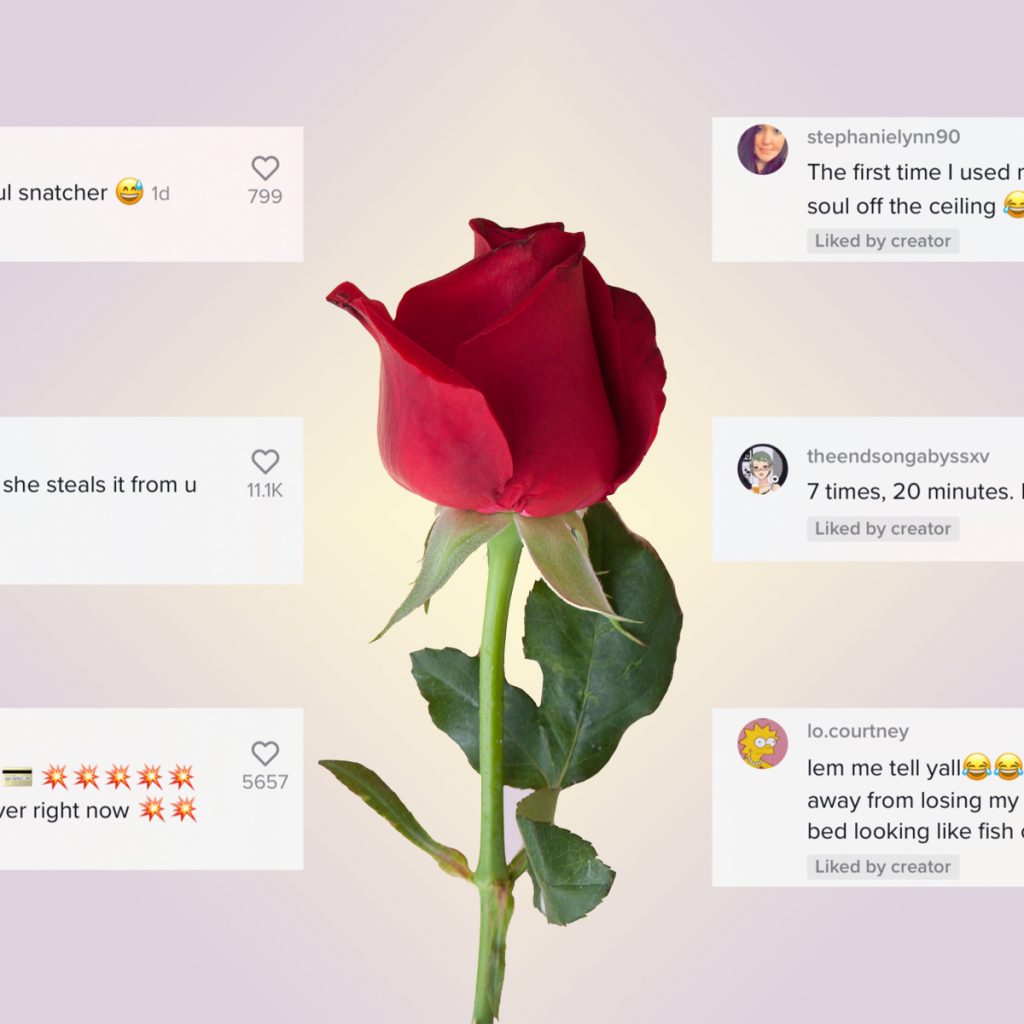 One user said she never thought she would get an orgasm, not until the rose toy came along. Everywhere you look is a good rating, from Amazon to TikTok and other social platforms. It only means the toy is living up to the hype and function.
In summary, even if you take out all the hype the toy has gotten from TikTok, the rose toy will still live up to its name. The sweet-looking toy has proven to be quick and easy to get intense orgasms.