Think about it — it would be nice to wake up to crease-free hair and curls just as it was left the previous day. Well-defined curls are very cute but they can be hard to keep. Women have devised different methods of keeping their curls intact for days such as two-strand twists, plopping, and pineappling.
Pineappling is a protective style that will keep your curls dent-free and easy to style in the morning. It is a technique that you can use to protect your curly hair before you sleep. It is done for the to curls pile on top of the head, so the hair resembles the shape of a pineapple.
The term 'pineappling' was used to describe the hairstyle by the 'Naturallycurly community' as a vernacular language for curly hair lovers. This is because it secures your curly hair on the top of your head, which preserves your curls all night while you sleep. Not to mention that the hairstyle literally looks like a pineapple.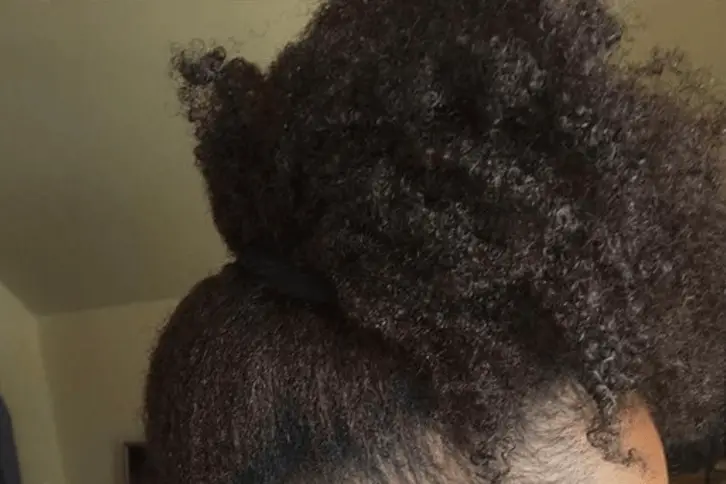 It is an easy method that women have been using for a long time, and it is suitable for all hair textures. Since your hair is in a high ponytail, the back of your hair is the only part that will touch the pillow as you toss and turn. This will reduce flattened curls, frizz, knots, and tangled hair.
How to pineapple your hair
When it is time for bed, prep your hair by applying leave-in conditioner or hair mayonnaise to soften your curly hair. Then, bend your head forward and gather your hair into a high ponytail. Next, tie a scrunchie or silk material over the base to secure it just once. You need to do it just once to avoid tight tension that can cause a dent. If your hair is long, keep it in a loose messy bun. Tuck in all the loose hair before placing the scrunchie over it.
The curls of your ponytail should fall in half to two sides while securing the scrunchie. In the morning, take out what was used to secure the hair, and shake the hair out from side to side. You can revive the curls by spritzing your hair with curl renewal or any other reactivating liquid.
This method is suitable for long hair that can be gathered into a ponytail or for medium hair that will not allow all the hair to be gathered, and you can go ahead and secure the loose hair with bobby pins. For really short hair such as a pixie, you can just prep your hair, secure it, and cover it with a satin bonnet. You can do the normal pineapple method or a multi-pineappling technique, which means putting your hair in different small pineapples and protecting it with a silk scarf or bonnet.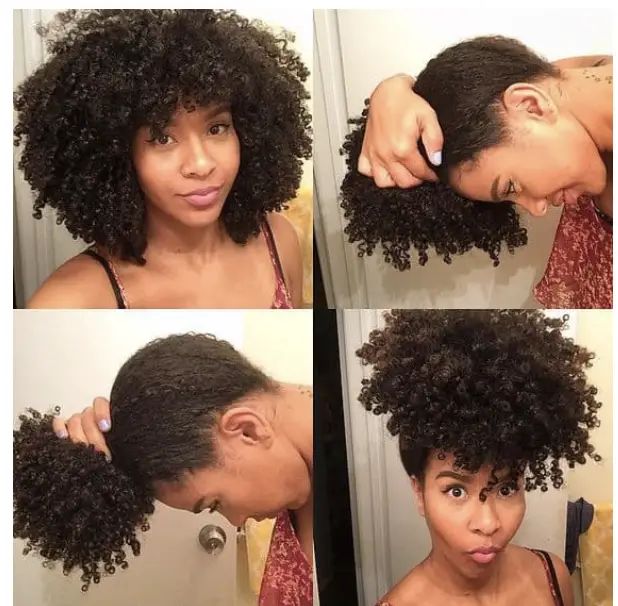 When you properly do the pineappling technique, the curls that you get on wash day stay in place for a longer period, and the natural oils and moisture in your hair are retained. This gives you healthier and frizz-free-looking hair.
How to rock your pineappling hairstyle
It may seem like the pineappling hairstyle is just one look if you don't know to properly style the hair. There are different ways to rock your hair when you style it like a pineapple so it is suitable for use in the daytime and not just at night.
The puff: Gather your hair in the pineapple style and make it puff with your hands. Tame and style your edges with an edge gel and you are good to go.
Pineapple bangs: To achieve this look, section out some hair after gathering it into the pineapple. Then use some bobby pins to keep the hair in place so it forms a bang. You can do the full bangs, or part in the middle to get the trendy curtain bang look. It is a nice hairstyle you can rock at any event.
Accessorized pineapple: Accessories turn up this hairstyle. You can use a scarf, head wrap, and fancy hairpins on the pineapple. These accessories may be curated to match your outfit and will make you stand out.
When next you do the pineappling hairstyle, don't just gather it up and leave it there. Free up some curls to frame your face. You can also pin some of the hair in your ponytail forward as desired to elevate your look to a more stylish one. Also, before stepping out, get some shine with some hairspray and you're all set to rock your hair.
Pineappling is usually for those that are concerned with making their curls stay overnight. Once you start doing this hair technique, you may not want to skip it at night because of its many benefits. If you feel your hair is too long after gathering it up on top of your head, you can wrap it into a loose bun. You need to be mindful so your hair does not come undone while you're asleep. A pro-tip to support your pineapple hairstyle is to sleep on satin or silk pillows and to use cloth headbands to secure your hair.