Have you ever wondered about the looks of Nicki Minaj before plastic surgery? Well, you're not alone. As you know her now, the rap goddess didn't always have a banging body. It took her many procedures to get the body you're used to seeing. And if you never knew Nicki did a cosmetics procedure, then the joke is on you, or her doctors did an outstanding job. 
Asides from her hourglass, sculpted body, she is one of the decorated rappers in the game. Nicki's songs reflect her vibrant personality, and her lyrics are always infectious. Nicki Minaj is one of the most popular singers in the world. She has released hit songs like "Only" and "High School." But Nicki's success is not just due to her music – she has also become a pop culture phenomenon because of her incredible transformation. 
Nicki was once a relatively unknown artist, but she has now become one of the world's most famous people. Her transformation is so drastic that it is hard to believe that they are the same person! This article will take a closer look at Nicki's before and after plastic surgery photos.
Who is Nicki Minaj?
Nicki was born in December 1982 in Trinidad and Tobago. When she was five years old, her family moved to Queens, New York. Although she is better known as Nicki Minaj, her birth name is Onika Tanya Maraj, and she added Petty to her name after getting married to Kenneth Petty in 2019. She rose to the limelight after releasing mixtapes around 2009. Nicki dominates the rap scene with a unique sound and energetic rap flow.
Nicki Minaj has released several albums throughout her career, showcasing her unique style and persona. Her debut album, Pink Friday, was released in 2010 and instantly made waves in the music industry. It featured hit singles like "Super Bass" and "Your Love," which solidified Nicki's place as a force to be reckoned with. She followed up Pink Friday with Pink Friday: Roman Reloaded with hit songs like "Starships" and then The Pinkprint in 2014, an album that further cemented her status as a hip-hop legend.
Most recently, Nicki Minaj released Queen in 2018. The album debuted at #02 on the Billboard 200 chart and received critical acclaim from fans and critics alike. Queen featured hits like "Chun-Li" and "Barbie Ting." Also, Nicki featured in some movies over the years, such as Barbershop: The Next cut and The Other Woman.
 On several occasions, fans have compared her to Lil' Kim and sparked beef between both women. While Nicki respects Kim, she cited artists like Lil Wayne, Jay-Z, and Foxy Brown as her biggest influences. She took time off to play wife and give birth to her cute son she fondly calls "Papa Bear" and even announced that she's retiring. Thankfully the Queen is back on the music scene, collaborating with several other artists. 
Nicki Minaj's appearance before plastic surgery 
It was very different from her everyday look. She had a much darker complexion, and her features were not as pronounced. Nicki's nose was also significantly more prominent, and her lips were thinner. It has become believed that Nicki has undergone several plastic surgery procedures, including rhinoplasty (nose job), lip injections, and breast implants.
Nicki Minaj's transformation is truly incredible. She has gone from being a relatively unknown artist to one of the most famous people. Nicki now looks like a completely different person, thanks to her plastic surgery transformations! Nicki has said that she was always fascinated by celebrities and their glamorous lifestyle. This likely played a role in her decision to have plastic surgery. 
The procedures Nicki Minaj have done
A superstar like Nicki had to get a lot of work done to get the body that she has now. It's still unclear if she's called to her ends, but a lot of maintenance and updating like Botox and fillers. Here are some of the plastic surgery she has done based on Nicki's changes after. 
Also known as a nose job, or reconstruction of the nose rhinoplasty is a plastic surgery procedure that involves altering the shape of the nose. Rhinoplasty can get performed for aesthetic reasons or correct breathing problems. After Nicki debuted her new nose, she denied claims of doing surgery on the face and claimed it was makeup contouring. 
Lip injections are a plastic surgery procedure that involves injecting a substance into the lips to increase their size. 
Breast augmentation is a plastic surgery procedure that involves inserting artificial implants into the breasts to increase their size. Implants come usually made of silicone or saline. The "Stupid Hoe" singer looked like she had had several breast augmentations done already. This could probably be on her surgeon's request to go different sizes higher as her body adjusts to the implants.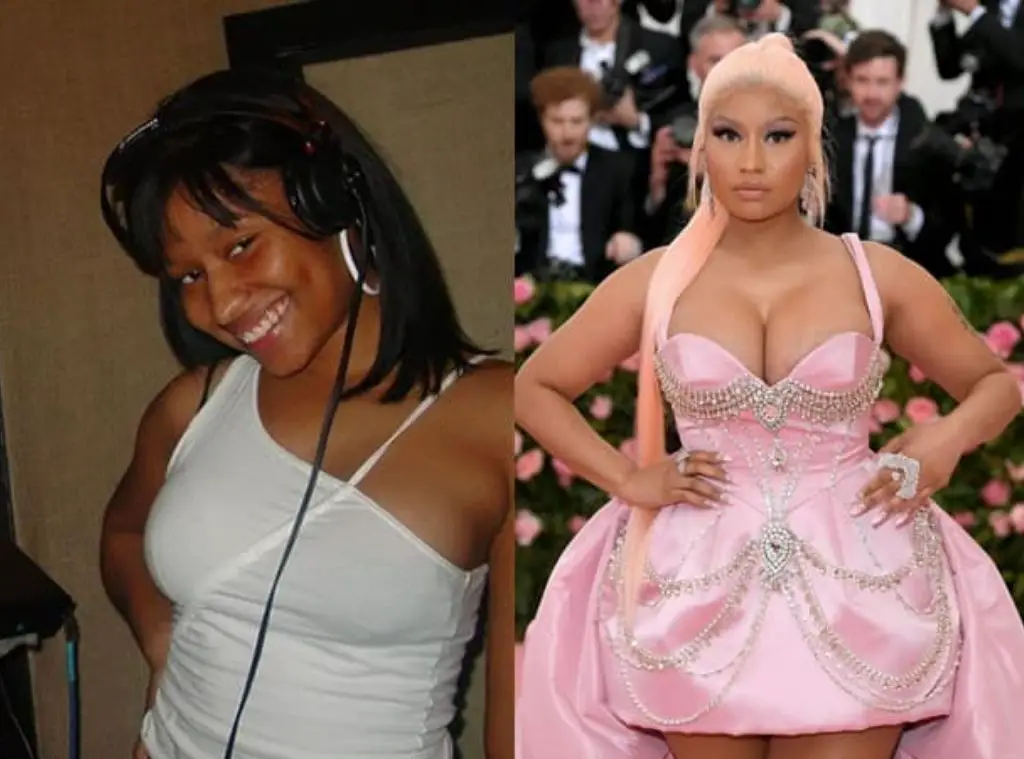 The state of Nicki Minaj's teeth before plastic surgery is unclear, but the pearly white she flashed on the release of her album Pink Friday looks artificial. It looked obvious she had some job done on her teeth, and talks flew by. When word got to her that an interviewer was asking if the pearly whites were natural, she only replied with a question. This confirmed she indeed had some touch-ups done on her mouth. 
Before now, Nicki never did confirm if she did a butt surgery, but based on the difference in her body, it is evident some form of butt enhancement. The "Envy" singer recently revealed that she got an illegal butt injection. If you're conversant with such a procedure, injections become used to add volume to the buttocks filled with silicone and other harmful substances. The illegal addition to this surgery type is no accident, as it has gotten known to cause serious health problems and even death. 
For hers, she had to find a random person, like in most butt injection procedures that will get done illegally. After joining Young Money Entertainment, Minaj also revealed that she felt her musical talent wasn't enough. Her mentor and handler then, Lil Wayne, always had girls with big buttocks around, and Nicki felt insecure. 
She felt she needed the new butt to get appropriately into the rap culture. With time, the self-doubt got to her head, and by then, illegal injections were on the rise. So, the rapper had her butt enhanced, and she's been rocking it beautifully since then. There were, however, rumors that Nicki's butt exploded on stage in the middle of a performance. Nicki never confirmed this news, so guess it's fake and unverified.
Related article: What is a BBL, how does it work, and why is it so popular?!
Nicki, before plastic surgery, might not have required new hips, but the new massive butt sure prompted the hip surgery. When she had it, her hips filled in, and it helped balance out the unique shape, giving the hourglass effect. 
How did Nicki Minaj's appearance change after the surgery?
She had a much lighter complexion, her features were more pronounced, her nose was smaller, and her lips were fuller. Plastic surgery truly changed Nicki Minaj's life by making her appearance more marketable to the public, increasing her fame. Nicki Minaj is not the only celebrity who has undergone a drastic transformation thanks to plastic surgery.
 

View this post on Instagram

 
The public's reaction to Nicki Minaj's new look
Some people are shocked by Nicki Minaj's new look, while others think she looks better. Plastic surgery is a very personal decision, and it is up to everyone to decide whether they want to undergo the procedures. Nicki Minaj has always been a controversial figure. She is known for her provocative lyrics and sexualized image. But despite all the controversy, there is no denying that Nicki Minaj is one of the most successful singers/rappers globally.
Thanks to her plastic surgery transformations, she now looks like a completely different person! Nicki Minaj's plastic surgery transformation is truly incredible. Nicki now looks like a completely different person, thanks to her plastic surgery transformations! 
Whether or not Nicki Minaj regrets going under the knife is unknown, but one thing is for sure: plastic surgery has changed her life for the better! Thanks to her new look, she has become one of the most famous singers in the world. For Nicki Minaj, plastic surgery was a good decision! 
Conclusion
There is a lot to learn from Nicki Minaj's plastic surgery while hers did not lead to any severe damage, things could have gone wrong. She made several rash decisions, like opting for an illegal surgery to get the desired body. This should be the case, as such a form of plastic surgery can deteriorate your health. 
Despite the risk of butt injections, many women still opt for such procedures. Success stories like Nicki's seem to be a source of inspiration for women to chase their dream bodies. At one point, she didn't care about such things becoming attributed to her. However, the "We Go Up" rapper has had a change of heart since becoming a mother and bears some form of responsibility for being a public figure. Away from all the plastic surgery talk, you can sit tight and expect a new album from Nicki Minaj to drop sometime in 2022. 
You may also enjoy other related articles:
–The whole truth about k Michelle cosmetic surgery
–Lil Kim Before Plastic Surgery
–What do big nipples mean and how can you make yours larger?