French coffin nails tips have become an understated way to wear the classic nail design with luxury styles. We have some upcoming inventions that will have you booking the next available slot with your nail artist, or you can manage to do DIY some designs.
French tips have grown more than the pink and little white tips you think they are, with all the colorful inserts. Nail artists use more creative arts to replicate your style into your nails, and French coffin nails are not left out.
A coffin-shaped nail is very stylish and helps accentuate French tips designs, both for long and short lengths. They can get done with gel and acrylic polish sets in either long or short coffin shapes. From simple minimalist designs to all glammed up, we have got French tip inspos you will love.
1. French coffin nails with flowers
French nails designs are pretty much neutral, and other nail art will blend effortlessly into it. You can brightly color tiny, cute flower petals on one or more fingers. You can get a nail artist to quickly insert these flowers or add them yourself with nail stickers. This design can keep you in high spirits, with the flowery details.
Related article: How to do your own French manicure at home.
2. V French tips coffin nails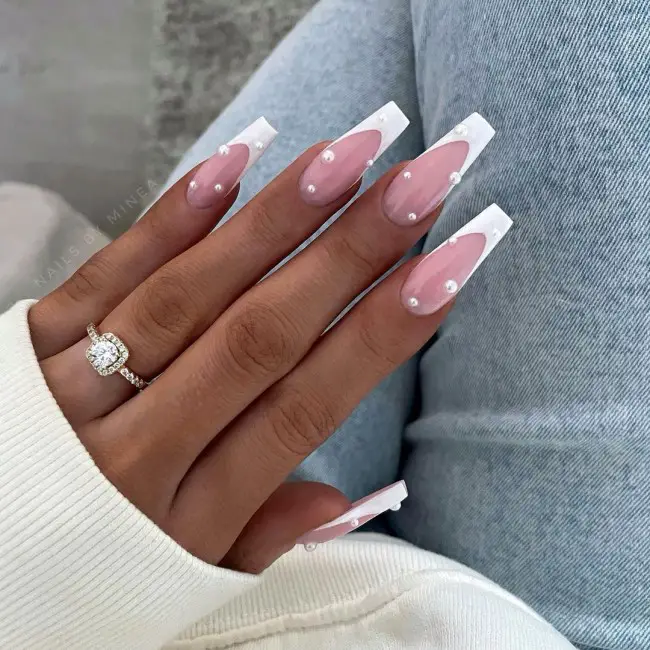 This mani section takes the same color tone as the regular French tips, only that it will be V-shaped. After painting the pink, the white becomes transitioned to an angled shape. You can also experiment with neutral nail polish shades as the base for the French tips.
3. Long French V beige tips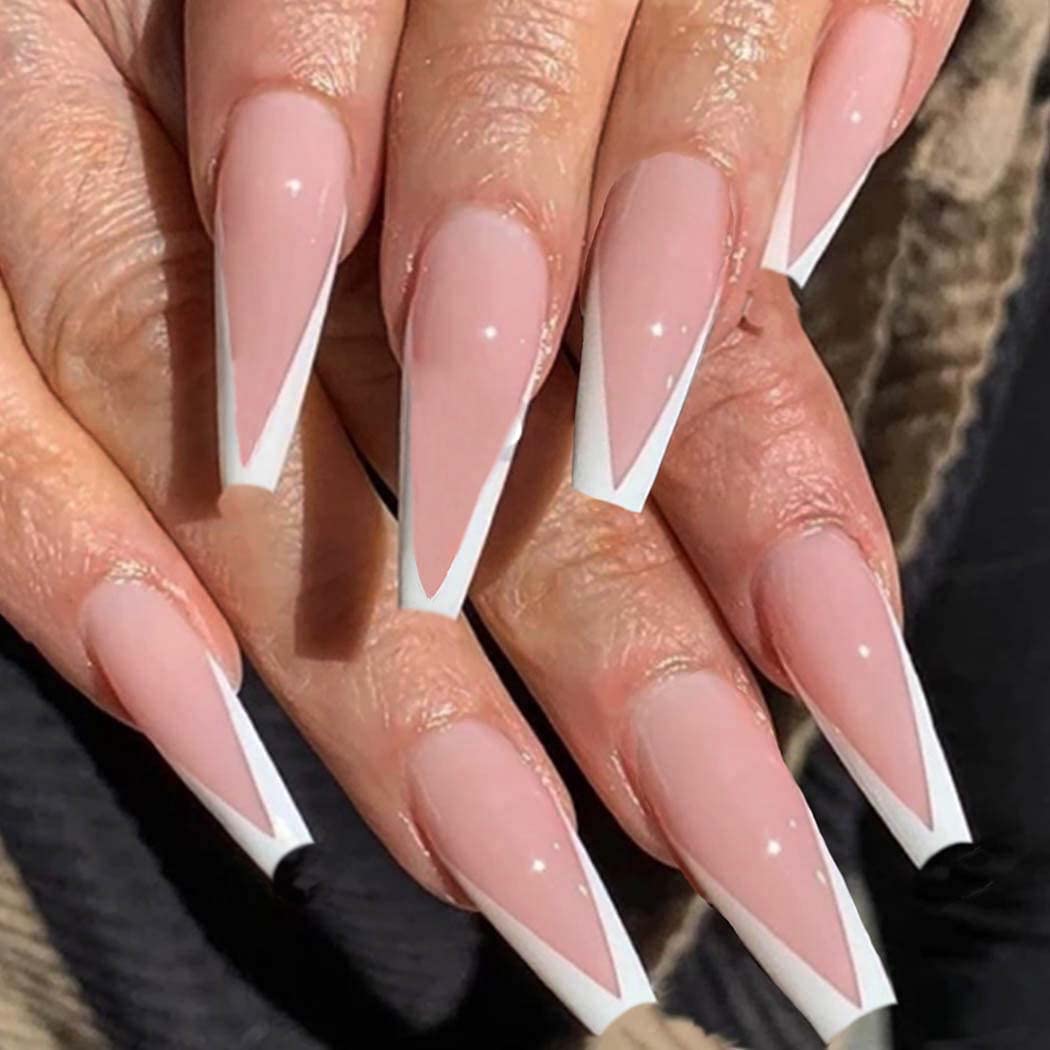 Give a modern spin to your nails by painting the base in beige or nude matte polish and adding crips white v-tips. It is another way to wear the essential French tips, and only it is done in a neutral base. Add some flair to it and can keep some fingers pierced in plain white colors without designs. You can do this yourself by placing your stencils V-shaped to paint the white nail polish.
4. Red French tip coffin nails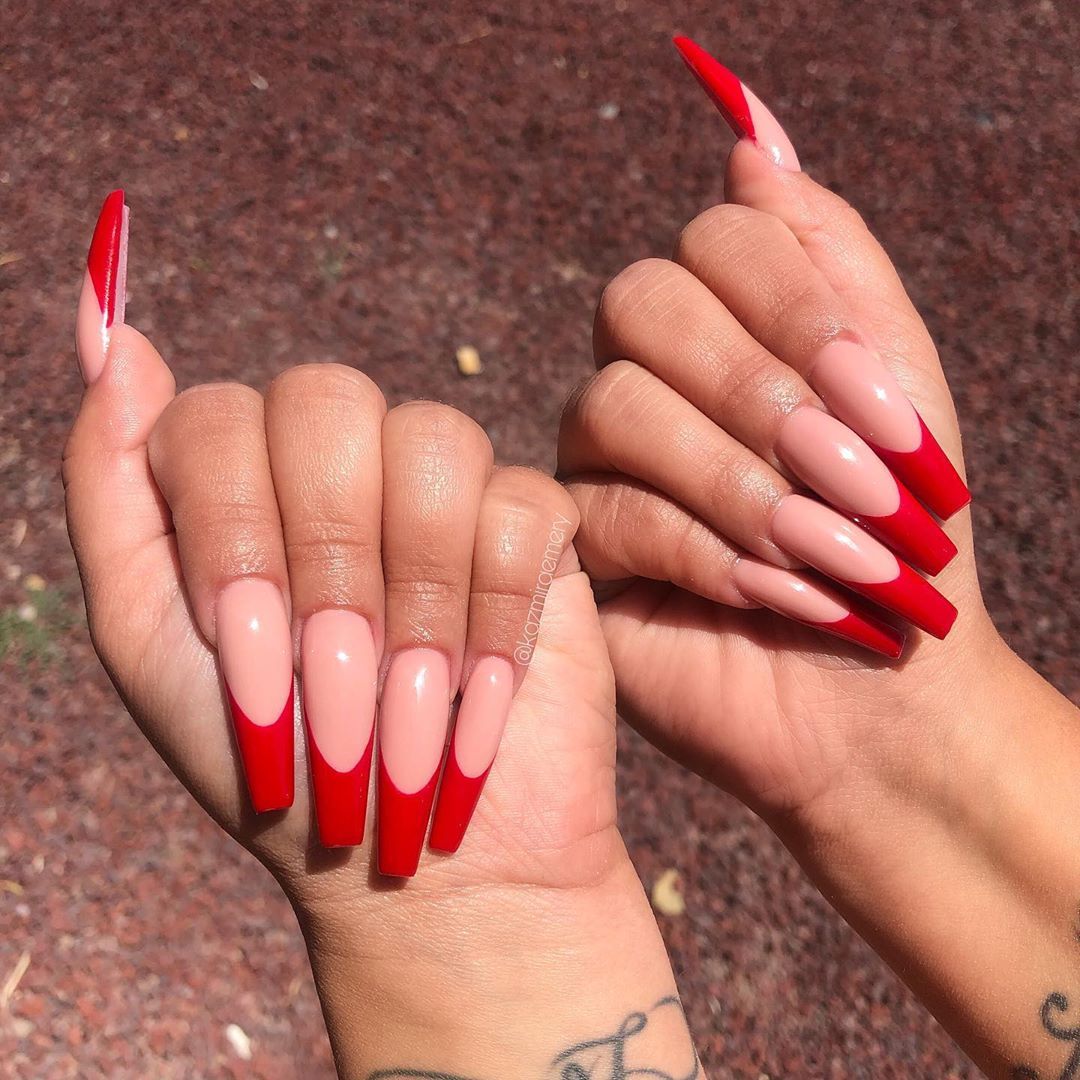 Red is the following fiery tips you should try on French coffin nails. The base color should be neutral or transparent acrylic gel for this design, so the red tips will not look out of place. It is one vibrant combo for different seasons, and since there are many red shades, choose the tone that suits you. You can add the red paint in an elevated dotted pattern.
5. French glitter tips coffin nails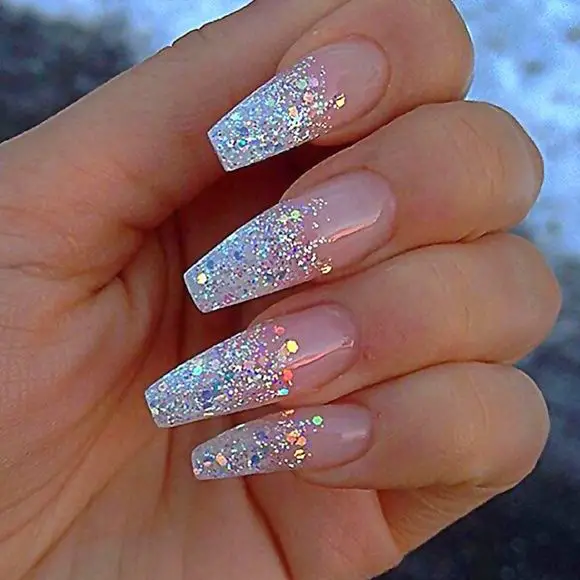 Turn your French coffin nails into a glamorous affair by using glitter as the tips. The base can be pink or nude, then paint on some chunky glitter on the nail tips. The sparking contrast will look beautiful and suited for any occasion you have planned. You can add some extra sparkle by adding some stones to the nails if you want the pin to look super chic.
6. Ombre French tip coffin nails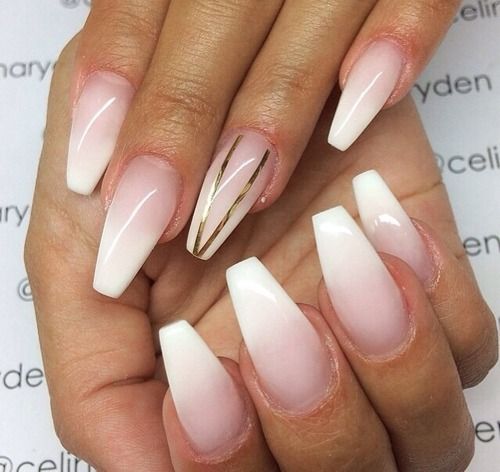 Ombre French nails have become one of the hottest looks you can wear right now. You can use some pink and white colors but will not see the separating line of where the nail artist added the polish. The ombre technique uses a color blend where the pink tips transition into white. Silver glitter will also look gorgeous for such French tips design. This makes it a beautiful nail art you can wear even for special occasions.
7. Edgy black French tip coffin nails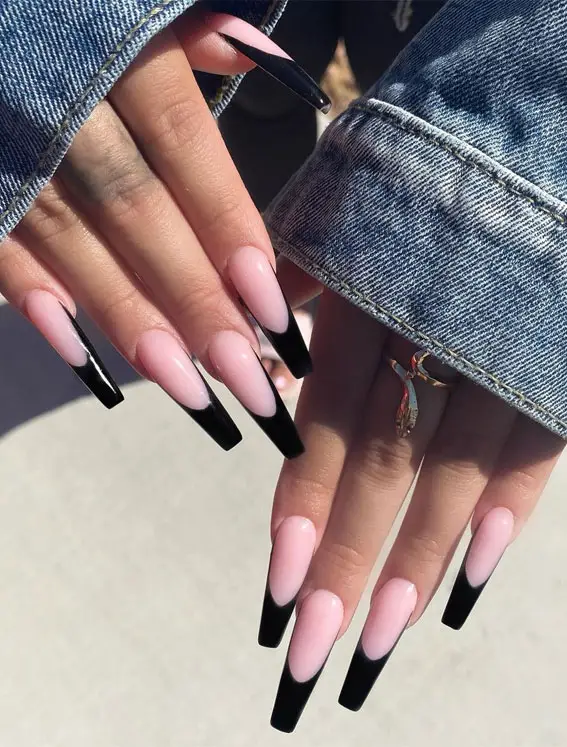 You're missing out on the edgy design fusion if you have never tried black tips. The dark tips look especially cute on coffin-shaped nails. The light pink base color softens the black tone but does not tamper with the edgy vibe of the nail design. When done V-shaped, or the regular tips, it fits into any season with neutral blended tones. You can even wear such nail designs any and everywhere.
8. Coffin French tips in pink
Here comes a cute nail design idea you should try. There are two ways to achieve this look, you either get your nails painted in the classic French tip colors and leave one in bold pink glitter. The vibrant mix will catch the light since it's a neon color against the nude and white of the other fingers. You can also make another statement design by infusing pink glitter with two fingers' sides for some sparkly accents.
9. French coffin nails with fruits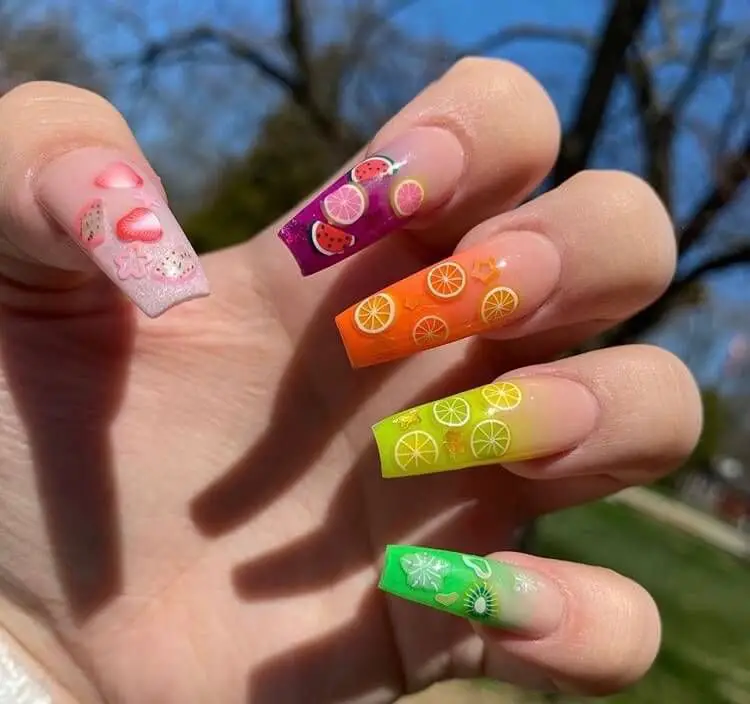 This nail design can feature any beautiful fruit patterns. The nail artist should begin with the white extending more than the pink base color; it will allow the colorful fruit inserts to pop out on the nails. You can use stickers, brushes, and stones to create a fruity design, colors like red, green, purple will work for such nail art.
10. Embellished coffin French nails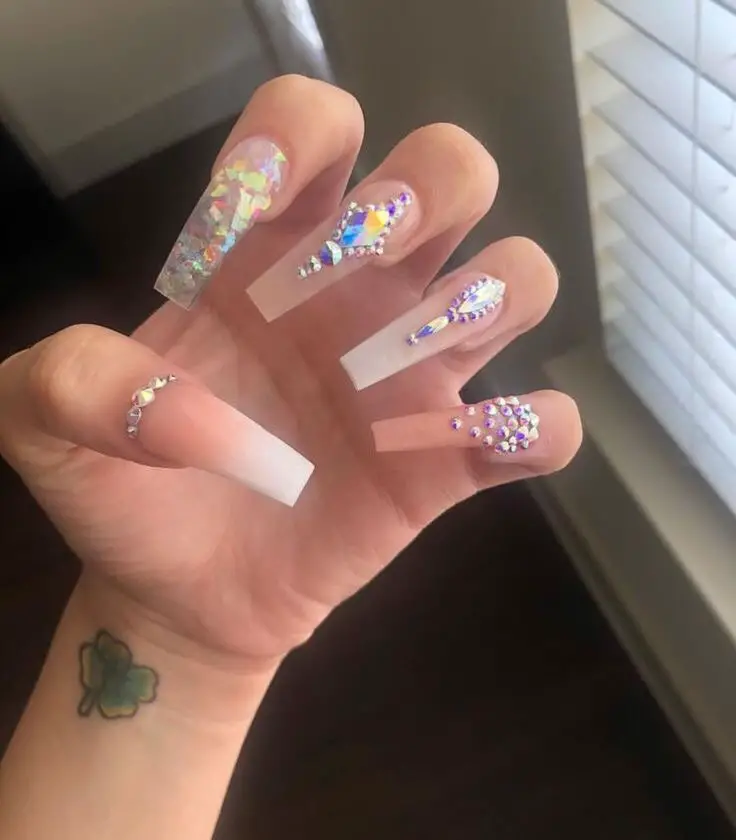 Get all glammed up with rhinestone inserts to embellish your nails. After painting on the standard, pink and white tips, add some stones to one or two fingers, so it is not overdone. Recreate the look, placing different sizes of rocks curated stylishly. Embellishments instantly elevate the average French coffin tips to an alluring nails design.
11. Coffin blue French tips
Having a vibrant blue French tip is another way to go if you want your nails to look bold. You must leave the color base a neutral shade to allow the light blue tips to pop. This results in a trendy colorful French tip nail; you can wear from summer to spring. You can also throw in some blue pattern display on one or two fingers to give a nice contrast of colors.
12. Minimalist coffin French tip nails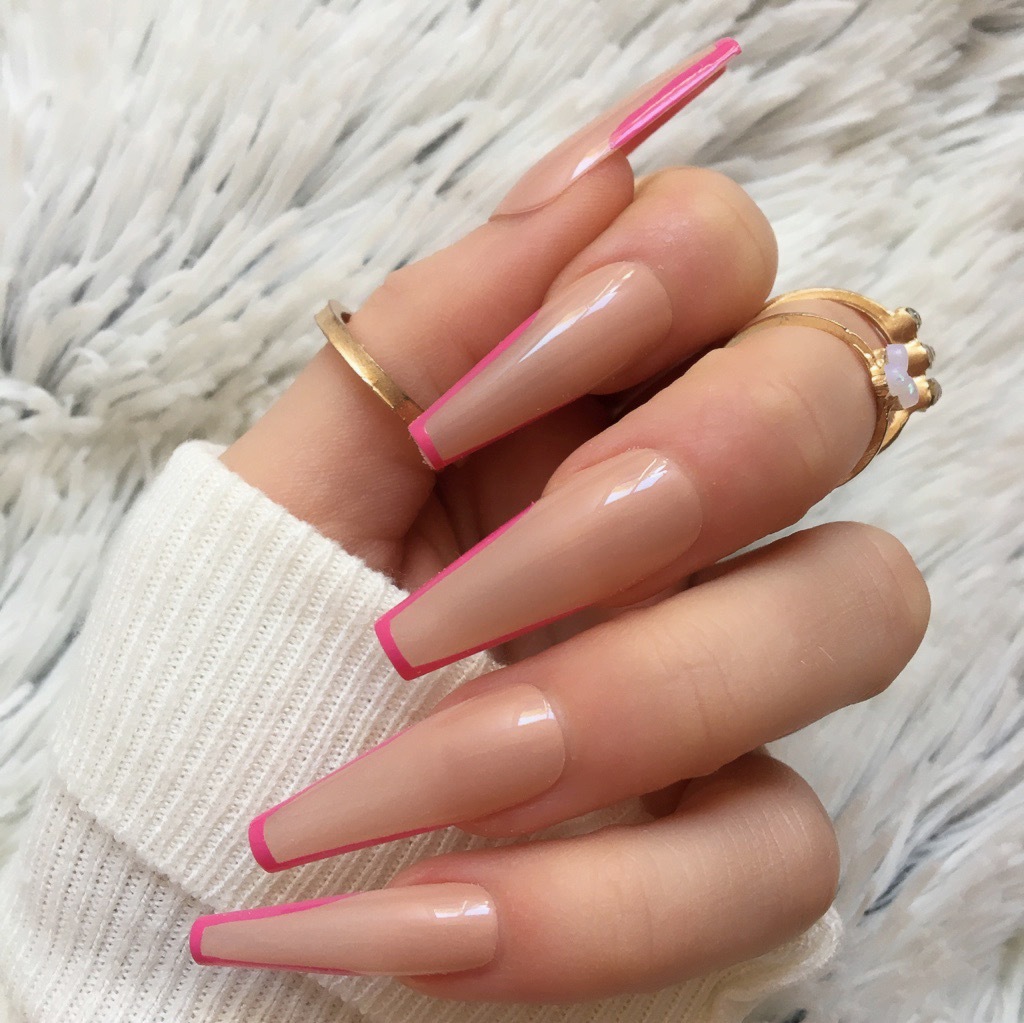 Sometimes, simple packs a punch for style when done correctly. You can make it thin if you don't want your white tips too deep into the nude base color. This minimalist look with thin white tips is simply edgy and stunning. It is perfect for you if you're hoping to do a design with clean, lean lines.
13. Gold French tip coffin nails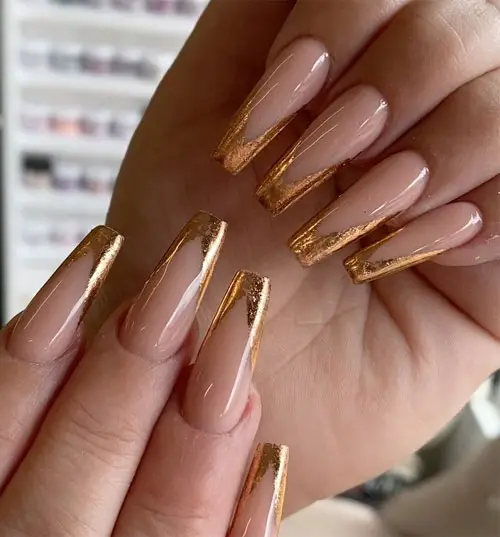 With gold sparkly nail polish, allow your French tips to catch the light and attention. You can insert gold in different ways, such as adding gold rhinestones or gold glitter polish. It pairs well with white tips on French nails. You can add gold nail polish stripes on French ends, on the middle, or where the white joins the pink nail polish. They are all sparkly and a great color pallet to try for a much-needed dose of glam.
14. French coffin nails with hearts
Revamp your nails with long coffin-shaped French tip nails with heart inserts. Make the white tips large, as it is where the heart design will rest. You can get any hearts color from red to silver and any other color you like. You can get a nail artist to hand-paint the heart shapes or add pre-shaped designs. The hearts can also get embossed into the nails as stylish prints. They are flirty nails that depict a romantic vibe that you will love.
15. 3D designs on French coffin tips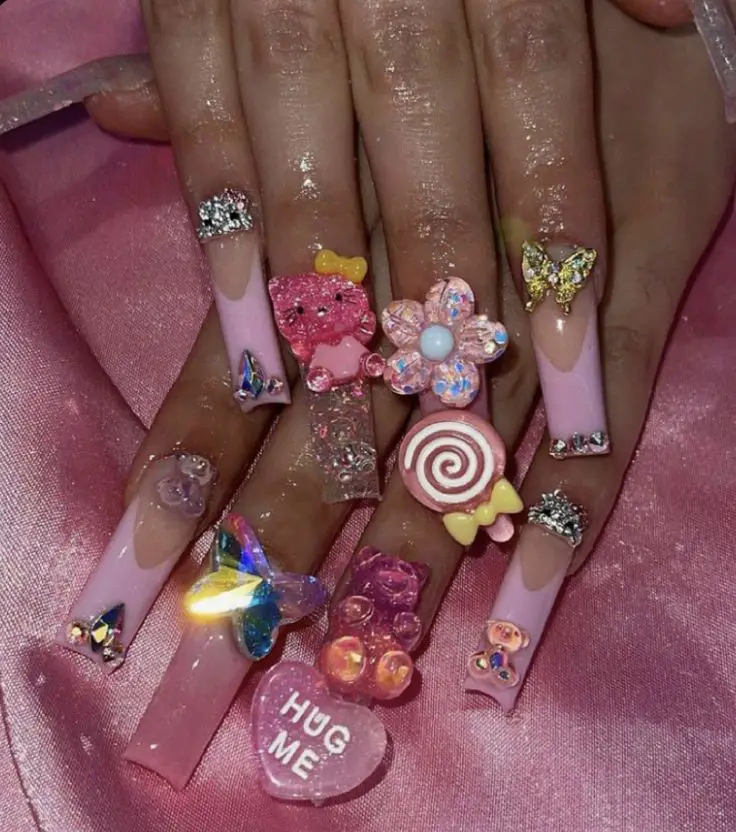 It doesn't get more creative than 3D designs, and they amplify any print or item of your choice. After getting your pink and white French tips or any other color, add 3D designs to your heart's content. There are no limits to what you try, from cupcakes to charms and other artistic pieces. You don't have to go with chunky 3D items, as there are subtle designs that will have the same effect.
16. Marble designs and French coffin nails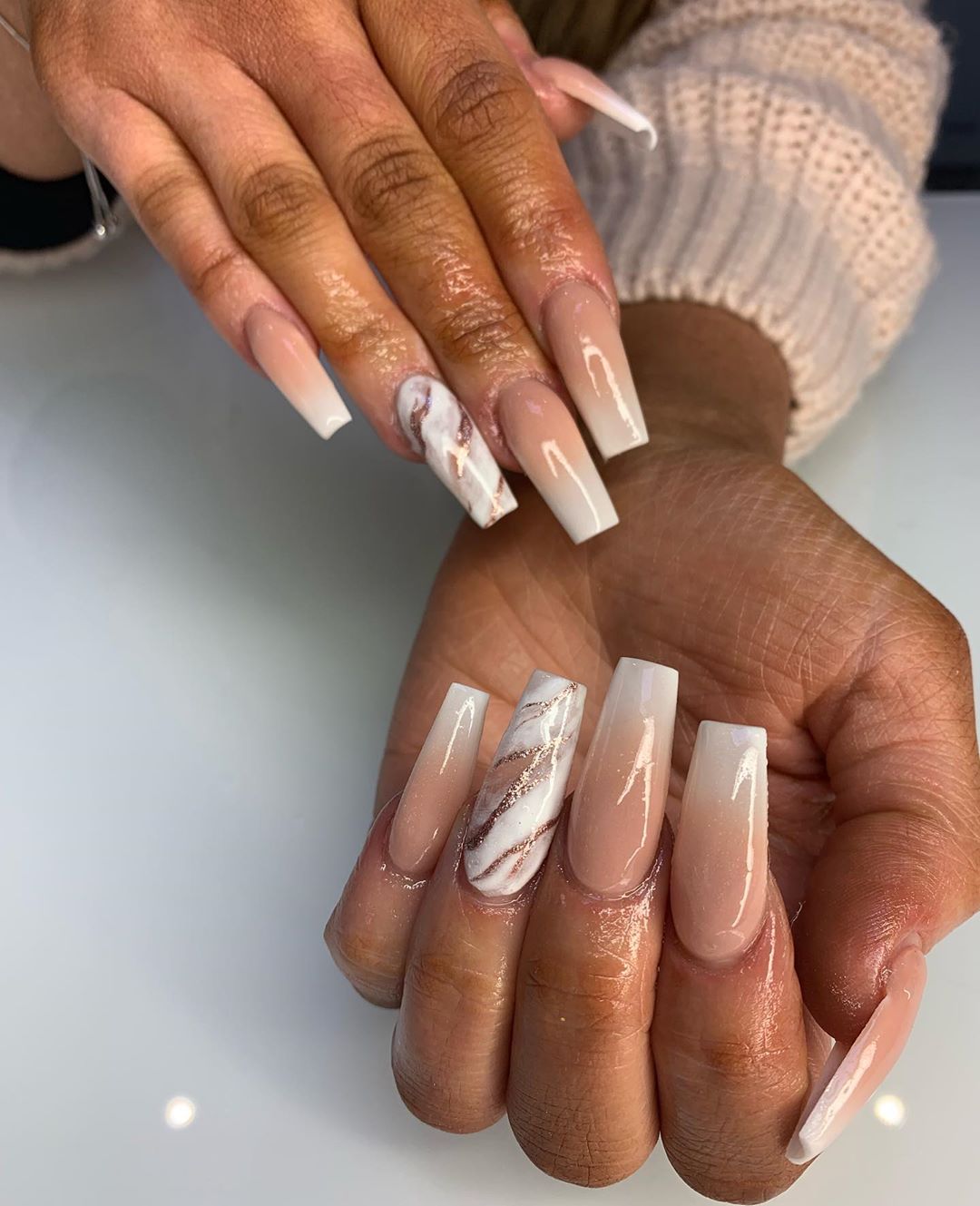 You must try this marble design insert one finger while the rest are in French tips. Use white or nude color to create the marble design to match the other fingers. Marble art is easy to recreate with the right DIY tips, and for this nail design, you can add gold and different colors to make the marble design cute.
Related article: How to create your own marble nails at home.
17. Multicolor coffin French tip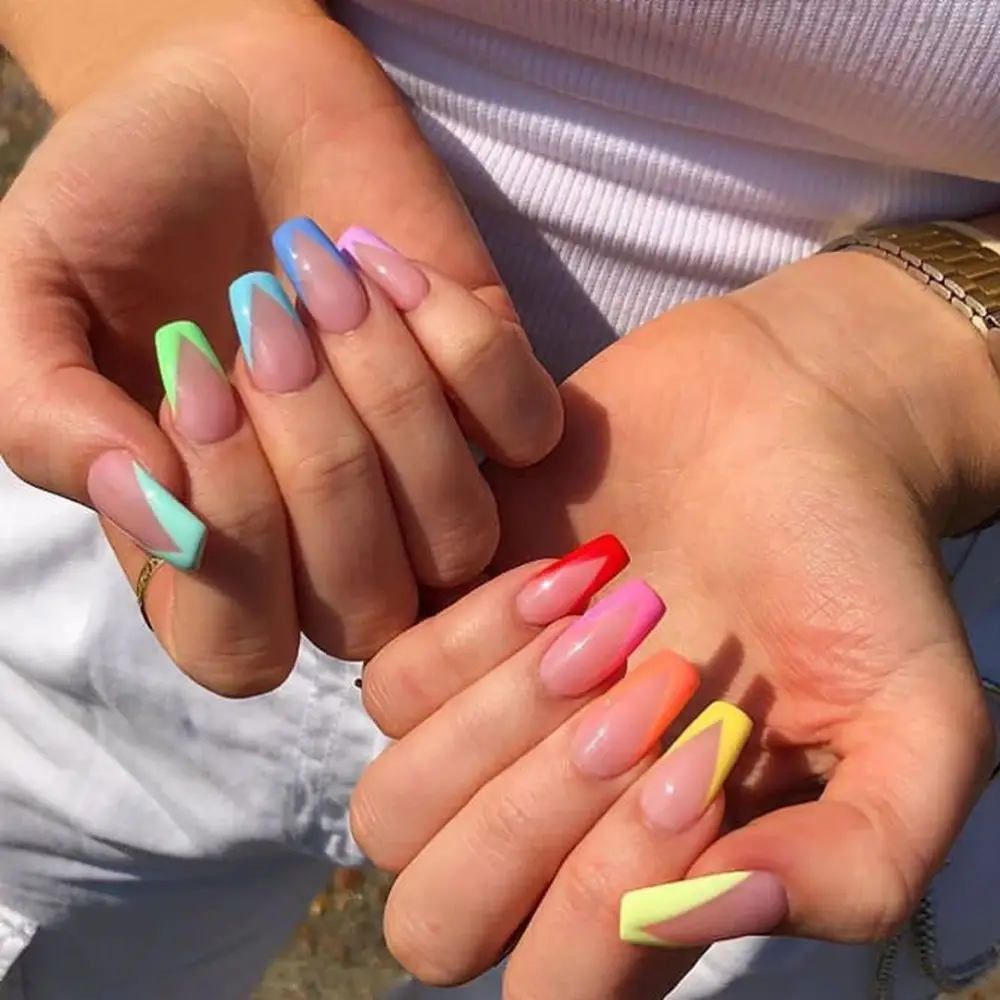 If you want something unique, this multicolor French tip is for you. You are going with different shades of one color on each finger. Mix up your nails in an unexpected color-blocking way with different random colors. These shades can either be neon colors or darker tones to add a creative touch to your nails. Anyone you choose will stand out everywhere you go.
Conclusion
French tip nails are an elegant and classy manicure, always on-trend. The original nail design gets done with a nude or pastel pink base, finished with crisp white tips. They are trendier with colors and glitter inserts, and these coffin-shaped iterations are so cute. From the designs you have seen so far, you know French coffin nails pack a lot of design and style from the classic you're used to. I hope you found the one to direct your next nail session.
You may also like to read, 2022 Best 15 Alcoholic Sweet Fruity Drinks For Women + Recipes.