Speculations about Lil' Kim plastic surgery and transformation have found a way to overshadow the award-winning rapper's life. How many surgeries has Lil Kim had? The surgery doesn't suit her, and several more comments always make the headline whenever she steps out. Notwithstanding, she remains one of the greatest female rap artists.
Her flourishing music career has become a source of inspiration to rising female rappers. Despite her body choices, she always encourages and helps other women to accept their femininity. Her fashion choices reflect this fact, shooting Lil' Kim to icon status. Before discussing her plastic surgeries, let's delve into the "Queen of Rap" life. 
Who is Lil' Kim?
She was born Kimberly Denise Jones in Brooklyn, New York, on July 11, 1974, and is an American rapper and reality Tv personality. She is popularly known for her stage Lil' Kim after Jones took up rap. Kim took to living on the streets after getting kicked out of home in her teenage years. Her love for rap quickly developed with the influence of female rappers like Lady of Rage and MC Lyte.
  She started freestyle rap on the streets until she got discovered by Christopher Wallace, The Notorious B.I.G., in 1994. He asked her to join his music group Junior M.A.F.I.A., and they released their debut album, Conspiracy. After the success of the group's album, Lil' Kim released her solo album Hardcore in 1996. The album went double platinum, selling over six million copies with singles like "No Time" and "Crush on You." 
At the time, these numbers had never been achieved by any other female rapper. She released other albums such as The Notorious K.I.M. in 2000 and released another La Bella Mafia in 2003. While serving her one-year prison sentence in 2005 for lying to the jury four years ago about her friend's role in a shooting, she released her album, The Naked Truth. 
This got followed by her reality Tv series, which premiered on B.E.T. Lil' Kim: Countdown to Lockdown in 2006. Kim also appeared on VH1's reality show Girls Cruise, in which she was the executive producer. Over the years, she continued to perform her music, went on tours, and worked with several musicians such as Faith Evans, Rick Ross, and Stefflon Don. Her most recent album is titled 9, released in October 2019.
Lil' Kim before the plastic surgery
When Kim met The Notorious B.I.G. (Biggie), she broke off her engagement to her then incarcerated fiancé. The duo started dating just as Kim's career was kicking off; the relationship was violent, and it's unclear if it had anything to do with her transformation. Biggie married Faith Evans, an R&B singer in her prime. However, he and Kim were often rumored to be dating on and off until his death. 
Making strides in her career and changing the rap game wasn't enough, as she took to plastic surgery to enhance her body. Before all the changes, Lil' Kim had a normal-sized breast, which she put on display on the red-carpet MTV video music award in a risqué mono strapped jumpsuit. 
Also, she had the features of an African American skin and face, including a regular nose, cheeks, and lips. Kim had a slender body with fantastic curves, but all that was in the past with her new body. 
Lil' Kim plastic surgery; how many has she undergone?
In an interview, Lil' Kim opened up about the alteration she had done to her face. In the rapper's words, "I think I did it because I was a little too vain at the time." Looking at Kim, she got many works done, including breast augmentation, rhinoplasty, eye lift, and fillers on her cheek and chin. Her skin also raises eyebrows since she's now light from acid skin bleaching. However, back in 2005, when she debuted her new nose, she cited that a broken nose influenced her decision to get a nose procedure. 
Lil' Kim disclosed that she got a broken nose acquired from the violent relationship that also left her a black eye and messed up face. As for the other jobs she has gotten done, Kim feels she only wanted everything to be perfect, which made things excessive. 
1. Kim's nose job (Rhinoplasty)
Lil' Kim's ex-boyfriend did a number on her and left her constantly going for a nose job. According to the "The Jump Off" singer, she broke her nose multiple times and was frequently treated in her abusive relationship or covered with makeup.
 Eventually, the bruises and scars became too much for a regular doctor to fix. So, she sought plastic surgery to do a complete nose job after being left with a shattered nose from all the punching. A rhinoplasty procedure is done to alter the structure of the nose. It is either to aid breathing or for the aesthetics. The back and forth of fixing her nose only left her loathing her face, which only led to more surgeries. 
2. Eyelift (Blepharoplasty)
This type of surgery is done around the eyelids to take out excess skin and reduce sagging of the lower eyelids. It often goes hand in hand with filler injections and laser resurfacing procedures. So, it's clear the plastic surgery spree Kim went on was only to get a complete package. 
3. Chin fillers
Getting fillers in the chin contours gives it more definition, and Kim's option for it might as well be to suit her new nose. Although it is non-surgical since the gels get injected into the soft tissue fillers, they give great results and transform the facial structure. They only last for about six months to a year, and the "Lighters Up" singer has committed to it, having maintained it all these years. 
4. Breast augmentation
Lil' Kim once referred to her friends talking about her nipples, and she channeled that energy into her fashion choices. It may have something to do with the new boobs Kim is spotting. The obvious explanation would be breast augmentation surgery, which increases or decreases breast size. With Kim, she went higher to make boobs more attractive to her beauty standards. 
The above procedures are compiled based on assumptions about her physical appearance, as Lil' Kim has never fully disclosed the number of plastic surgeries she has done. 
Why did Lil' Kim do plastic surgery?
On several occasions, Kimberly stated that she wasn't lucky to be blessed with good men in her life. Her father was one of them, who verbally degraded her until she moved out. Lil' Kim's boyfriends over the years, too, weren't any help from the one that physically abused her and the others that cheated on her. All the messy relationships got to her head and made her feel unpretty and not enough. 
She took to plastic surgery to make her feel beautiful and wanted. While choosing to do plastic surgery is a personal choice, it shouldn't be because of insecurities like Kim's case. With the number of surgeries and beauty treatments she has done, Lil' Kim still admits she doesn't feel beautiful. This defeats the whole purpose of opting for plastic surgery to make people attractive and give back confidence.
All the trauma she faced didn't stop her from chasing her dreams, which led to Lil' Kim cares charity organization opening. Kim uses her voice to raise awareness for women and children and raises funds to combat child neglect and homelessness she faced growing up. In addition, Kim is also passionate about violence against women, and actively shares her experiences, to be a source of strength and advisory for women going through the same. With her medium, she encourages women to love themselves and seek the courage to leave a toxic relationship.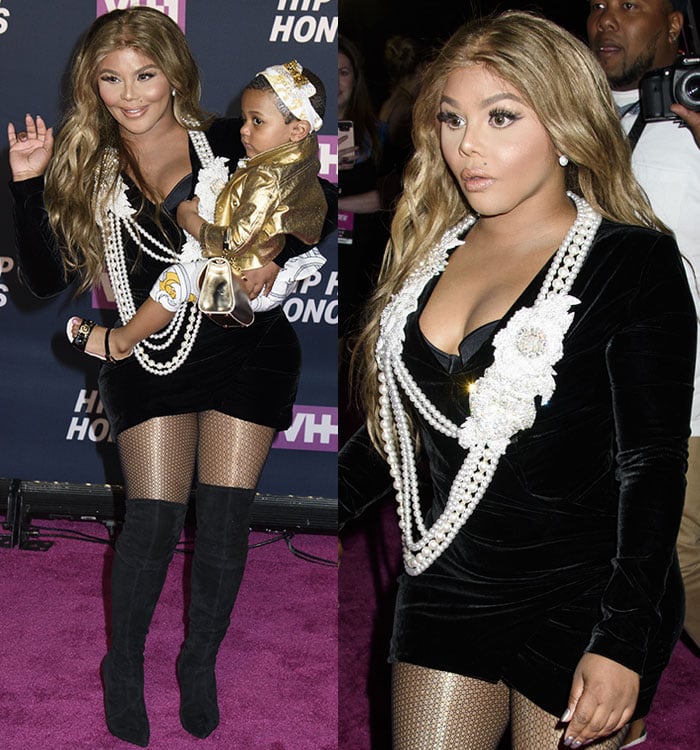 Is Lil Kim addicted to Plastic surgery?
The massive transformation of Lil' Kim is always a talking point, but several plastic surgeons have weighed in on the rapper's choices. Some believe that Lil' Kim may need help because she seems borderline obsessed with plastic surgery. They also recommended Kim visits a mental health specialist for therapy and treatment. 
These concerns doctors and fans all point to the circumstances surrounding her decision to go under the knife. The procedures might never be enough since it has become a way to channel her insecurities. On the hand, there are health risks with having too many surgeries done. With Kim being a mother of one, fans have always appealed to her to take it easy on the body enhancement. Her media rep in 2013 had to release a statement debunking all the rumors about her plastic surgery. However, the rapper is unfazed by comments and holds her head up high. 
Conclusion
Lil Kim's plastic surgery journey is emotional and the constant struggle of a woman trying to love herself. While her first surgery was because of a traumatic experience, she became somewhat addicted to plastic surgery. Her story isn't uncommon, as many people repeatedly go under the knife to fix defects that taunt them. 
For Lil' Kim, she only wanted to make her body perfect, and it spiraled from thereon. If you feel wrong about any part of your body, you should learn to love it. Seeking plastic surgery to fix your body should be the last result, as it is easy to get sucked in. 
You may also like to read:
–The whole truth about k Michelle cosmetic surgery
–Tanisha Thomas from Bad Girl weight loss: surgery, before and after
–Lip Flip: Before and after, how does it work, results