Hair with beads is an ageless hairstyle anyone can make. This hairstyle works well with braids, locks, and twists which are hairstyles that protect natural hair. A vast assortment of beads of different sizes, shapes, and colors are easily available. These upgrade your braids from a simple hairstyle to a whole different look. Braids with beads are all over social media feeds with how gorgeous they look so it can be quite hard to take your eyes off them.
Most of the hairstyles in the braids with beads category are done with hair extensions because to attach the beads, the stylist will have to tie the beads on your hair to get them to stay on. This article will show you ten hair braids you can elevate with beads. What's left is to figure out the number of beads to use as an adornment for your chosen hairstyle.
1. Cornrows with beads
The cornrow is a popular hair braid of an underhanded movement in a row, made close to the scalp of the head. They can be braided to take different directions: facing forward, backward, or a combination of both. When you attach beads to your cornrows, it automatically gives them a bold and fresh look.
This sets this hairstyle apart from normal cornrows. Tiny beads with any color of choice will work well for this hairstyle, so you might want to invest in some.
2. Accent braids hair with beads
These are tiny braids that frame the sides of the face and are a great hairstyle that is made on cornrows, full braids, or undone natural hair.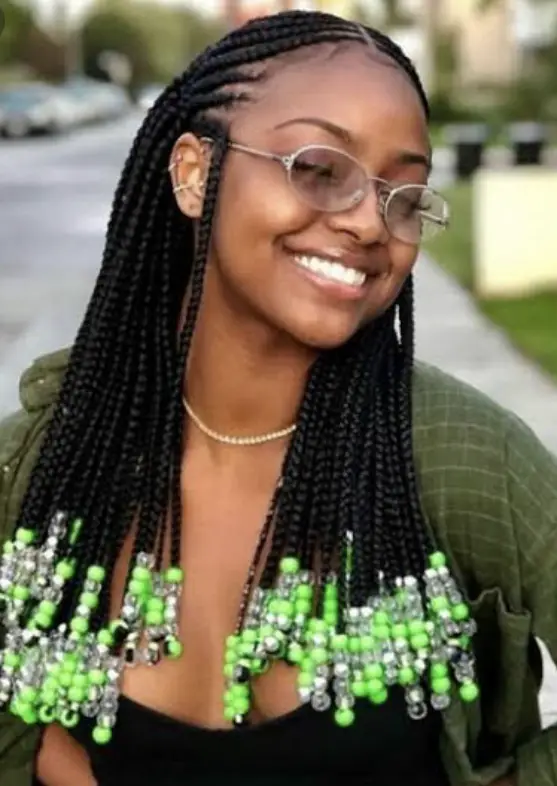 Although they look cute and flatter the face, accent braids come to life when you adorn them with beads.
3. Ponytail braids with beads
Braids done in a ponytail and accessorized with beads are always a stunner. The up hairdo is a sure to flatter your face and is a classy style that you can try.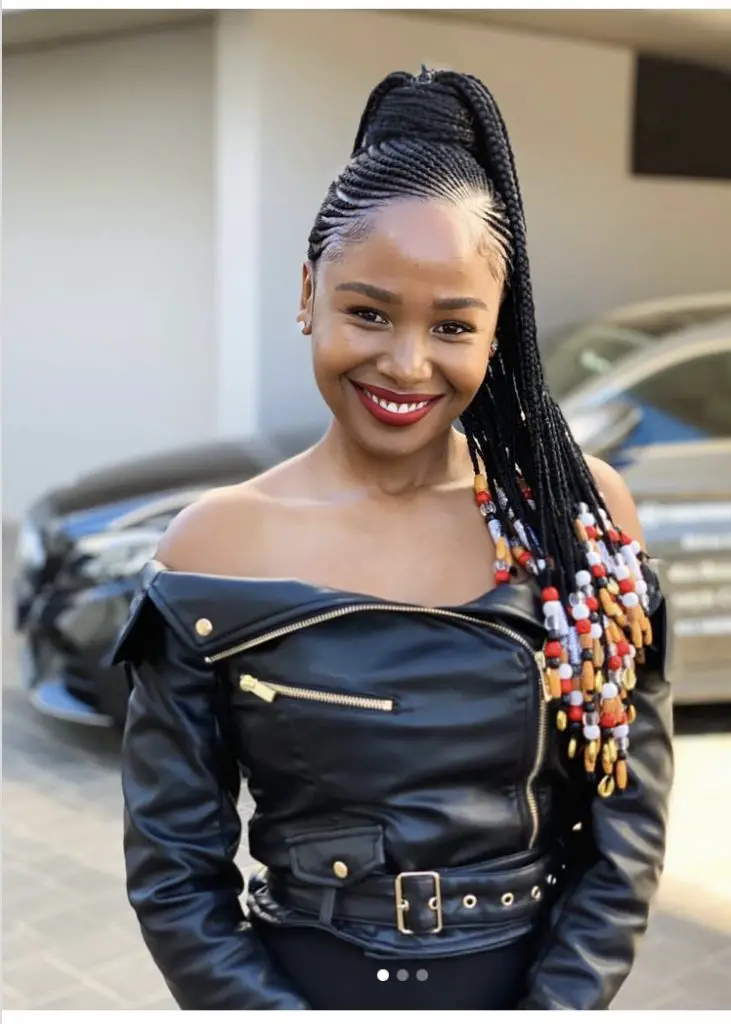 Mix up different colors of beads, and even throw in some cuffs to make the hairstyle pop.
4. Box braids with beads
Accessorize your traditional box braids with beads at the tips. You can go further by adding some other hair jewelry at the top to complement the beads.
Play around with different lengths of braids and beads sizes for the wow effect. The good thing about opting for box braids is that they are a nice hairstyle you can easily rock anytime and for all occasions.
5. Half cornrows and box braids
This is a nice hair combination that starts with cornrows going straight towards the back of your neck, then stops halfway to be completed by box braids underneath. Now here's a hair trend that took over summer a few times along with the different ways to style it.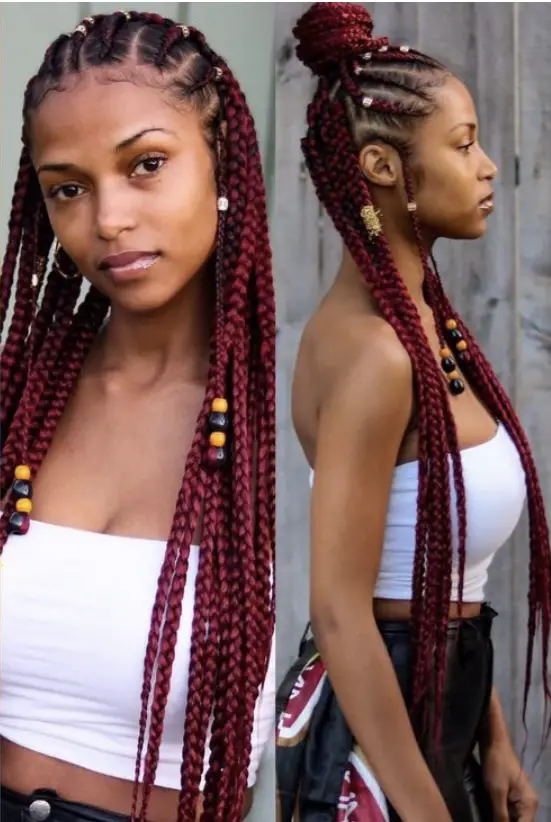 Imagine them with beads? Yes, they look so gorgeous. This hairstyle has a lot of appeal because of how versatile it is, with the cornrows going on in front, and the box braids at the back, accessorized with beads. It is one hairstyle you don't want to pass on this year.
6. Knotless braids
Beaded knotless braids are on the list. Keep the length long, with beads of different textures and colors at the tips with well-tamed edges. To achieve a hot and classy girl look, this is the hairstyle you should rock this year.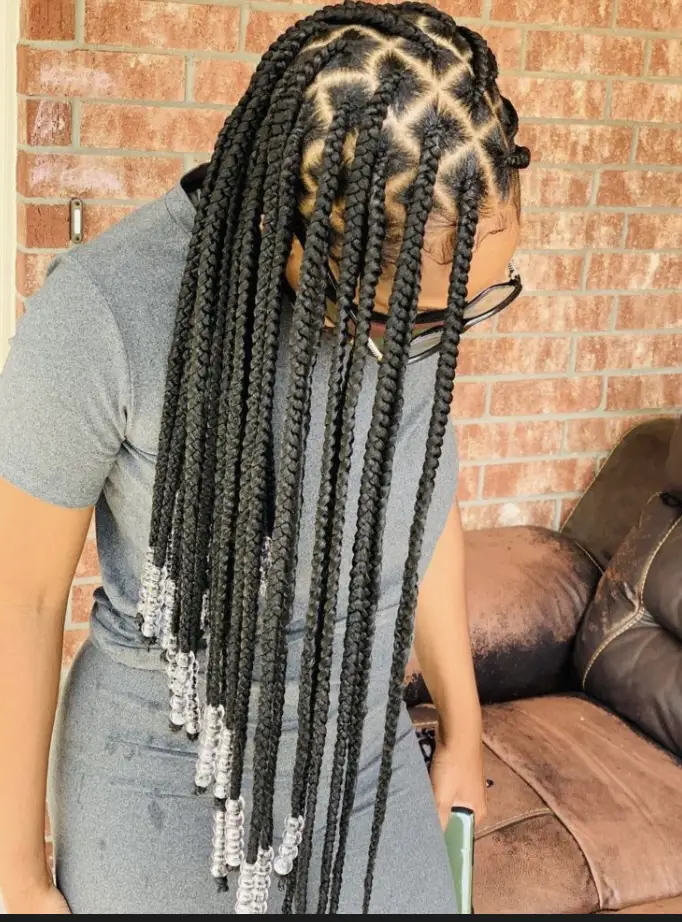 7. Bob hair with beads braids
Bob braids kept short and thick, with a great assortment of beads you can find is a beautiful look to try. It is an easy hairstyle you can make, try different part styles and colors. But for the hair to get a good bob, it shouldn't go past your shoulder length.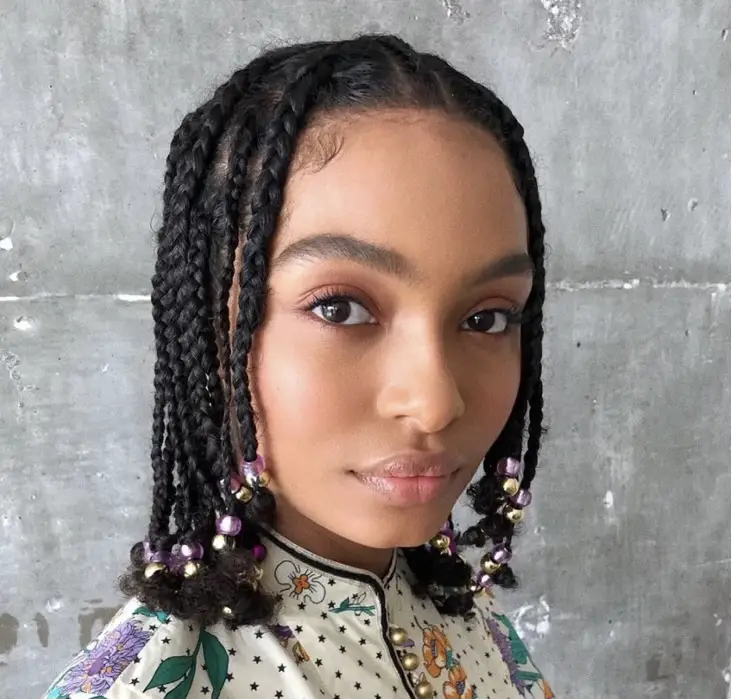 8. Fulani braids with beads
This is an ancient way of braiding and has a rich African history. It is also braided flat to the scalp like cornrows, but in a reverse way that comes out gorgeous all the same.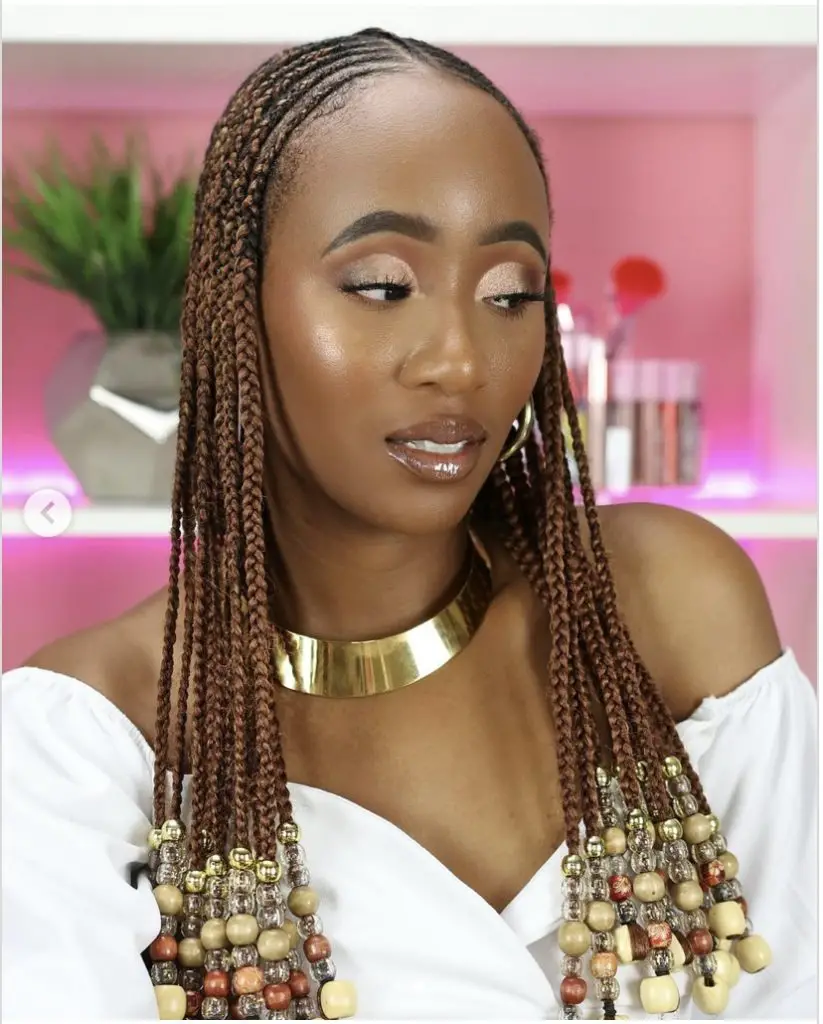 Big wooden beads are a good choice to elevate the classic Fulani braids. But by all means, try on other assortments of beads when you get the braids done, it is always a winner.
9. Braids with beaded bangs
Instead of doing the regular backward braids, put a spin on this hairstyle. Let some strands fall forward to form bangs and style them with beads. The whole bangs should be covered in beads for it to stand out.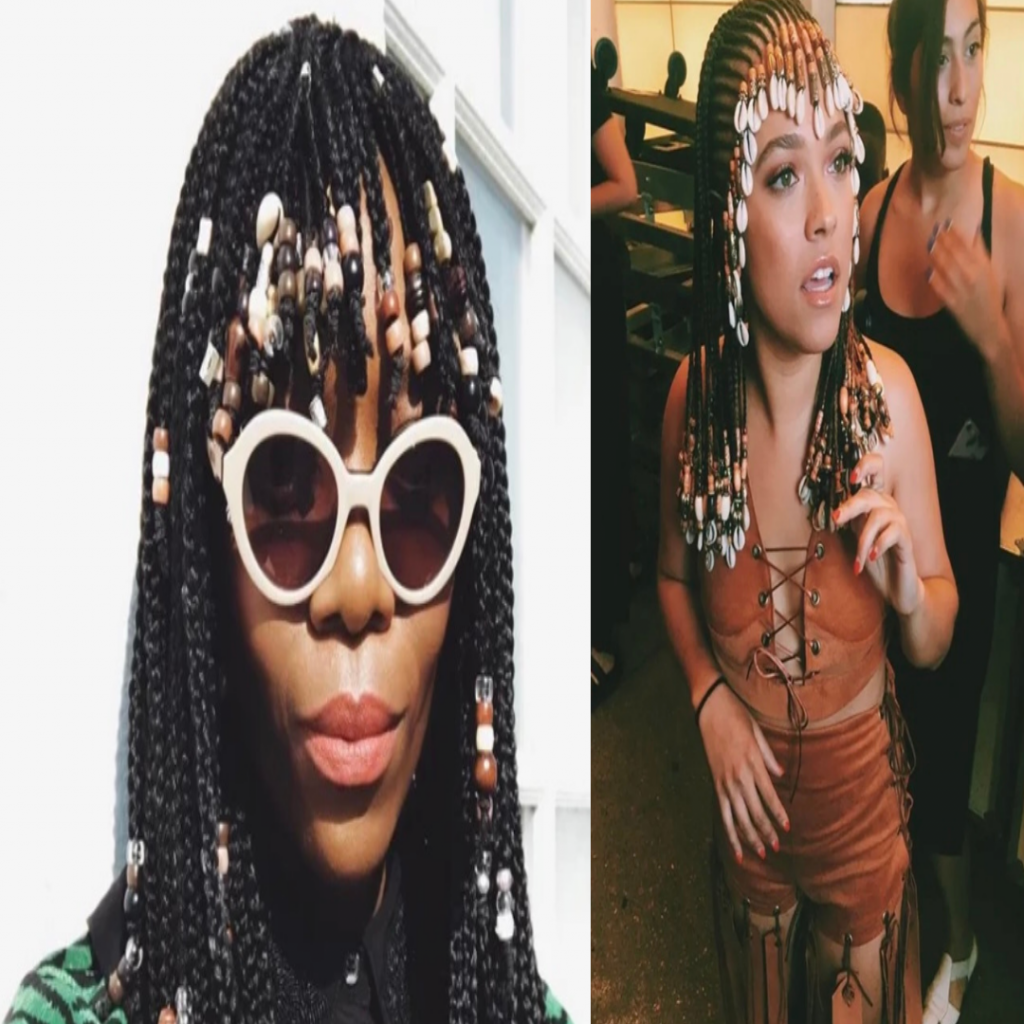 This look is for those who like to be the center of attention because the beads on the bangs will be the focus of the hair and are bound to attract attention.
10. Braids did in a bun with beads
A nice twist to the braids hairstyle is keeping them in a bun that won't come off. You can do a middle bun or a bun on the left and right sides of your hair.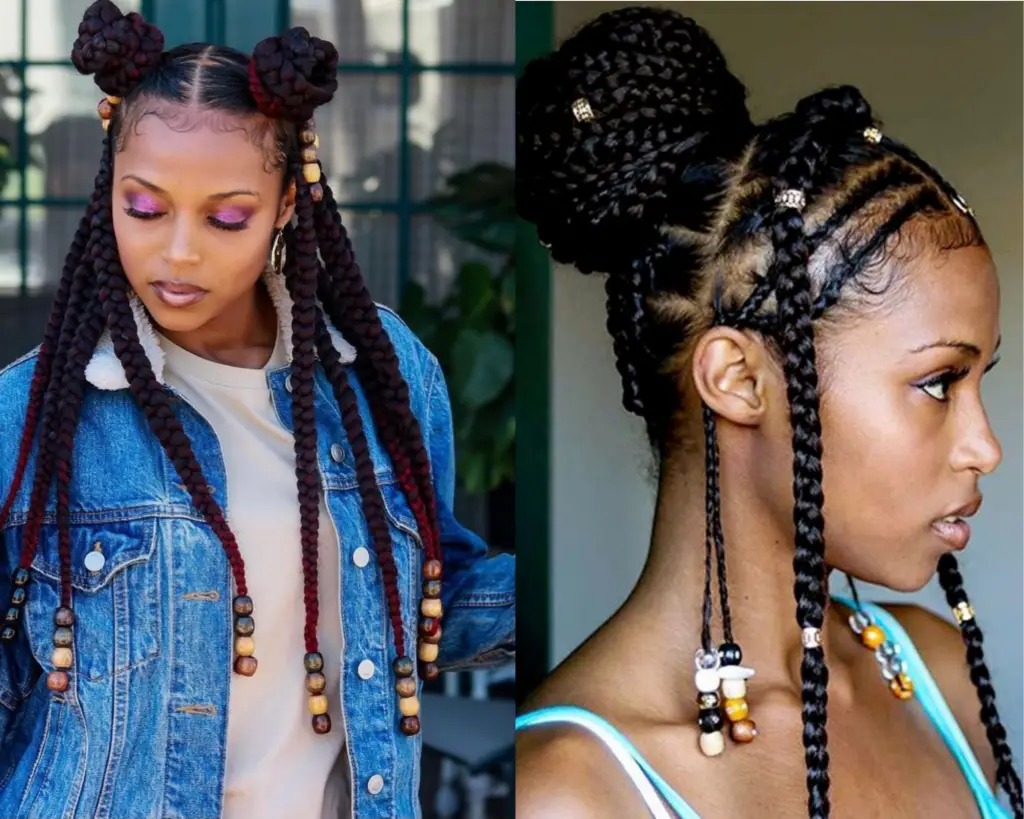 Adorn with beads of choice and the bun look is complete and it is such a beautiful hairstyle for anyone.
Braids are a protective hairstyle, that requires low maintenance. When paired with beads they pop and come to life. Hair with beads is a trend to follow this year because It is a fun way to accessorize your braids. Don't just keep them at the tip, layer them all over your braids. When next you're getting your braids done, try out one of these hairstyles and you'll be glad you did.