Protective hairstyles have been around for a while and have been the go-to hairdo to shield natural hair from dehydration. As part of efforts to protect the hair, locs, which is done by rolling the hair into bits, was introduced. Since new styles are always springing up, goddess locs have made their way to the list of trendy hairstyles.
Goddess locs are a type of faux locs that you should be committing to as they are the perfect combination of bohemian and cool, with versatile ways to style them. If you are still not convinced, read on to find everything you need to know about this relatively new hairstyle that is taking over.
What are goddess locs?
Goddess locs get their name because instead of the plain twisted locs, they are made with soft and kinky hair extensions that have curls in them so they cascade down and hang all around the hair. The curls are left visible on the tips as well, so they look shaggy yet appealing.
The history behind goddess locs
Goddess locs are said to have been formulated when actress Megan Good approached the good Dr. Kari Williams back in 2015 feeling inspired by Lisa Bonet's natural locs. According to the doctor, it was almost impossible to recreate locs that would look like Lisa's.
However, when she got into work, her 18 years of experience in the hairstyling game came in handy. After a while, they were able to come up with locs that mirrored Good's inspiration. At first, it was named Megan Good locs and later changed to the well-fitting Goddess locs we all love today.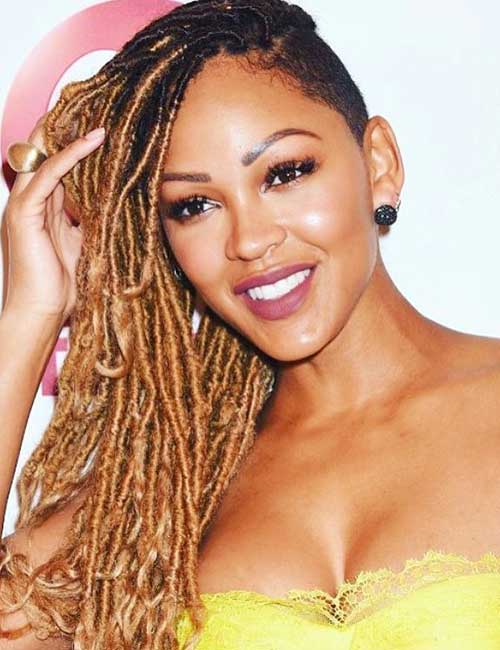 How are goddess locs done?
If you are ready to get these beauties installed on your hair, start by booking an appointment with a professional stylist. During your visit, they should begin with washing and conditioning your hair to get it ready for your new goddess locs.
When your hair is dry, the stylist will section out the hair and plait them into individual braids. After they are all braided, a comb or pin can be used to loop the extension to the base of the braided hair. Once it is secured, they will start wrapping the two sides together with your natural hair. The freeform wrapping is done till you get your desired length and are then tied in place with the curls hanging out of the tips.
Another way to install goddess locs is the crochet method where you buy faux pre-looped goddess hair extensions. They just have to prep your hair, plait into cornrows, and then use a crochet pin to pass the extensions through the base of each row till the scalp is covered. It takes about two hours tops to complete unless you want the hair clustered. Then you have to consider the placement of each locs.
Generally, if you factor in prepping the extensions and natural hair, it takes about half of a day to install these locs. The length you're going for can also determine how long you spend in the saloon since waist-length locs can take up to eight hours. Yes, they take that long, unless you are opting for the crochet method. We assure you that the time spent is well worth it.
 

View this post on Instagram

 
You can get your locs installed at any salon of your choice. While some high-end places can charge up to $1000, you can always get it at a cheaper rate. The hairstyle is affordable since you'll be keeping them on for at least two months, so even if you spend more than your average budget it is still okay.
What's next after getting my hair done
You've gotten your goddess locs installed, it is now time to care for them. Invest in a good hairspray, and give your locs a good dose of moisture. It will keep your hair hydrated and prevent breakage. You can wash the hair at intervals to keep the locs healthy.
Manipulating goddess locs is easy which is why you style them as suited. The internet is always there for styling inspiration. As you wear your locs, maintain them by retwisting the growth to have them looking new every time.
The creators of this hairstyle recommend that you keep your locs on for a maximum of four months. This is because the longer you the longer the style stays on, the more your natural hair goes into locking mode. When you decide to take them off, it might lead to breakage since you'll have to detangle the hair from the locs shape they have grown into.
Is goddess locs different from the rest?
Sure, the faux locs are alright but goddess locs are unique since there are curls infused in the hair which also extends to the tips. This wavy undone effect is what makes them stand out from other variations of locs.
Unlike the traditional locks that any kinky hair extension can work for, not all hair extensions work for goddess locs, as the perfect texture is needed to create the free-form distressed look. Trust us, nothing says boho-chic like this hairstyle.