Personal training only comes to mind as a last resort for most people. The only choice left when desperation hits. And for others? It isn't even an option that pops up.
We've seen how it plays out in movies. Usually, a fat girl gets bullied for her weight; in a bid to "show them" or, like in the case of Insatiable, "get revenge," they turn to personal training sessions to make them look fabulous. In a five-minute (or less) montage, we see how their body changes (with the soundtrack of their trainers giving it to them hard). And then bam! They're the sexy, confident chic all the girls are jealous of, and all the boys want. An interesting fantasy.
Anyway, personal training sessions aren't just to sculpt your body into the revenge plan in your head in the real world. If that's your goal, though, that's fine. But getting yourself a personal trainer has more benefits than that, and if you enjoy fitness and health so much, you could become a fitness trainer. Exciting, isn't it?
Before you get too excited, though, let's go through a couple of things like who's a personal trainer? Benefits of getting a private fitness instructor and other fun, thrilling tidbits you should know.
What is Personal Training?
Personal training is a service provided by a fitness professional (personal trainer) to clients to help them achieve their individual fitness goals.
Who is a Personal Trainer?
Think of a coach, football, basketball, tennis, whatever. Instead of getting coached for a sport, you'll be coached on your form and technique, how to achieve your fitness goal, etc. A personal trainer is a fitness instructor who creates and implements safe and effective programs for their clients in succinct terms.
They help you achieve your fitness goals by tweaking (or overhauling) your lifestyle choices, creating fitness programs, and teaching you things about fitness, health, and body. Sounds fun? But you don't need personal training; you can hit your fitness goals yourself. Maybe you can, but personal trainers come with their benefits too.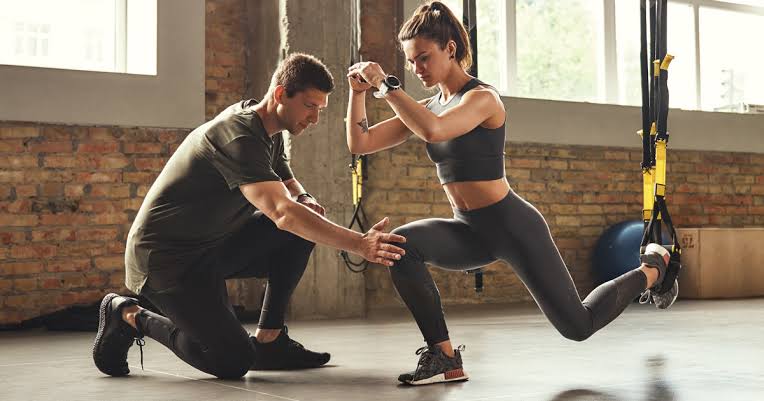 5 Benefits of Having a Personal Trainer
1. Accountability
It's easy to fall off the fitness wagon when no one's watching when no one's keeping track but you. You could sleep in and not take that run you're supposed to take, miss a whole month of working out, and only feel a teensy bit guilty about it. But the moment there's someone else watching you, calling you repeatedly by 6 am to get that run, oh boy, does your consistency spike.
Also, having someone to workout with makes the journey less of a chore. You're more likely to show up and put in the work if you have someone there holding you accountable.
2. Promote healthy lifestyle habits
Since accountability leads to consistency, consistency leads to habits—the good part? The routines are healthy. Working with a personal trainer will have you making healthier lifestyle choices like taking the stairs, walking the few blocks instead of taking the bus, etc. Over time, these choices become habits that improve your health and fitness level—running after your kids in the park won't take the wind out of you anymore.
3. You get general nutritional advice
Though your trainer isn't a dietitian or a nutritionist and thus isn't certified to give you meal plans or specific food recommendations, they are allowed to provide general nutritional advice that can be helpful as you go about your fitness journey.
4. You'll get a personalized plan
Workout plans are a dime a dozen. A little Google search will show you many workout plans, from specific ones like waist workouts to more general workout plans. These are all well and good, but a personal trainer can draw up a personalized plan that'll be more effective than the ones created for everyone.
While working with a personal trainer, they can learn things about your body you didn't know, like whether you're quad dominant or your left arm is the weaker one. You can incorporate this fact into your workout plan to create a more effective exercise routine. In this way, you'll achieve your fitness goals faster and have less risk of injuries.
5. You'll learn more about fitness, health, and your body
They must undergo numerous certification processes before they become certified (I'm assuming you'd hire a certified one). These processes require them to have ample knowledge of things like human physiology, the science behind exercise, body mechanics, etc. With this knowledge, they can teach you proper body form during workouts, how you use specific exercise equipment, what muscles to engage, and other health and fitness topics.
From the points mentioned above, getting a personal trainer involved in your training has a lot of perks. But what if you want to become a fitness trainer? Do you get a YouTube channel and begin? Not if you're going to be a certified personal trainer, no. It would help if you jumped some hoops to become a certified fitness trainer (CPT). Let's check those hoops out.
How to become a certified personal trainer
Get a degree in a related field
Although this isn't a necessary step, you can earn a certificate with a high school diploma. However, getting a degree in a closely related field like physical education or kinesiology will help you understand the human body and fitness, thus giving you an edge over your competitors.
Get certified
Now, this is where the real work is. There are a host of certification institutions you can choose from. Nonetheless, the essential thing that factors your decision is whether the institution has been certified. National Commission for Certifying Agencies (NCCA), an independent third party, is considered the gold standard for accreditation, and it currently backs more than a dozen certification institutions.
Some of the certification programs it certifies are the American Council on Exercise (ACE), the American College of Sports Medicine (ACSM), the National Academy of Sports Medicine (NASM), and the National Strength and Conditioning Association (NSCA). All these programs certify a personal trainer.
Other certifications personal trainers need to earn are cardiopulmonary resuscitation (CPR) and automated external defibrillator (AED) certifications. These certifications will help them help clients in case of an emergency. These certifications usually expect you to take a one-day class in person and pass a test.
It would help if you did a lot of research before choosing a certification program to take your exams.
Some things to put in mind before choosing a certification program
What certifications do you require or acknowledge if you plan to work for a specific employer?

What are the prerequisites needed to sit for the exam? Most certification programs require a high school diploma that you're at least 18 years, a CPR/AED certification, and two years of fitness experience.

Is the certification examination online or on-site?

What is the location of the examination if it's on-site?

When are the exams offered?

Does the exam require your presence at a workshop or seminar, or is it a home study program?

How much does it cost?

What are the continuing education (CE) requirements to renew the certificate?

How frequently do you recertify?
Develop key skills
You'll need some relevant skills to help make your job as a personal trainer easier. These skills will be beneficial to your clients as they'll make you more in tune with them and what they're facing, thus reducing frustration and misunderstanding. The skills are:
 Fitness: Imagine having a personal trainer who can't complete a 5 minute HIIT workout they created for their client is not a good image. You should be healthy and in good shape for your body type. After all, people agree that seeing is believing. In addition, you'll have to perform the exercises for your clients, so you have to be fit.
Customer service skills: Developing this skill will serve you well in your career as you'll be responsible for encouraging clients to become long-term customers.
Communication skills: This goes hand-in-hand with customer service skills. You should be able to speak clearly without leaving room for misconstruction, listen actively, and use and read body language effectively.
Stamina: As a personal trainer, you should expect to be on your feet for the whole day you spend with your clients. It would help if you had spectacular stamina to demonstrate proper exercise forms and join in on the workouts to motivate your client.
Problem-solving skills: A problem-solver gets problems solved, and when problems are solved, clients are happy, and when clients are satisfied, you're so glad. It's a win-win situation. You need this skill so when you listen to your clients' fitness concerns. You can help propose solutions, including assisting them in making lifestyle changes.
Conclusion
Hiring a certified personal trainer is worth your money and a nod towards making healthier lifestyle choices. Now you know what to look for before hiring one. And if you want a career as a personal fitness instructor, you know what to look for when doing your research.
Comment below if you've had any sessions with a personal trainer. What was it like? And if you're a personal trainer, what other skills have you learned that helped improve your client relationship?
You may also like to read:
–305 Fitness: Cost, Classes, Sign Up, And What To Expect?
–What Is Low Impact Exercise: Types, Benefits, And Tips To Get Started
–Sweatband: Just An 80s Fashion Statement Or There Are More Practical Aspects?