Every year and season, we get to see new hairstyles, fashions, and whatnot in season; from your favorite celebrity rocking Coi Leray braids to the girl next door spotting a statement fashion piece, there is always something new in the world of fashion. 
The Coi Leray braids were inspired by rapper Coi Leray who has been seen rocking these jumbo braids at different points. The Coi Leray braids are currently trendy — aside from being beautiful, they are also a type of protective hairstyle for your edges.
In this article, we will be talking about how to create the Coi Leray braids and the materials needed to create the look.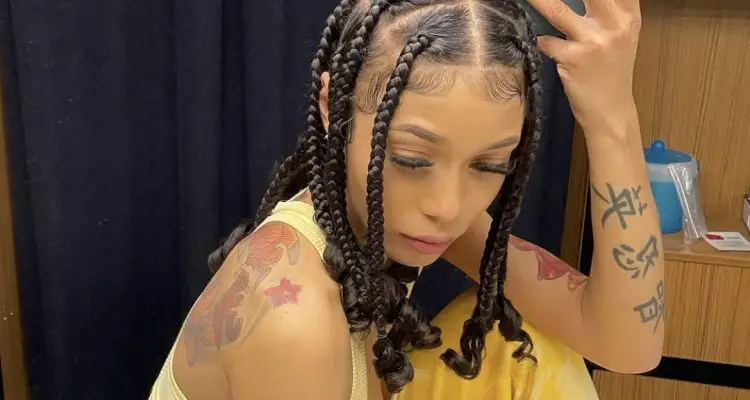 What are Coi Leray braids?
The Coi Leray braids are Jumbo knotless braids with a curly whirly end, the style has a signature straight middle part and can have about six to sixteen braids with lots of baby hair here and there for a little razzle-dazzle.
The braids are currently trendy because of their unique look and versatility; you can make your own braids to suit your style and need. You can play around with the length, braid shape, extension color, curl type, and many more. 
What type of hair can make Coi Leray braids?
The Coi Leray braids can be done by all hair textures (natural kinky hair, silky hair, or straight relaxed hair) so long the hair is long enough to hold. Obviously, different hair textures will determine the method of braiding. If you have kinky afro hair, you might need to blowdry or straighten your hair before making the Coi Leray braids to give the final look a neat and flat finish. 
For silky and permed hair, blowdrying or straightening might not be required. 
What are the materials needed for Coi Leray braids?
Since this article is talking about making this hair yourself, you need:
Rat-tail comb: This is necessary for cutting straight lines on your scalp.
Shine and jam: If you are using extensions, you will need shine and jam to flatten your natural hair and hold it in place.
Extensions: Most people prefer to use braiding hair extension for the Coi Leray braids but it can also be done without extensions. If you are using hair extensions, you might need more than two packs depending on the size and length you desire.
Perm rods: The curls at the end of your braids are made with perm rods for a bouncy and whirly feel.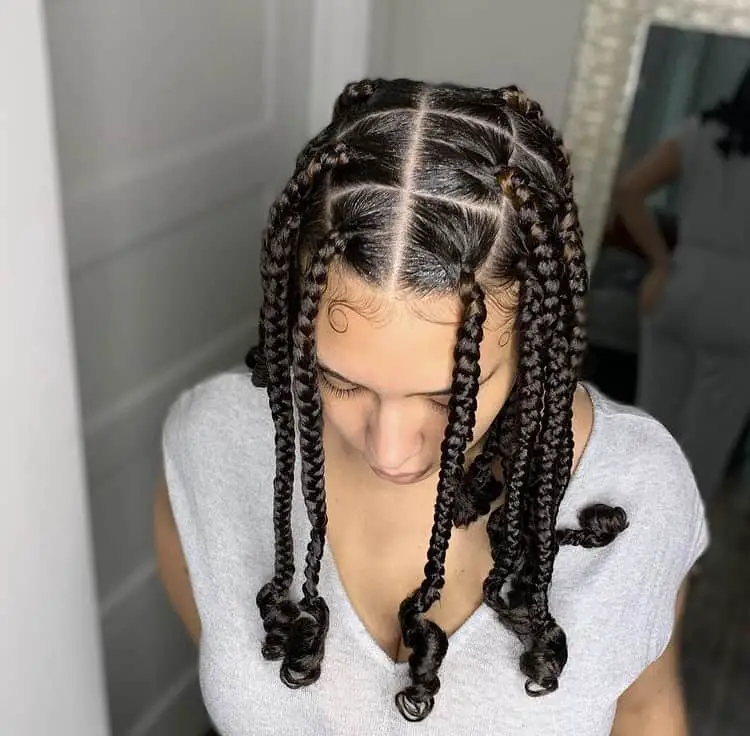 Mousse: The hair mousse is applied after completing the braids to smoothen the body of hair and also for the longevity of the hair. 
Edge control: Leaving out baby hair is an essential part of the Coi Leray braids, you will need edge control to style your edges after the braid is done. 
Hot water: After rolling the end of the braids on the perm rod, you will need hot water poured on the rods to create your desired curls. 
The process of making the braids
Making the braids is a pretty straightforward process as long as you have the abovementioned tools. However, the process differs depending on whether you choose to use braiding extensions or not.
Making the braids with braiding extensions
If you decide to make your braids using extensions, start off by stretching out your clean natural hair. Start sectioning from the back with your tail comb and the Shine and Jam lotion. Depending on how big you want each section to be, you can have between six and sixteen sections. 
Starting from the back, you can have three large sections neatly cut, apply your Shine and Jam to each section for a neat hair part. Begin the braid with your natural hair for the knotless look before adding the braided extension as you go till you attain your desired size.
You want your braids to be medium thick and you should add enough braiding extension to create the look. After plaiting to your desired length, use black rubber bands to tie the hair and keep it from unraveling, leaving the ends unplaited. 
The unplaited ends will be wrapped around the perm rod for your desired curls and dipped into a bowl of hot water. For maximum curls, do not remove the rods until your ends are dried. After plaiting, apply some mousse to each braid for a lasting hold. Your edge control comes in after and is used to style your edges the way you want. 
Making the braids without extensions

The process is similar to the one above except you won't be using extensions and hot water. In place of hot water for attaining the curly tip, dampen the ends of your braids and apply moisturizer, sealant, and gel or holding product before rolling with your perm rods. You can sit in the dryer to dry the ends or leave it to naturally air dry before removing the rods.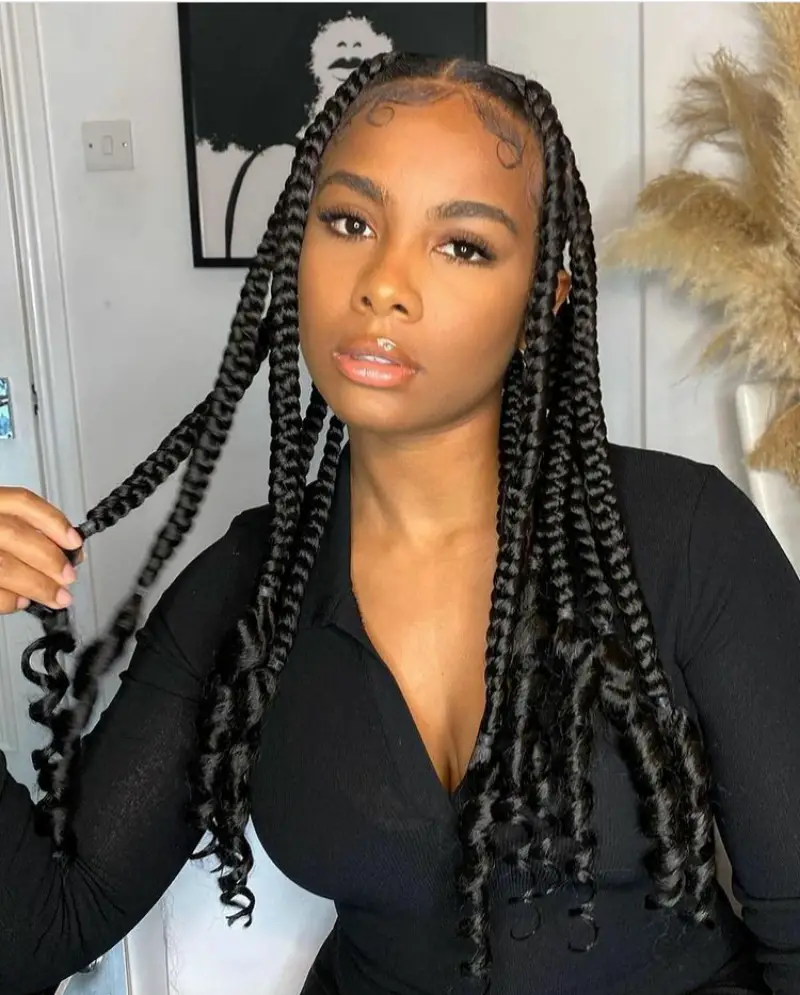 Maintenance of your Coi Leray braids
After making your braids, you will need proper maintenance to keep the hair looking good. You can apply mousse once a week to strengthen the hold and also use edge control daily for your edges.