There was a time in the world of hair fashion where ponytails, French braids, and milkmaid braids were the easiest and most classy styles to pull off on short notice; right now, bubble braids have taken over.
Not everyone has the time, patience, or ability to pull off the French braids on their own without ending up with tangled hair and having to begin the process again which can be quite frustrating. The bubble braids are easier, less complicated, and faster to pull off at a moment's notice.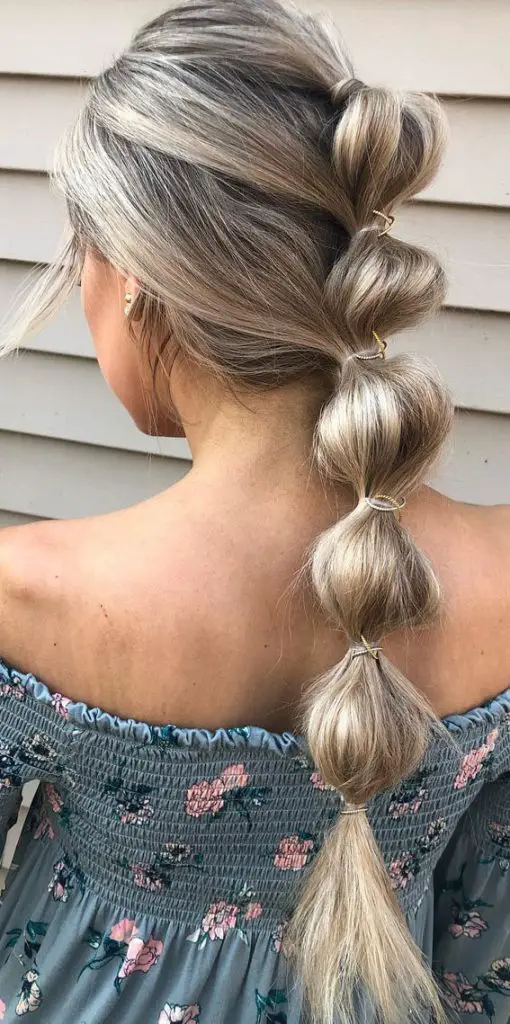 What are bubble braids?
Bubble braids are similar to regular braids but easier and quicker to achieve. Bubble braids consist of hair made into bubble-like shapes that can be worn in ponytails, pigtails, and more. This type of braid can be created easily or with more complicated styles depending on your preference.
The bubble braids are great because of the ease of getting them done and also the versatility they provide — there are no limits to the way you can wear and style them. They are also stylish, fun, and trendy which makes them the perfect style to rock to any occasion in 2021.
What type of hair can make the bubble braids?
Bubble braids are suitable for all hair types: silky hair, kinky hair, or relaxed hair will look great in bubble braids. The only thing different in the making is the type of products used to attain a flat and neat look.
Different products work better for different hair; for this style of hair, the hair product is an essential part of the making. Your regular hair product with a little extra will create the magic.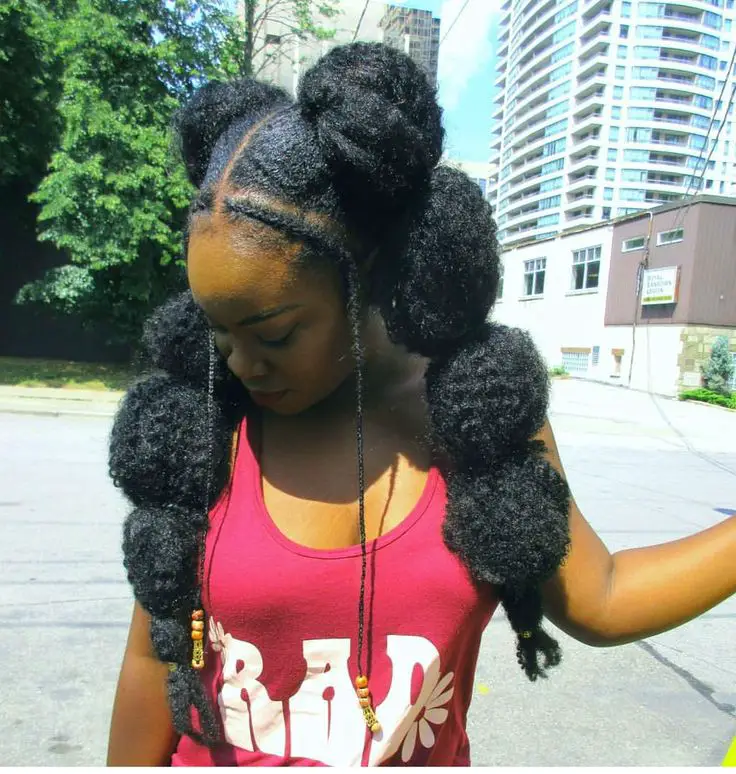 Materials needed for your braids
Leave-in conditioner. Before you pack your hair into the bubble braids hold, you should moisturize your hair thoroughly. Wash your hair and apply your favorite leave-in conditioner. If you have light hair, you want to apply products that will not make your hair heavy. People with thicker and textured hair types can use medium to heavy products to retain moisture in their hair throughout the day.
Styling gel. The styling gel is what you use for keeping your hair primed; it holds your hair flat to your scalp and prevents flyaways.
Combs. For this style of hair, you will need a rat tail comb, a big tooth comb, and a hairbrush for combing through the lower end of your ponytail.
Hairbands. The hairband is what you use to create the bubble look; it is used to hold your ponytail or pigtail in sections. If you want to be more creative with a unique look, you can use ribbons, jewelry, or other accessories along with your hairband.
Edge control. If you want to create a playful and relaxed look, leaving out some baby hair at your edges will be great. You will need edge control to style the edges and keep them looking flat and neat.
Spray gel. The spray gel is used for keeping your hair in place. If you have fine, light hair, the hairband might not be enough to keep your braids in place. Applying spray gel on the braids will ensure your bubble braids remain intact all day.
Finishing spray. When you are done making your bubble braids, the finishing spray is used for extra hold both on your scalp and on the ends of your ponytail to keep your hair tamed.
Hair extension. Depending on the length of your hair, you might choose to add extensions to create the bubble braids look. When adding extensions, ensure you buy extensions similar to the texture of your hair. If you have straight hair, buy a straight extension, while textured hair should get a similar extension — this will create a seamless and natural look.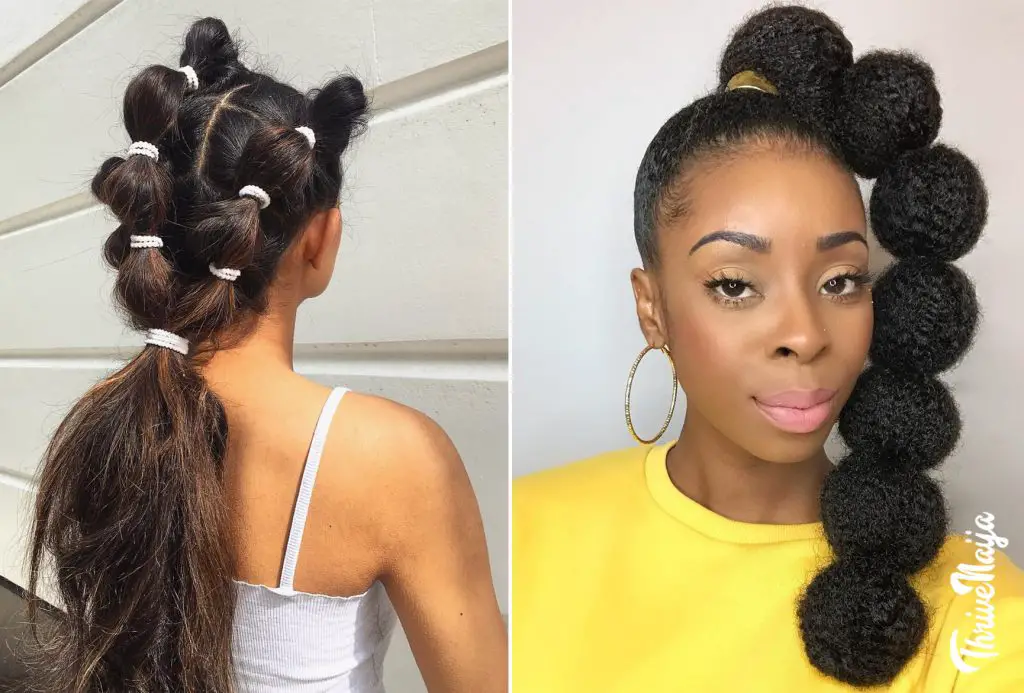 How to make bubble braids
The first thing mentioned above is to moisturize your hair; this can be done an hour before you begin the bubble braids. After your moisturizer has gone into your hair and is dried, apply styling cream to create a uniform frizz-free foundation that is great for styling.
Same as the conditioning process above, avoid applying too much product if you have fine, and light hair. After applying your styling cream, place your hair into a slicked-back ponytail at your preferred height and secure with a hairband at the highest point and as close to your scalp as possible.
Next is to place another hairband a few inches down your ponytail and another after. The distance in placing hairbands depends on the length of your hair. Ensure to maintain an equal distance between hairbands as this gives it a professional appearance.
After placing all hairbands, tease your hair with your fingers, pulling each section to create a multiple bubble look. You can use the spray gel to keep your bubbles firm. When you get your desired look, apply a finishing spray to tame flyaways.
Use your edge control to style your baby hair in the front and you are good to go.