Balenciaga has always been a luxury fashion house known for unconventional shoes.  The new croc heels are no surprise, as they have teamed up with crocs, once again for the Balenciaga x Crocs 2.0.
They first collaborated back in 2017 in a partnership that was incredibly successful. At the time, Balenciaga's creative director, Demna Gvasalia teamed up with Crocs for the 2018 spring ready-to-wear collection. After their previous success, it's a no-brainer that they decided to launch a second collaboration.
At the fashion show, models were dressed in bright pink, green, yellow, and black platform Crocs clogs and adorned with the Balenciaga and Crocs signs, flowers, and cartoon-like charms. With how fast it sold out after its release, it is safe to say that the collection was a hit.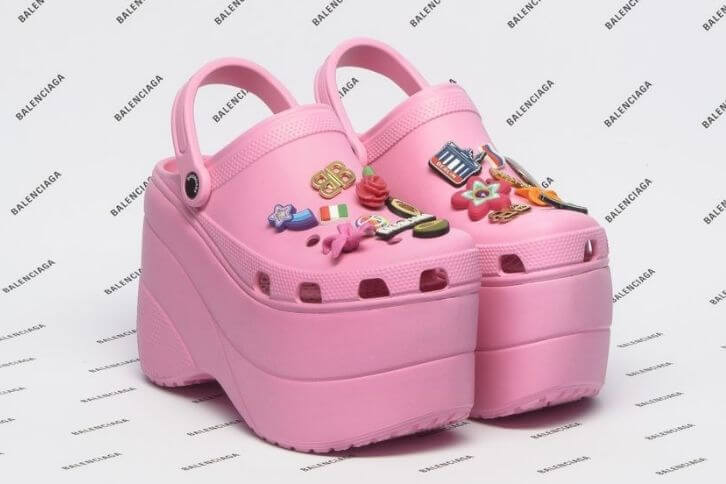 In an interview with Vogue, Gvasalia said about the first collaboration, "It's light, it's a one-piece foam mold and to me, these kinds of techniques and working with these kinds of materials is very Balenciaga. It's a very innovative shoe."
Balenciaga X Crocs 2.0
Balenciaga might just now be on the drive towards collaborations but Crocs are not new to providing heeled clogs as they previously sold summer-inspired heeled sandals. This collection included knee-high platform boots and shoes on a stiletto clog heel. The shoes came in black, gray, and vibrant green colors.
With Balenciaga Crocs 2.0, the second collaboration between the two brands, the collection aims to see the classic clog made into pumps, boots, and platform pool slides.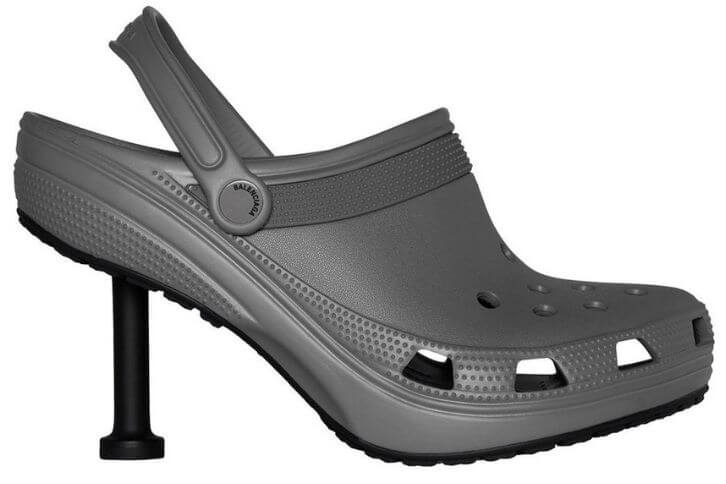 The 80 mm mule, as it is called, features a classic Crocs shoe with its slip-on placed on a stiletto heel that has a flared bottom and sturdy outsole for more stability. It is a design we have not seen before but don't get too excited just yet, as they are not available for purchase yet—the shoes were debuted as part of the Balenciaga spring 2022 collection.
The boots come with a wavy platform and the classic Crocs toe perforated style. Some say it looks like the average rain boot. Others feel it is a brilliant creation. Take a look at the boots and decide for yourself. But by all means, get ready for when it becomes available!
Remember the previous collaboration was sold out before the release date even though it was retailed at about £850. If you fancy a pair of Crocs heels and don't want to miss out on them, get your money ready and mark the date on your calendar.
For these two fashion brands, it is yet another great stride in their bid to top the fashion game. Crocs have managed to make their regular clogs which are popular with people of all ages for their comfort and unique design. They have also collaborated with some notable celebrities such as Justin Beiber, Post Malone, and recently Diplo. More celebs have now been spotted wearing Crocs.
The Crocs heels may look weird, but their distinctive features make them appealing and sets them apart from other fashion brands.
Reactions to the Crocs heels
The unveiling of these shoes has caused a lot of mixed reactions on social media. Everyone has something to say about the creation and our guess is that the buzz is welcome by the brands. Maybe, this is why during their first collaboration, Andrew Rees, CEO of Crocs said during a call with investors: "Balenciaga collaborations led to invaluable PR coverage".
What is your take on the Balenciaga x Crocs 2.0 Crocs heels? Before you share your answer, check out some reactions as seen online:
"I said the croc heels from Balenciaga were despicable and it was like I smacked peoples mother" — Kimberly (@TheKimbino)
"Maybe I should buy a pair of those Balenciaga x Croc heels"–  tomás (@dommyturan)
"The boots aren't bad are they insulated I wonder" — ✮ mia (@✮ mia)
"Now I love me some crocs but who on their design team thought croc heels were the move" — alex 👁👄👁 (@NotSoGrafik)
"How would you even style this??? I want actual answers because."— Donatello (@Donatello)
"Stoppppp I need those Balenciaga croc boots 😫😫😫😫😫😫😫" — kimz (@kiimbuurlee)
"the whole croc and balenciaga collab is a real life joke. How they gon add heels to crocs, say they collabed w balenciaga and sell them at $850 a pop. Y'all must be out ya brains" — MichelleLissette (@michellexlizz)
"You can now get @Crocs with 2-inch heels. They're great for the woman who wants to make the statement, I've totally given up!", Random user.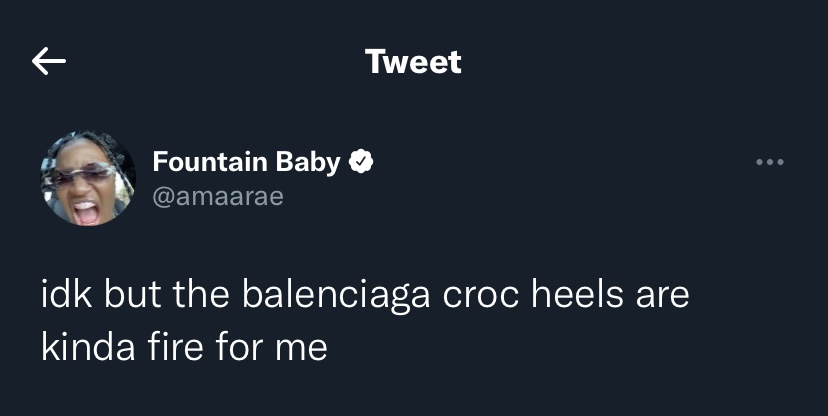 It seems the Crocs boots are more well-received than the Crocs heels. With all the trolling the unveiling has amassed, we are of good faith that a good chunk of people will still buy and rock these weird but fashionable shoes. Fingers crossed that they might turn out to be the world's most comfortable stiletto heels.
This may be the birth of a new era, where we see Croc heels and boots on the red carpet and maybe even evening dinners. The ultimate question is: will you join the trolls and doubting Thomases or will you be willing to try them on?