Summer is the season to rock those sexy bikinis and show some skin. Before that, though, you may prefer to get rid of some hair. Hair removal from the body can be quite an ordeal as the use of shaving sticks causes razor cuts and takes so much time. This is because you're being careful to avoid getting too many nips.
On the other hand, waxing, which doesn't cause cuts can be so painful. This is why most people have now turned to the use of shaving powder, which is a depilatory. This means that it breaks down the protein in the hair called keratin because it contains chemical components which make the hair fall off right from the roots. So, you can just wash or wipe away without having to shave with a razor.    
The never-ending search for hair removal products and beautiful skin for the hairy bunch is serious business to some. We spend a lot of time on social media so it is expected that we will follow some of the trends. Tiktok trends have been known to provide some trendy and useful products and tips.
Maybe this is why beauty enthusiasts and several TikTok users have been waxing praises for Sheen Carson's Magic shaving powder. It cost around $2 and has many good reviews because of the smooth, hairless, and bump-free skin it gives.  
What is magic shaving powder and how can you use it? 
Originally produced by soft-sheen Carson for black men with coarse hair, the shaving powder is one of the many other products like hair texturizers, dyes, and grooming products made for black people to honor their unique hair and styles. Magic shaving powder comes in four variants: regular strength, extra strength, fragrant, and conditioning shaving powder platinum. TikTok's favorite variant is the magic fragrant shaving powder.  
The magic hair shaving powder as it's written in the description is a hair depilatory powder made with three active chemicals: calcium thioglycolate, calcium hydroxide, and calcium carbonate which when mixed with water and applied for a few minutes breaks down hair components.  
This shaving powder is probably very effective because the target market, which consists primarily of black men, has more coarse hair. So they make it very strong to help remove the hair instantly, which prevents bumps and ingrown hairs.  
How to use the shaving powder 
The product comes in a tin can, so you will have to open the lid with a blunt object like a screwdriver. Get a cup or plate specific for the mixing powder. You will need to mix the product with water to form a paste. To get the required consistency, mix equal parts of water and powder. Apply on the hairy part of your body and leave for 5 to 7 minutes. Then rinse off or wipe with a damp cloth—the hair should come off on its own.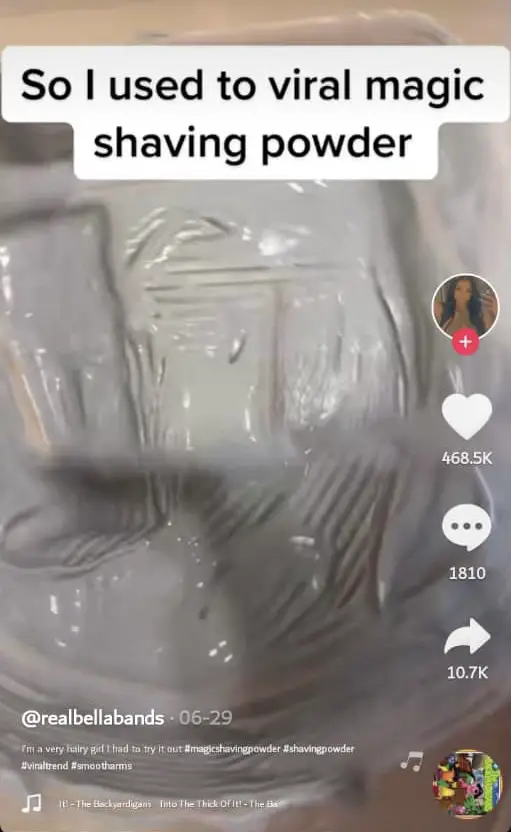 The chemicals and fragrances used to produce the product may cause irritation and allergies, especially for those with sensitive skin. It is advisable to do a patch test on a small part of your skin like the upper part of your legs or arms where you can cover in case you react badly to the product.
For the test, mix one teaspoon of powder and one teaspoon of water. It should form a paste, which you should then apply to your skin. Leave for about 5 minutes, then wash the paste off. You know it is safe to use if your body does not react to the product after 24 hours.    
Based on your hair and skin type you can choose from the four variants the magic shaving powder offers and know the one you are least likely to be irritated by.  
Tips 
The preferred areas to use the shaving powder on are the arms and legs, although, you can use it on your face and body. It is not recommended to use it on your underarms while wearing deodorant, or any other part of the body where you might have applied alcohol-based products like perfumes.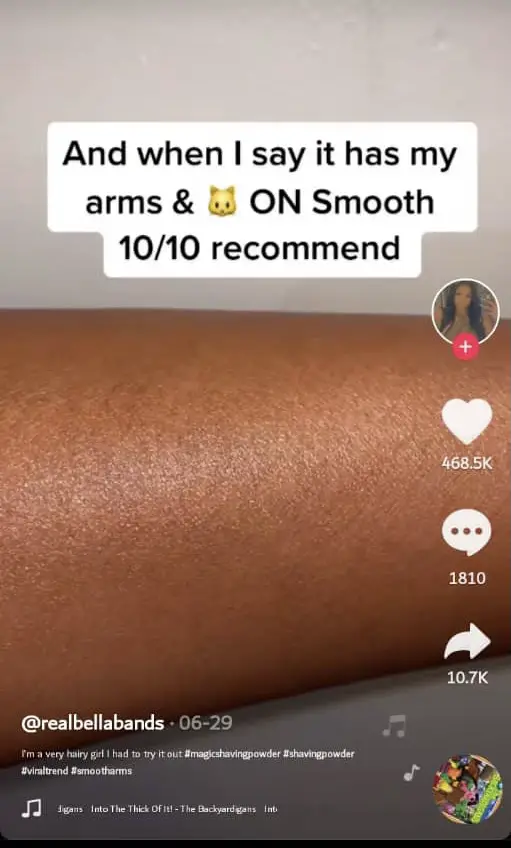 They should not be used on the genitals irrespective of gender. There are milder hair depilatory products like Nair, Nads, and Veet you can use for this purpose. It is also not advisable to use it on sun-exposed or burnt skin. You don't need to wash your skin before the process. Rather, you should wash your skin after shaving.
Avoid using the product if you have shaved with a razor or other hair removal products within 36 hours. To successfully use the product without any skin reactions, you should follow these tips as most of them are also written on the packaging.  
It is pretty easy to use the product, although it is sold out in most online shops due to the recent Tiktok trend. The great thing is that if you're in Nigeria, you can get it at any local shop near you. Just be sure to get the original product.
If you are ready for hairless skin, grab a can, follow the instructions, and use it. I bet you will be dropping reviews just like others who have tried using the magic shaving powder.