Head scarves, which are hair accessory thought to be for cold weather, are now the trend all year round. Hot girls on Instagram and other social spaces are rocking the scarf look, and even Versace and Gigi Hadid approve.
Some days, your hair just looks so great and cooperates with you, however you style them. Other days, they are in a world of their own that you can't even get things to work, no matter what.
You might just want to protect your hair from bad weather such as wind and rain. Or probably you just want to try the scarf trend for a new look. You don't have to fret over how you will style your head scarf, as we've got you covered.
How to style head scarfs
Silk scarfs are our top choice to achieve a stylish look. The scarves you should use are square and rectangle shape scarves large enough to manipulate into any style of your choice.
1. The bandana head scarf style
Bandanas have been a fashion staple for a long time as they cover up a good part of your hair in a fashionable way. You can do this style in two ways: the normal bandana style which is done by folding the scarf diagonally with the two ends tied under the hair, and the third end left to stick out.
The other way is the bandana cap: the headscarf is folded the same way, but you will have to tie the scarf above your hair rather than underneath, leaving the bulk of your hair out. Then instead of allowing the third end to stick out, you tie it in, before tucking in all the loose ends. For the look to be more balanced, try to place the headscarf on your forehead.
This style requires a small-sized scarf so it doesn't appear bulky. Levi's offers a lightweight neckerchief head scarf suitable for this purpose.
2. Babushka scarf style
This is an easy style that can be used to cover up most of your head, as it is an easy style to achieve to get your day going. Just take a good-sized scarf like this 35" U/K large head scarfs from amazon, fold into half diagonally, place on your head, and tie it under your chin.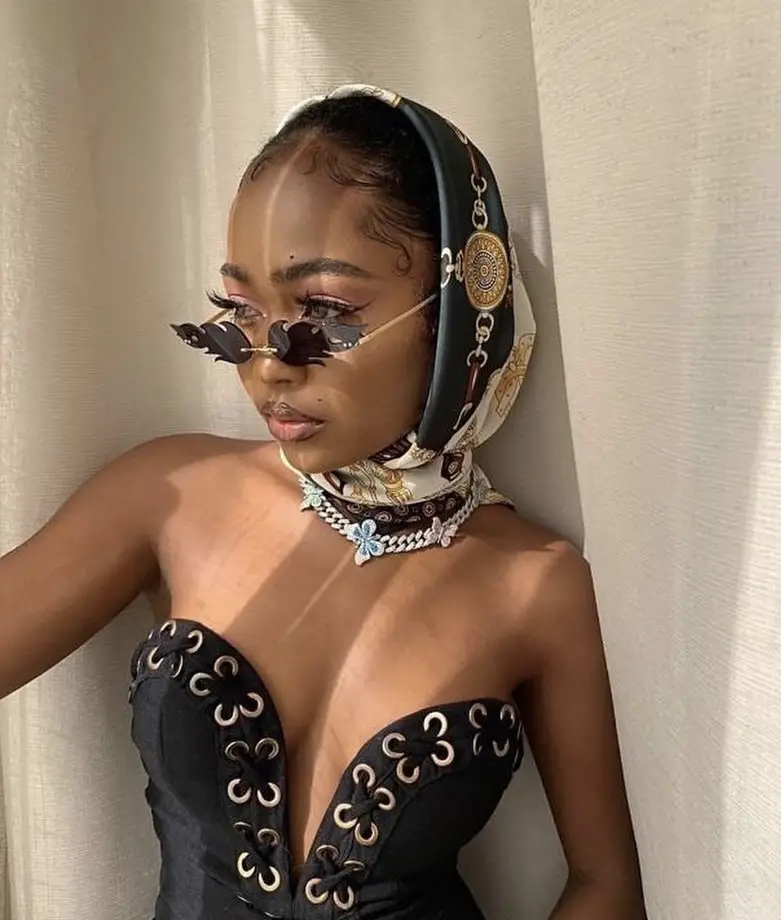 Another variation of the babushka style is done by passing the ends under your chin to tie at the back or left to hang on your shoulders for the classic Hollywood look rather than just making the tie knot under your chin. It is an effortlessly chic style that covers and protects your hair.
3. The headband style
This is an easy way to tame your hair against the wind. Instead of wearing the normal headbands, try using a scarf to achieve the headband look. The scarf is folded then tied down at the nape. You can add a knot in the middle to give volume which will help the style take shape. A bandana is a great choice for this head scarf style.
4. The reverse style
This style is just like the headband but knotted in front, rather than the back of the head. Fold the scarf, then instead of passing to the back, pass it to the front of your head. This way it covers the base and shows just the edges of your hair.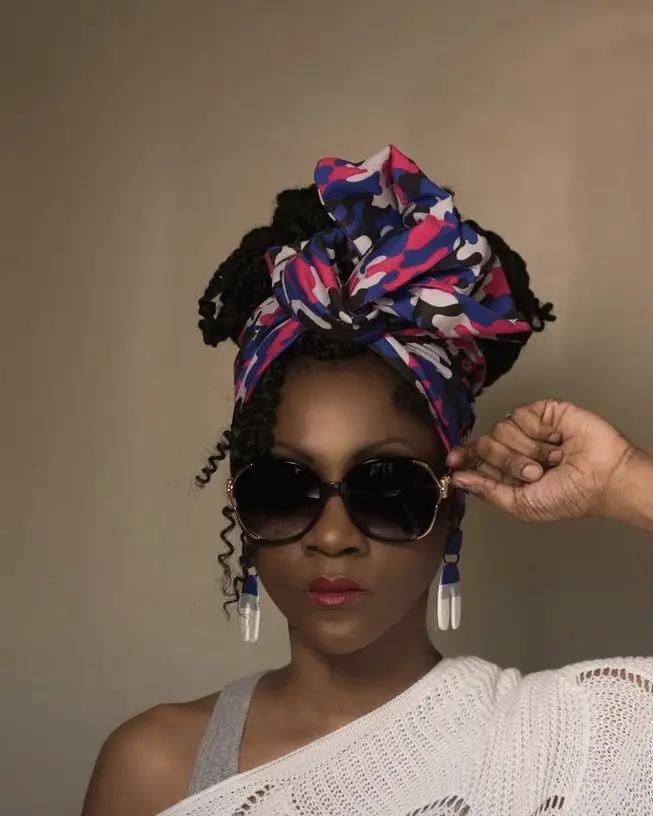 This is a special favorite for those with curly or an updo because it defines the style. You can get creative with the excess on top, as you can use the fabric to form a bow tie, flowers, or leave it to hang loose based on the length of the scarf. This is why you should use a rectangle head scarf, like this mulberry silk scarf from Amazon.
5. The head scarf bun
A bad hair day won't stop you from getting a bun, but this style can only be done as a low or top bun. The low bun starts in the same way you would tie a bandana, but at the point of making the knots, you cross each end to form a bun.
Your hair as well as the length of the headscarf will give the bun volume. The top bun can be made like a turban or a straight-up bun, depending on how much hair you want to cover up. Your hair is wrapped in the scarf and the ends passed to the front where you can double knot and roll till you form a bun.
Any shape of the scarf will work for this style but you should use this one for best results.
Conclusion
Head scarves are your free pass to a stylish hairdo even on a bad hair day. Scarves keep your hair in place and protect it from humidity, which solves your hair problems. They are always in fashion so you don't have to worry about looking odd.
The tip is to match the scarf to your dress choice, and also tie them in a cool way just like the style inspo above. The scarf can be always be made to suit your style as they are flexible and easy to tweak anyway.
Explore play around with different styles so you can finally say bye to bad hair days.