Protective hairstyles dominate recent hair trends, with locs owning the space, and for that, you will need female loc styles ideas to keep up in 2022. Style inspirations are endless for locs, with lengths and texture guiding the beautiful types.
There are typically two types of locs, the traditional take years of palm rolling to keep the hair lock. We also have faux locs, which is a quick way to install locs without commitment. Whichever type of locs you have on your radar, read on as we explore some simple yet creative ways you can style them.
1. Side-swept locs
Try a simple style you can easily add to your daily routine by gathering locs to the side. This instantly flatters your facial features, allowing the hair to fall at an angle that accentuates it. You can also make the hairstyle more defined or braided to add texture.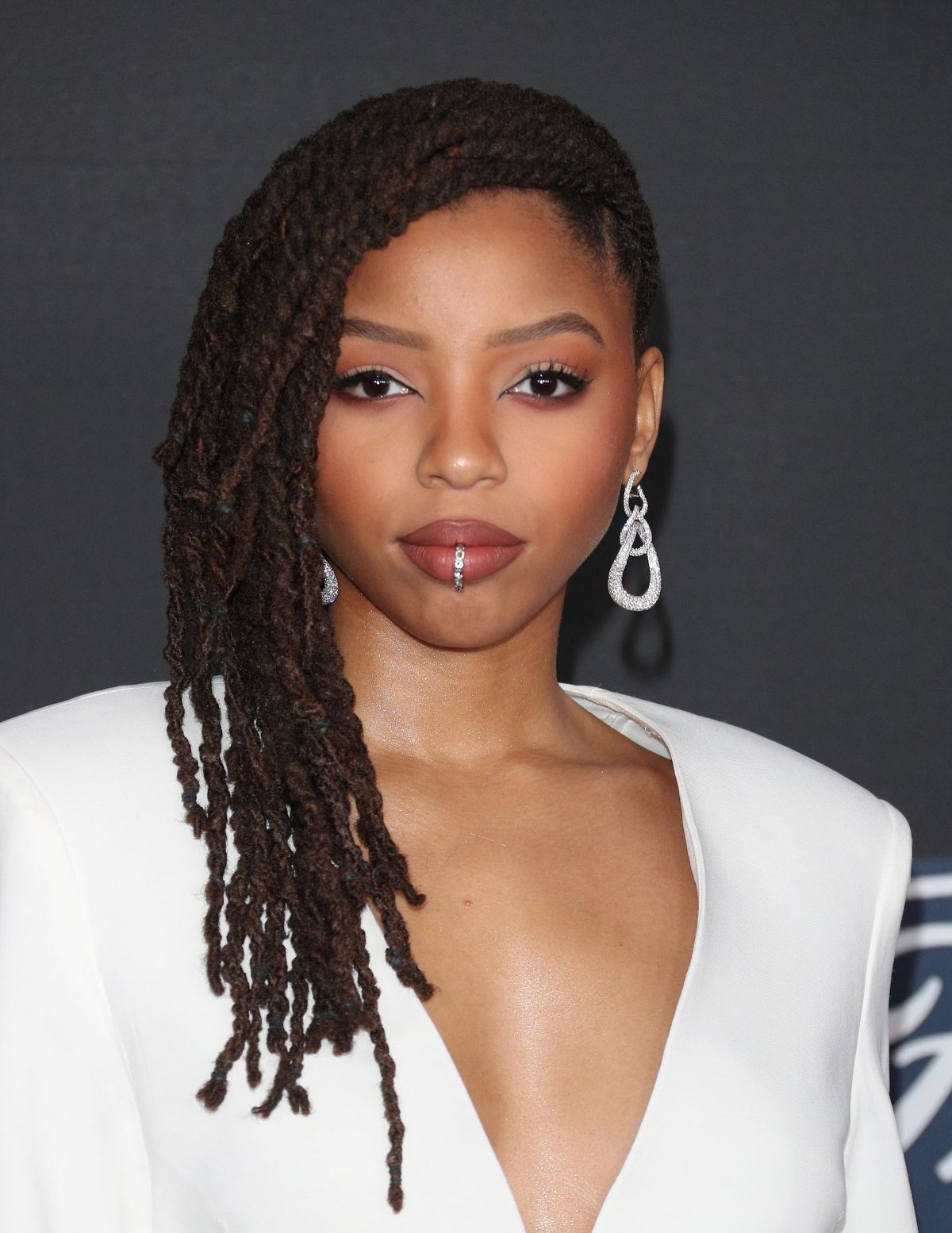 2. Wrapped locs
Go for this wrapped hairdo for an effortless look suitable for work to evening dinners. Achieve it in less than five minutes by pulling your hair to the back and secured with a band just at the nape of your neck. Take the ends, wrap it up to create a loose bun, and attach it to the head bobby pins. Elegant does not have to be much in this wrap hairstyle; add accessories to update the look as needed.
Related articles: 15 Stunning concert outfits in 2022 that'll have you looking your best at your next concert.
3. Bob dreadlocks
Manipulating your dreads into a bob is a chic short female loc style you will love. Fold the ends of the hair so it forms a bob, and apply hairspray or other products to keep it in position. For a creative style, you can rock daily; switching it up with healthy colors is also a great idea. You can add cuffs to elevate the hairstyle if you have an event in mind.
 

View this post on Instagram

 
4. Beehive locs
The beehive female loc style is a top bun with a twist since the bun gets pulled apart to make it voluminous. So next time you do gather your hair into a top bun, regardless of if some locs are left loose, open the bun outward. When creating the bun, try not to be too careful. Wrap messily and loosely, so it is easy to open. You can pull out two locs to frame your face for added style.
5. Curly loc female hairstyle
Curls look good on both long and short locs, and you experiment with different curl intensities to find your best look. Curls are achieved in different ways depending on the type of locks you have. For natural locs, it takes a bit of patience to get perfect wavy locs, so you should start a day before. Start with well-moisturized locks and divide, so easy for you to navigate it.
Wrap your locs into a braided knot; keep as tight as you want your curls to look; when you get to the end, wrap around and secure with a band. Apply a moisturizing hair spray and allow the rings to set in till the next day. Dry the knot before taking the braided knots out for the best result. You can instantly achieve curls if you have faux locs by rolling your locs on a perm rod dipped into hot water.
 

View this post on Instagram

 
Related article: Faux locs: Everything you need to know.
6. Double up-buns
This chic female loc styles is your average half-up half-down hairdo but tweaked to form two spaced-out buns. So, styling follows the same routine of sectioning your hair into two parts and then leaving the bottom half to fall loosely.
While the front half remains the focus of the hairstyle, you will further create a center part that divides it in equal. Use a hair tie to keep both sections in place and make individual buns on both sides. You can achieve the perfect bun by maintaining a consistent wrapping technique over the hair till it gets to the end. Tuck it in and secure it under the hair tie used for the ponytail.
 

View this post on Instagram

 
7. Chunky twisted locs
Here is a creative style you can do last minute if you are going out. You will need to keep a good shine and jam product handy for this female loc styles. Get two or three locs depending on the texture, lather up the hair jam, and twist the locs together. Tie at the ends to keep the new chunky locs in place and do the same until no individual locks are left. For shiny scalp, palm roll your loc base before you begin for a quick loc retwist.
 

View this post on Instagram

 
8. Messy semi-bun updo
Add some edginess into your female loc hairstyle with a messy updo style. It takes some creative touches to achieve the perfect shaggy loc, so you will want to start by gathering all the locs to the top center of your head. Secure the hair so it forms a ponytail; go ahead to fold the end forward in half to form a semi-bun.
Hold the bun in place as well; by now, the shorter ends are already framing your face, creating a messy look. From there, you can loosen up the bun by spreading it at the middle finish up by tweaking the loose ends in place.
 

View this post on Instagram

 
9. Mohawk bumps
Opt for this creative bump hairstyle instead of doing the traditional mohawks with your locs. You can achieve this look by forming two loose buns in the center of your head like a mohawk. Next, you create a small bump in the front of your head, holding it down with a pin. You can also use a scarf to accentuate the bump by wrapping it between the buns.
 

View this post on Instagram

 
1o. Goddess half-up half-down locs
Half-up half-down is an ever-trendy female loc style, suitable for every occasion. After dividing the locs into two sections, create the perfect top knot to complement the look. Follow a simple lean forward to get your crown position, secure the full ponytail and make the knots. This style does not need more than an oil sheen spray to finish off.
Also read: 12 gorgeous goddess braids to channel your inner beauty.
11. Faux side loc bangs
You don't have to commit to cutting your locs just because you want bangs, especially if they are natural locs. Enter the faux loc hairstyle to save the day; braid some hair at the front, and drape it on your forehead. Keep the drape secured with the rest of your head with a bobby pin.
 

View this post on Instagram

 
12. Free-flowing long loc style
If you have successfully trained your loc to a long length, you can enjoy this hairstyle. Or maybe you just had waist-length faux locs installed, don't just allow your locs to run wild. Part to side, create a swoop and secure with bobby pins, for the other tuck behind your ear. This creates an easy ultra-feminine go-to look.
13. Twisted wrap ponytail
If your locs have texture, you will want to play around with this hairstyle. You can easily add different dimensions to your hair by starting with the front of your hair twisted down against the roots. Do this from end to end to create a uniform look while careful not to exert too much pressure on the scalp.
Proceed by gathering the hair up in classic ponytail style, including the loose ends of the braids. Secure into a ponytail with a hairband; use some locs as a wrap covering over the band for intricate detail.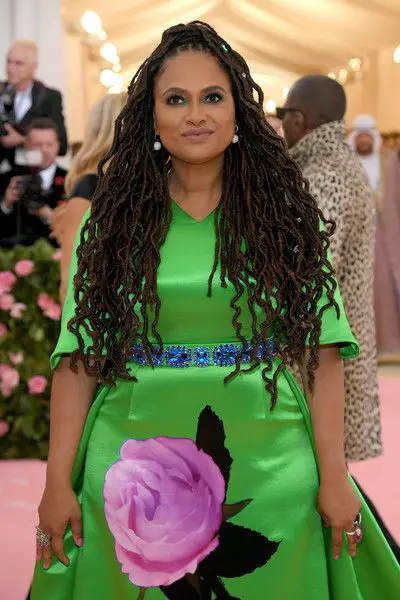 14. Side swoop female loc styles
It is pretty easy to position your hair to the side and allow some to fall to the front, it is beautiful, but it can get updated with a swoop. For this update, begin by sectioning your hair horizontally into three parts, meaning one at the back and two upfronts. After securing the back with a hair tie, move the next section, leave some lock strands out, and arrange the rest in place to the side.
Use the locs left as a drape to create the swoop and hold it in place with pins. For the last section, layer the locks to the back of your head accentuate with a draping effect to join the other area at the back. Viola, you are done with this trendy, updated look you can rock everywhere.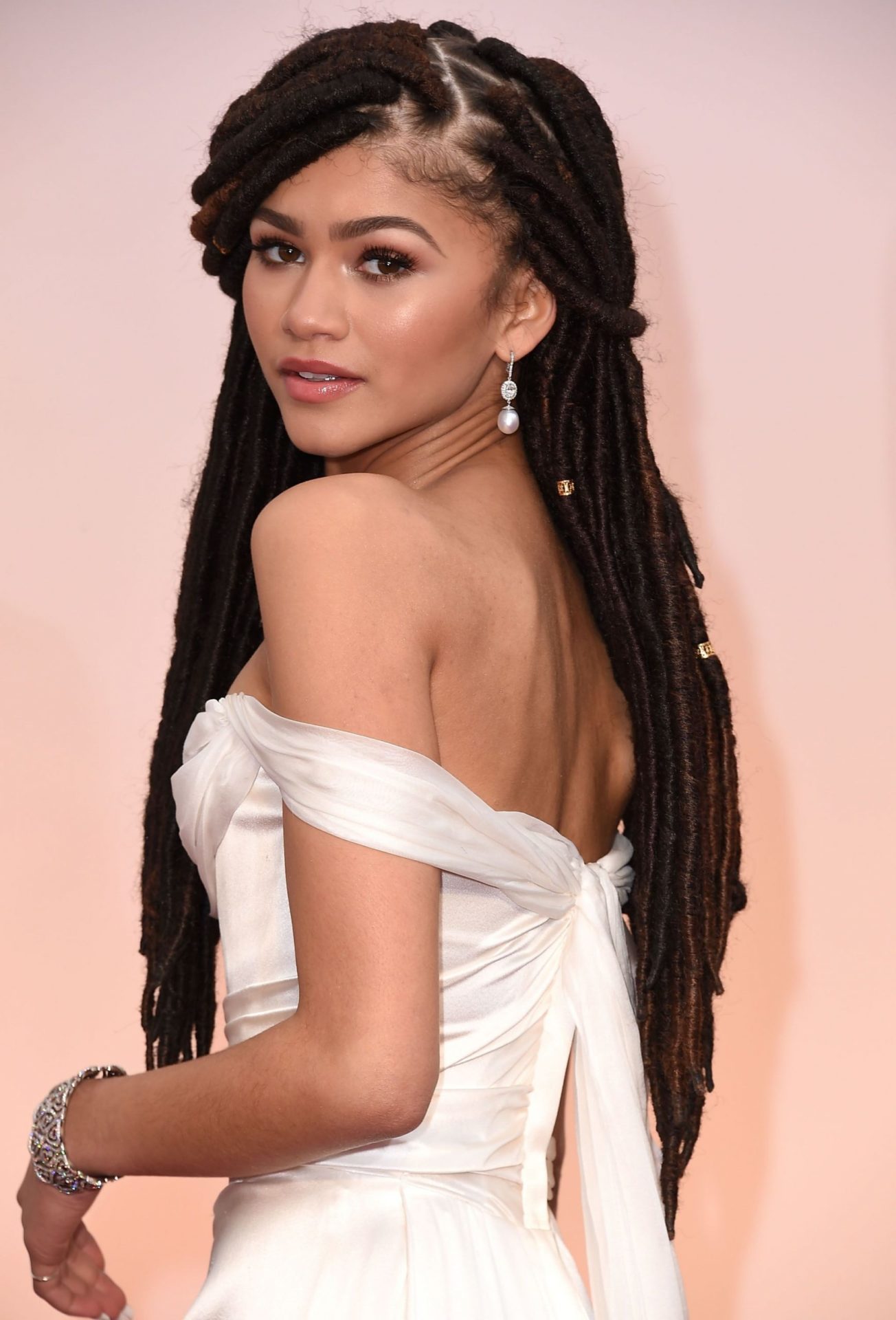 15. High ponytail
This high ponytail is not the regular ones you are used to seeing, as it comes with an elevated twist. Easy does it for this look, gather your locks to either side of your face that suits you, and secure with a band. Now that you have created a high ponytail, elevate the look by opening the locs to look cluttered with a volume boost. To finish off, do not forget to lay down your baby hairs to add a feminine touch.
 

View this post on Instagram

 
16. Bohemian loc hairstyle
If you fancy a bohemian look to channel your inner Lisa Bonnet, you can try this easy elongated bun hairstyle. Begin with parting your hair in the middle, leaving two locs on both sides, and secure the rest with a hairband. Take the ends of your locks, and place them into the ponytail to form a long bun.
Related article: Check out this complete guide to freeform dreads.
17. Two-tone top bun
You can hardly go wrong with a top bun, as it is an effortless go-to style you can wear for lounging and outings. If your hair is two-tone, it makes it all the better, with the second color forming the bun for the ombre effect. Secure your hair into a high ponytail and wrap the ends around it to create a bun, and you're done. You elevate the hairstyle with your favorite metal hair accessories, with slicked-back baby hairs.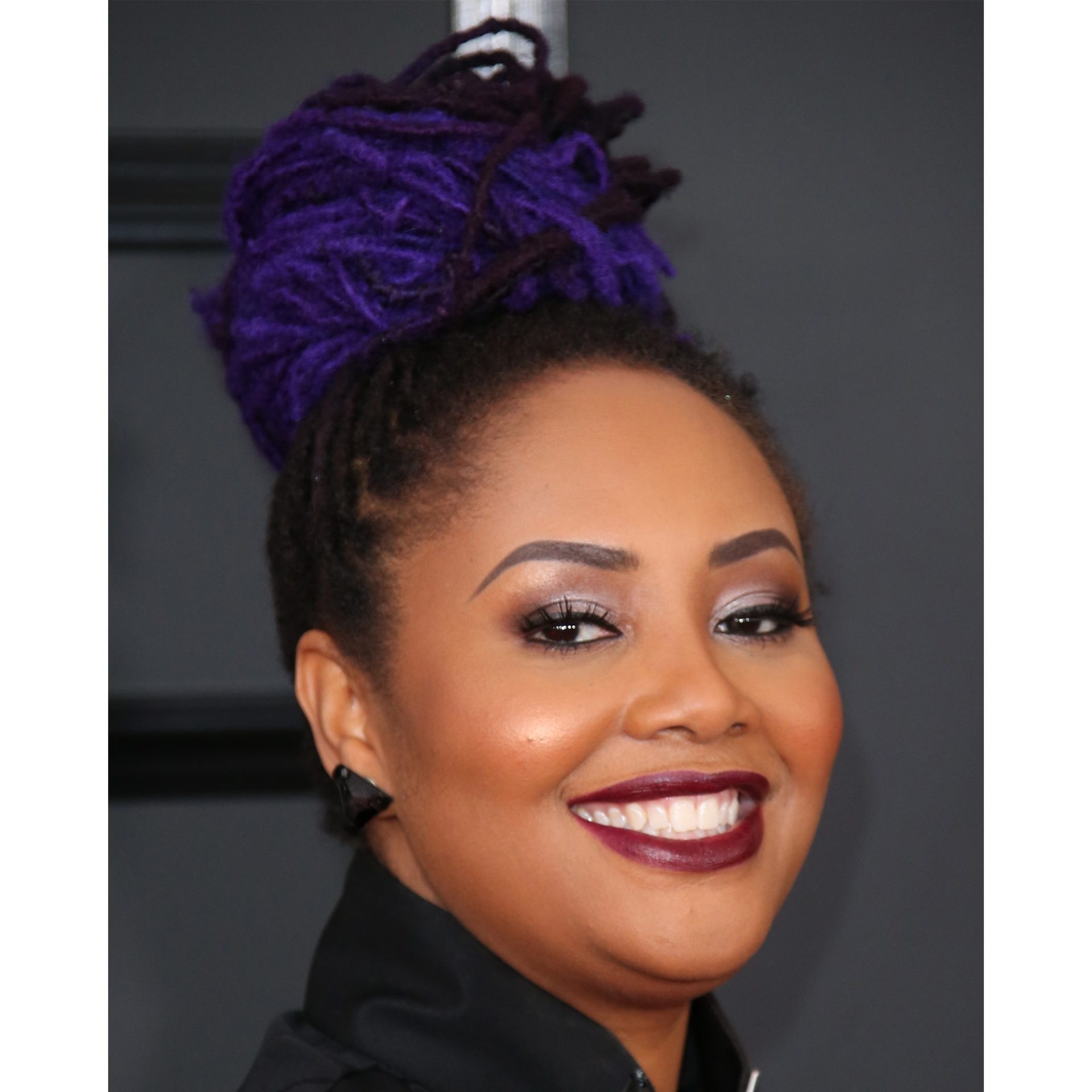 18. Chunky cornrows
Braiding your locs into cornrows is one of the classic female loc styles you can try. The chunky look needs four to six rows of locs braided close to the scalp. Secure the ends with colorful bands to give each braid a stylish touch. Do not leave your baby hair hanging; create swirls to flatter your face with this chunky look.
19. Accessorized low bun locs
The low bun gets tagged as a lazy look, so add accessories when you gather your hair into a soft bun. For an easy to try and make the hairstyle more stylish. You can wear such a hairstyle to work and evening dinners.
20. Medium layered locs
Create an elegant look by leaving your medium locks in layers. Pick a side and allow the locs to fall on their own to create a layered look, secure with pins. Or at the nape of your neck with a fancy scrunchie, tame your baby hairs to finish up the look.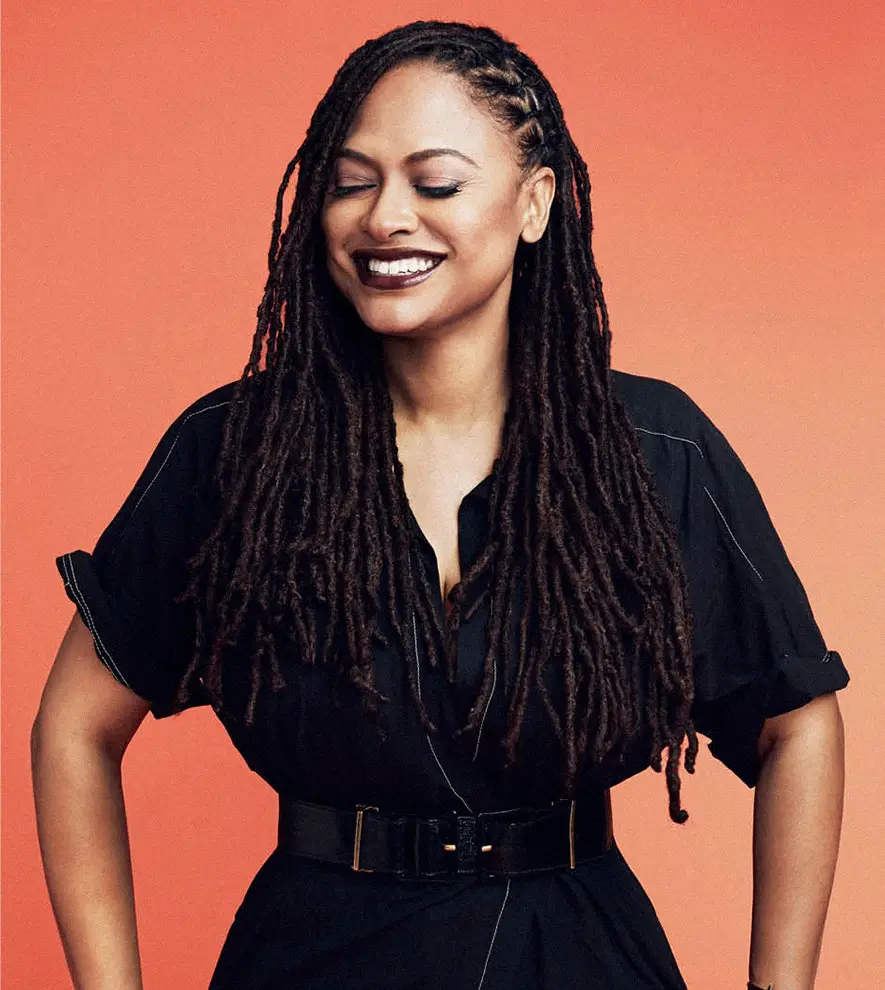 Now that you have your loc hairstyle selection updated, which one of these female loc styles will you be trying first? Let me know in the comment section below.
You may also like to read, How To Determine Your Breast Shape To Find Your Perfect Bra.