See top 10 power looks gleaned from VP Kamala Harris fashion style since her stepping into political acclaim.
The first woman, the first woman of color with South Asian roots, the first woman whose parents weren't born in America, to become Vice President and, more recently, the president for a few hours; Kamala Harris needs no introduction.
From her days as attorney general and senator, she has always been one to watch up until when she became nominated to be the running mate for Joe Biden. Also, her fashion sense has always been on point. Clearly, Kamal understands the assignment of being a wife, a public figure, and then first madam vice president.
While her outfits her dominated by pantsuits, Harris has always found a way to balance it out. By infusing her signature converse trainers, and t-shirts from time to time. She has stayed true to her style and tries to encourage black designers.
Certainly, we all can't be vice presidents like Kamala Harris, but let's live vicariously through her fashion choices. Here are ten of the VP's power looks.
Related article: Tiffany Haddish 30-Day Body Transformation Inspires Me!
10. Navy blue affair
Taking a short trip down memory lane, back in January 2019, when Kamala started her interest in the White House, she wore a navy blue power suit with a matching camisole and black pearls to accessorize the look.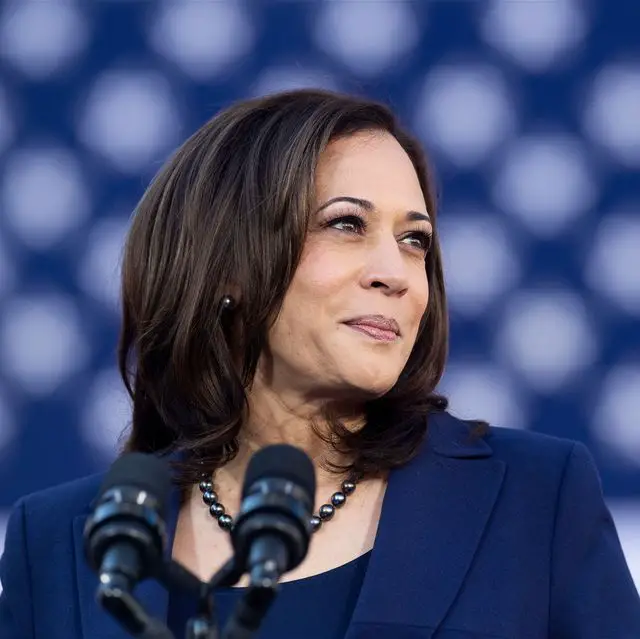 9. The pride jacket
No one can forget the trucker denim pride jacket that Kamala Harris wore for the pride parade. The rainbow embellishments were all the details the jacket needed to stand out. She paired it with a black top bearing the pride colors, white jeans, and a comfy converse for a statement outfit with a casual appeal.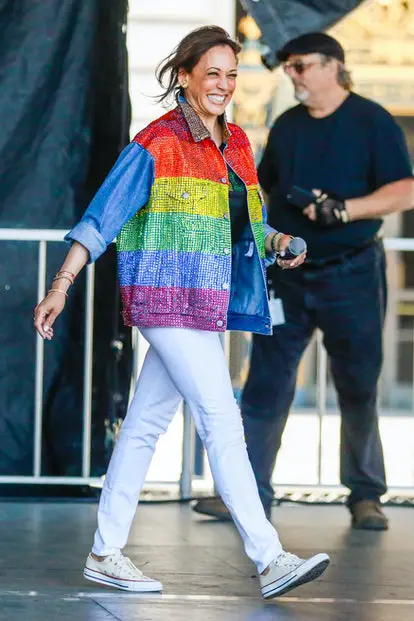 8. The black suit
There are some days one cannot forget in a hurry, that can be said for the night Kamala Harris officially accepted the nomination, to be the vice-presidential candidate from the Democratic party. She wore a fitted black suit, with a satin white blouse for color. All the emphases were on the ivory-toned layered string pearl necklace.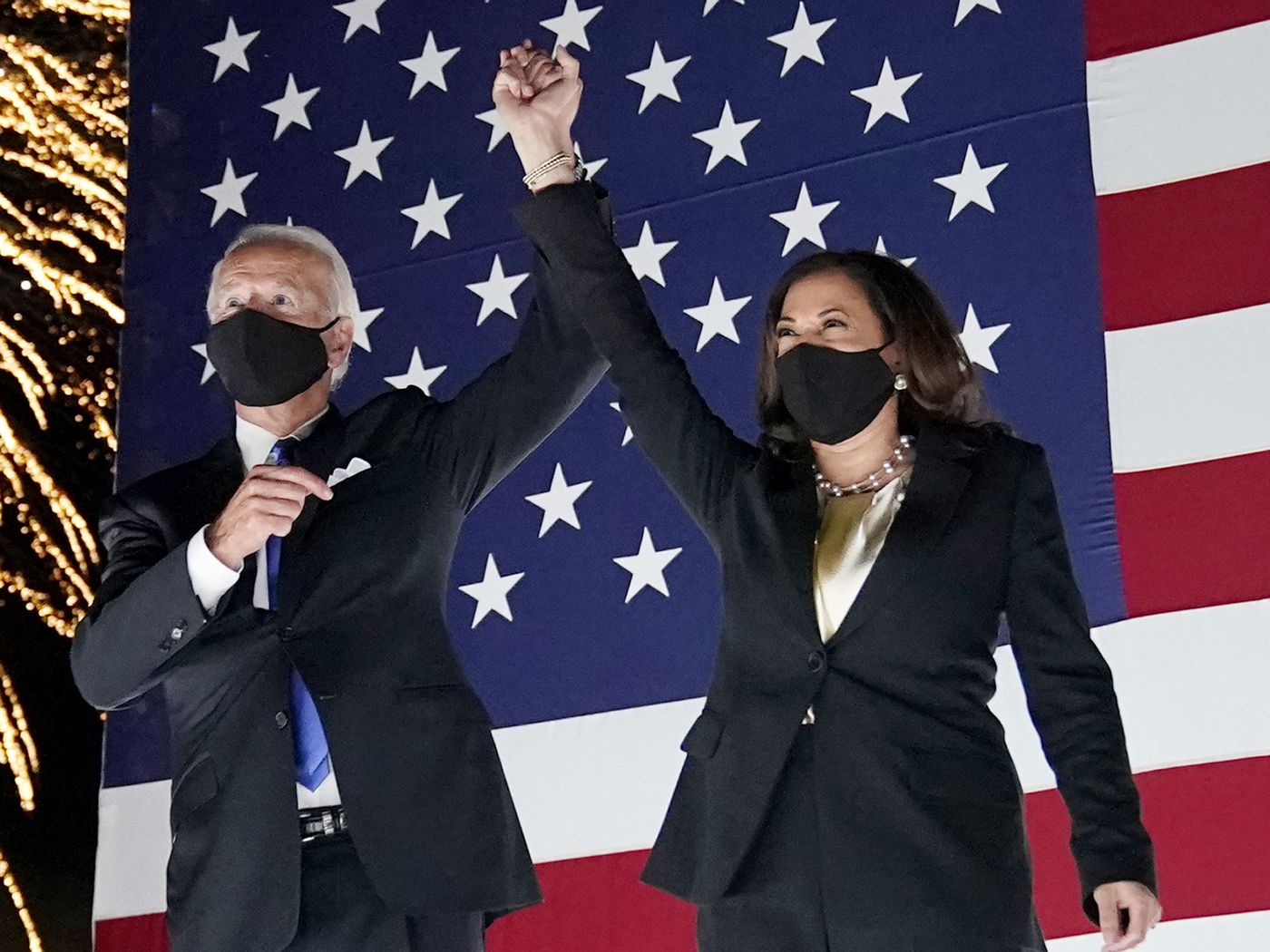 7. Election day smart casual
On election day, Kamala chose a smart casual look for a comfy yet ready and stylish look. The ensemble consisted of a simple top, skinny black jeans, and she threw on some grey wool jacket. To complete the look, she stomped about in black ankle boots.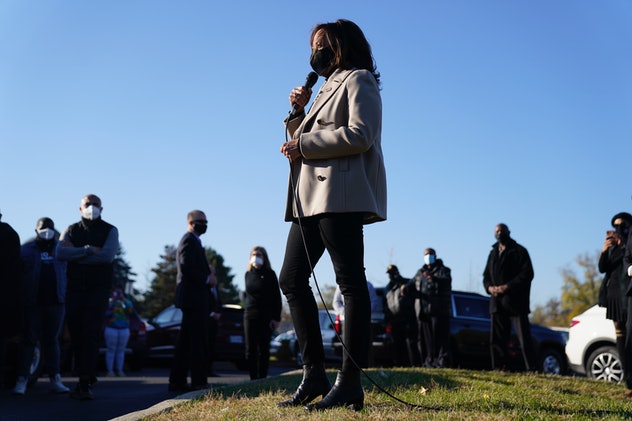 6. Maroon for the win
Kamala Harris showed up at her rightful place beside the president the day after the elections while waiting for the results to be collated. She was wearing a maroon suit set with matching silk camisole, and the choice was rather cherry, as it was a subtle attempt to display her mood.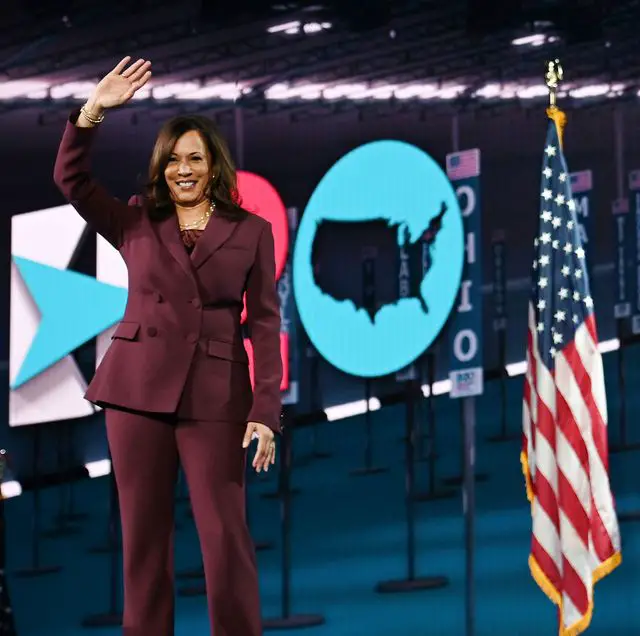 5. Glorious in white
The night that she declared the victory, Harris stunned in an all-white outfit. While paying tribute to the suffragette movement, she managed to look stylish on a historic night. The silk ivory-toned pussy-bow blouse was the perfect layering choice for the stylish outfit.
4. The ceremonial purple dress
Inauguration day came, and Harris did not disappoint as she knew the pop of color was needed for the big day. She chose Christopher John Rodgers, a young black designer, to take charge of her style for the day. The deliberate bright purple shift dress, and floor-length single breast coat in matching color, did not go unnoticed. The pearl accessories just looked perfect with the bold piece.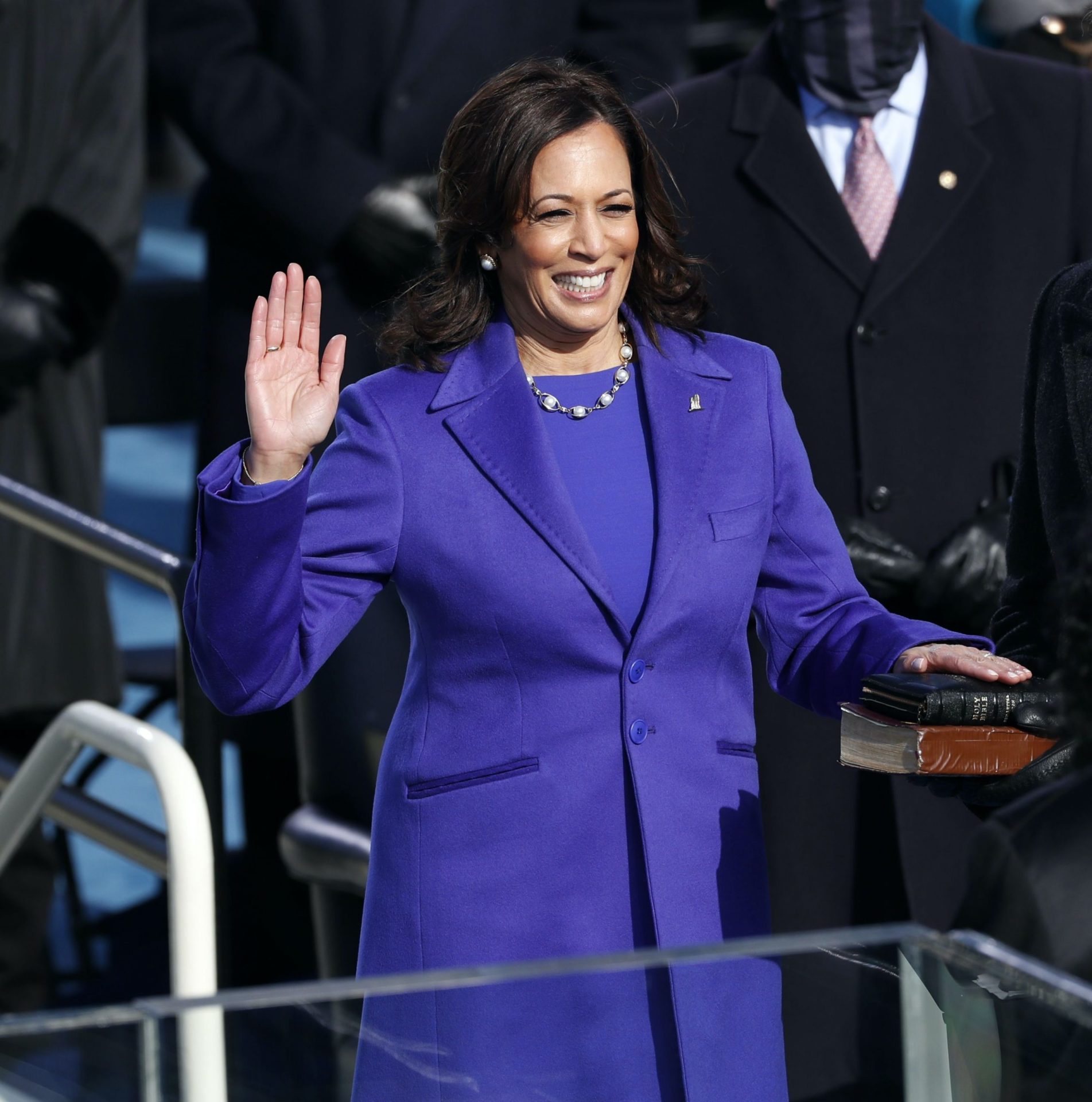 3. Plaid blazer
The ever so stylish Kamala honored the 2020 BET Hip Hop Awards with a speech while dressing up in a plaid pattern jacket. The orange and grey colorway made the jacket trendy and seasonal, and she complimented the outfit with gold-toned pearls.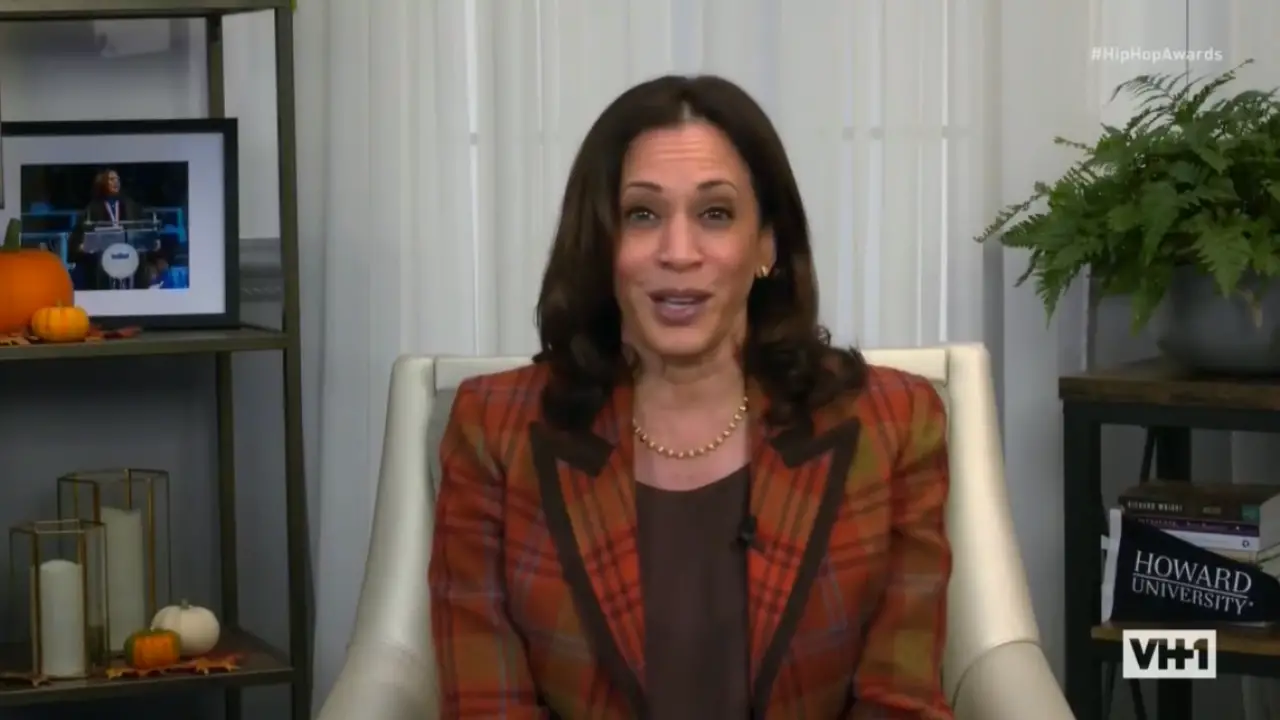 2. Pretty in neutrals
The VP knows she has to subtly become the center of the spotlight as she carries on her duties. While she attended a grassroots event in Virginia, she wore a neutral-toned suit, a white camisole with her unmissable pearl accessories, and a US flag pin.
1. The camel coat
For the memorial service held to the many lives lost to Covid-19, Harris wore an all-black outfit as expected but didn't come out looking bland. The camel coat layering choice was super stylish, paired with the heeled boots. She was easily a pleasant sight for the sad and reflective occasion.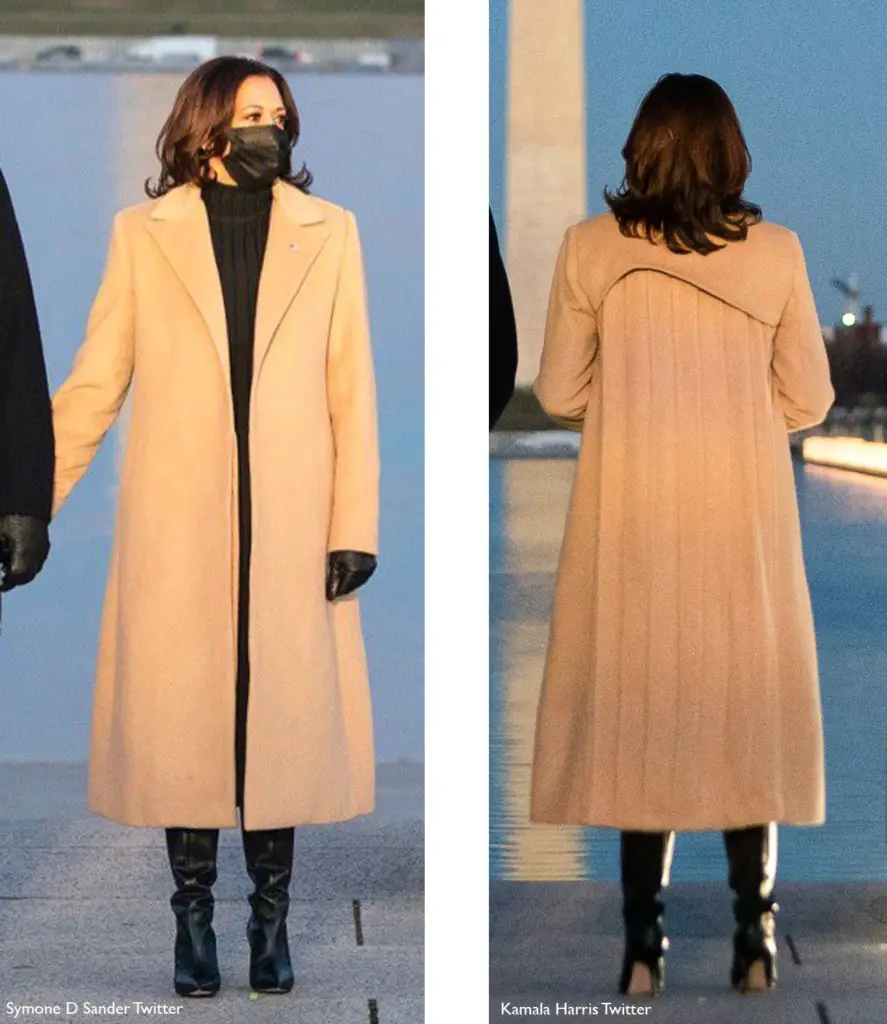 Conclusion
Kamala Harris's style is simple and comfy, which anyone can emulate successfully. However, she infuses some statement pieces into her outfits while supporting black designers. Her elegant style, which is somewhat laid-back, makes her appear accessible.
Even when she is polishing off a suit, Kamala's professional and cool personal style reflects from the outfits. It is obvious every time she steps out, and the goal is not to appear glamorous but a classy woman out to take on the day. You may also like to read, 50 and fabulous! How Jada Pinkett Smith is still turning heads.