Red nails are a break from the nudes and neutral nails. They are usually holiday favorites but can be a bold choice at any given time. Playing around with a few red designs is a classy way to stand out, just like the lipsticks.
There are many shades of red, which only means the creation of many nail designs. We have looked into some of the best nail artists and all the emerging trendy designs to compile this list. While you can DIY some of these red nail designs, we suggest booking an appointment with your manicurist to recreate these nail inspirations below.
1. Red ombre nails
Ombre designs are always cute. For red nails, you can do a modern twist of pairing a darker shade of red with a pastel shade. When both red paints are applied they should transition into each other seamlessly for a polished result. This is a glamourous nail design you will want to wear all the time.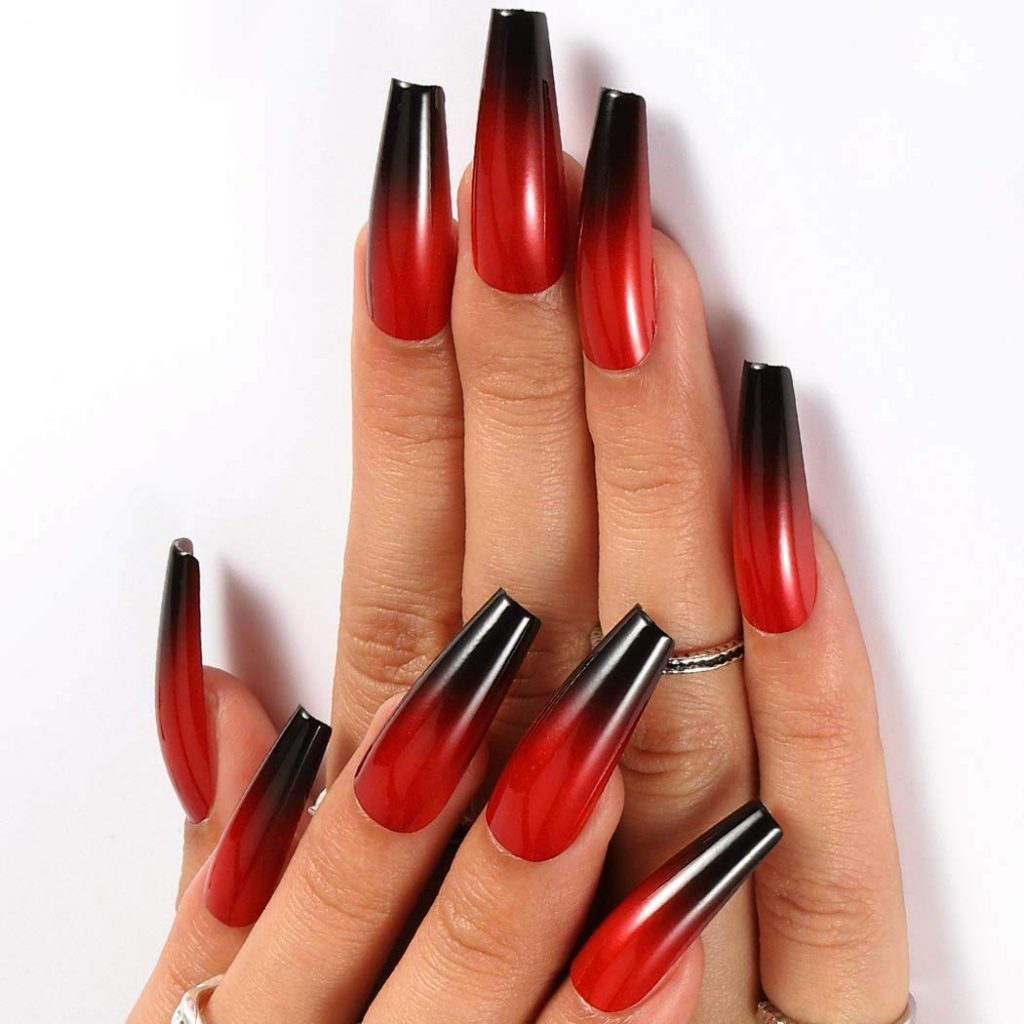 2. Accent red nails
Red can be a great accent for any nail design such as the dots and geometric shapes. Adding a simple red heart or floral accent can elevate a simple nail. Including some red patterns never goes out of style as well since it always gives an attractive result.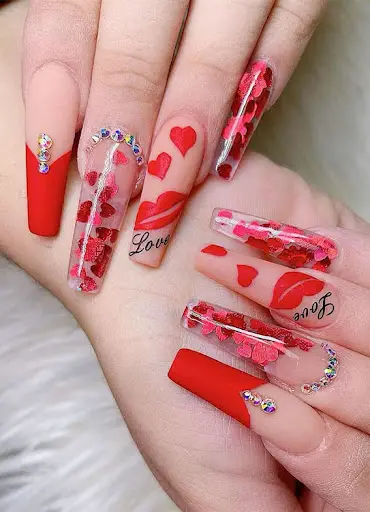 3. Marble fog nails
Marble fog nails make the marble swirls appear like smoke fog. Trying these upgraded marble nails in red is the perfect style choice. The foggy swirls are done with a white or cream nail polish on a deep red base. Ask a skilled nail artist to recreate this nail design for you.
 

View this post on Instagram

 
4. Plain rich red nail
Sure, it is fun to add designs to your nails, but sometimes the bold basic color can do the trick. It retains the rich beauty of the color shade and painting in glitter and gel will leave a shiny striking nail. However, matte finish polish is an elevated take on full-color nails. The lack of luster calls for attention effortlessly.
 

View this post on Instagram

 
5. Chrome red nails
Chrome nails are trendy and unparalleled because while they appear shiny, they do not look like any other nails for their metallic finish. Paint your whole nails in chrome red design or use them to create stunning art. You can paint them on the tips of neutral color or do the half-moon retro design. They will all look cute due to the chrome shine.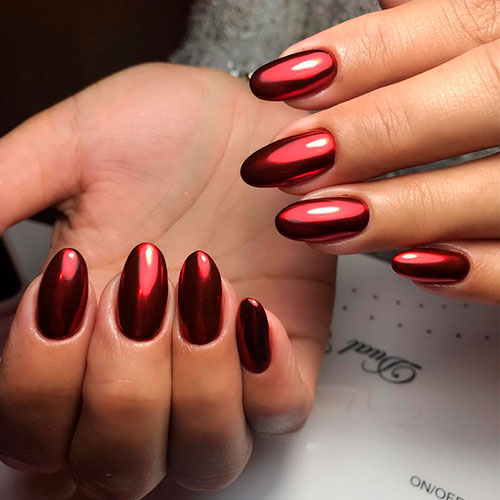 6. Flaming cherry nails
Combine two nail trends to get a resulting spicy red nails design. Flames are a hot design that features patterns that look like your nails are on fire while cherries are part of the red family for their bright red color. Paint the base color on nail shapes like a coffin or long-squared nails and add the flames to the tips. The final touch of a red cherry pattern will complete the unique design.
 

View this post on Instagram

 
7. Red study shade nails
When you cannot decide on which shade of red you should go for, opting for several red hues is the best way. You can go with the brighter shades or the deep red shades. Better still do an orderly transition from the pastel to darker red shades. It blends well and settles rather nicely on the nails rather than looking off.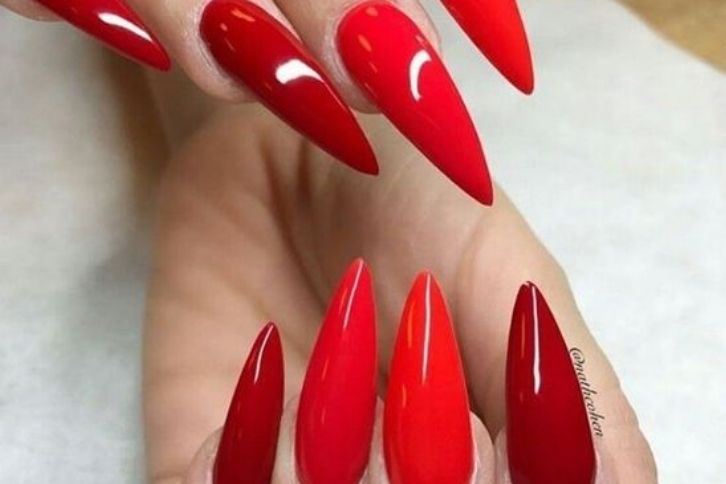 8. Red French manicure
We have seen updated takes on the classic French manicure, but here come the red bold French tips to steal the show. They look more beautiful on square-shaped and oval-shaped nails for their proportionally balanced tips. Use a nude or pink base and apply red nail polish on the tips instead.
 

View this post on Instagram

 
9. Quirky red nails
Your fun and creative side can be expressed through your nails. There are many quirky designs to add to your nails such as food, emojis, and icons. Chose red as the base and add the design in a brighter nail polish or do it in reverse and use red to add the designs instead.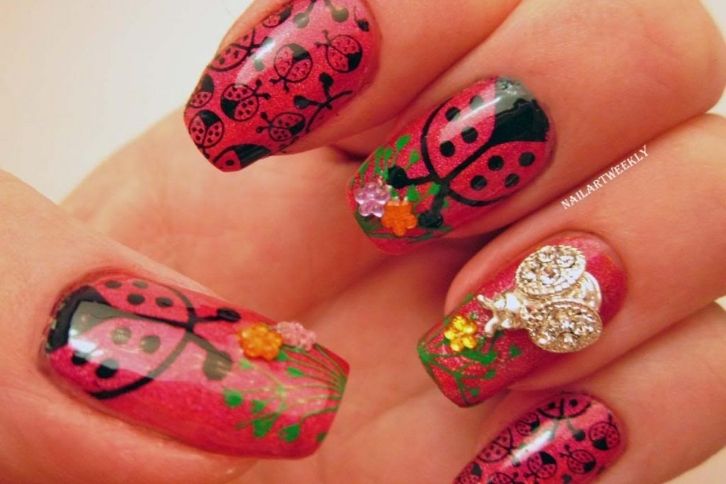 10. Red striped nails
This is an easy DIY design as you only have a base color and any red nail polish of your choice. Paint the base color and apply the red facing any direction, from swirls to vertical and horizontal stripes. While they are simple and can be done all year round, this nail design can easily pass as a Christmas nail design inspiration.
 

View this post on Instagram

 
Red nails are a vibrant nail choice that you can be go-to when you want a bold nail design. They look good on everyone and are a great statement-making addition to your style. The nail polish finish can be a distinctive factor in the resulting design. Matte polishes won't give you the shiny appearance of gels.
They are not the first choice of many since they are bold, so do not go painting them on if you feel you may not be comfortable wearing red nails. If you feel inspired, do not hesitate to try one of these designs.